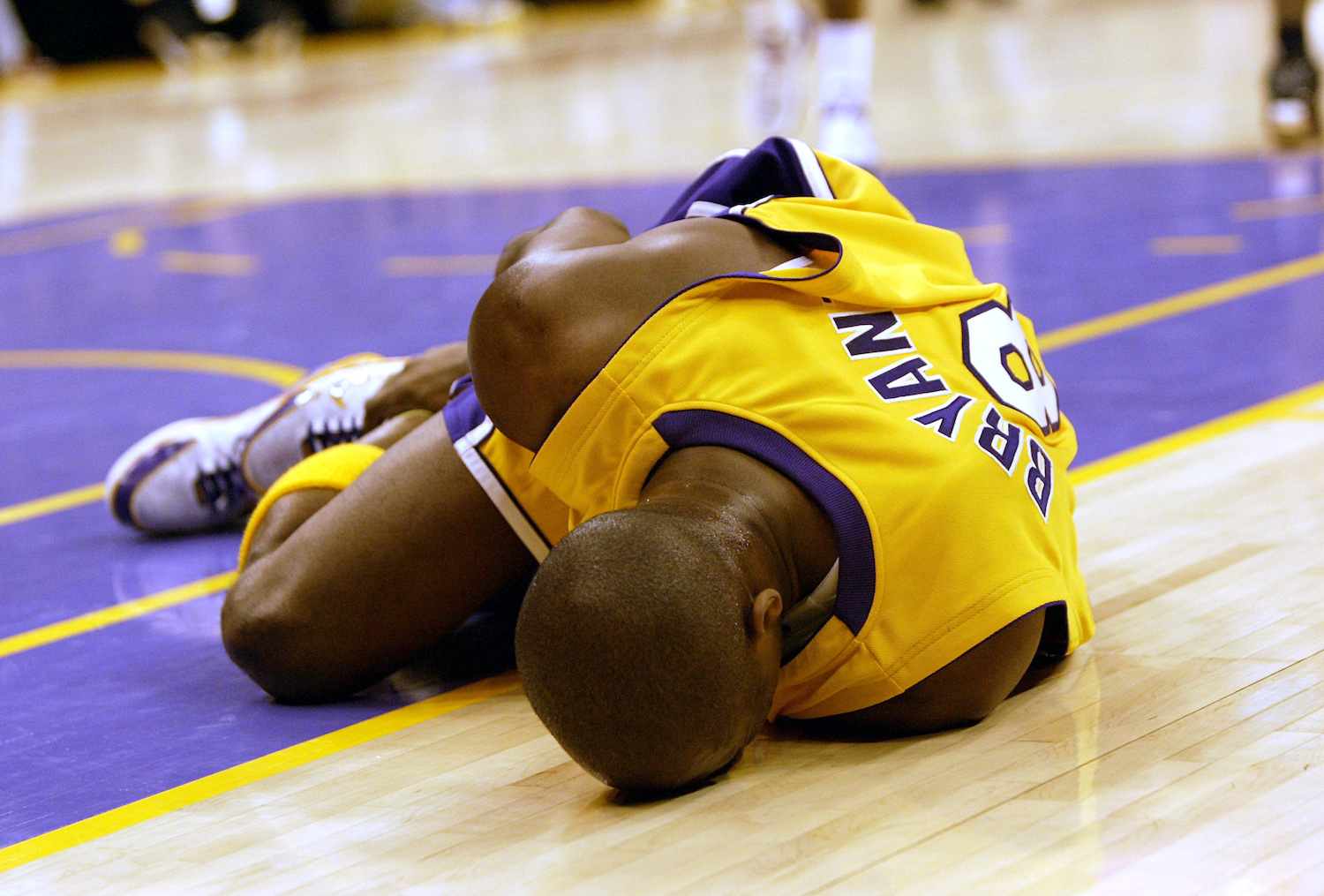 Kobe Bryant's Famous Mamba Mentality Might Have Actually Hindered His NBA Greatness: 'You Need to Do Less to Get More'
While hard work is usually a good thing, Kobe Bryant may have taken it too far during his time on the NBA hardwood.
For some modern NBA fans, it's almost unthinkable to say anything negative about Kobe Bryant. During his time with the Los Angeles Lakers, the guard became a living legend. Thanks to a combination of natural talent and a relentless work ethic, the Black Mamba dominated the competition and earned a place in the sporting pantheon. That willingness to hit the gym, however, could have also slowed Kobe down.
During a conversation with GQ, trainer Tim Grover shared his experiences with the famously intense Bryant. While his work ethic helped make him great, it also seems like Kobe could have benefited from taking things a bit easier.
Kobe Bryant became famous for his Mamba Mentality
Over the years, the biggest stars can become known for a signature move that transcends sports and moves into popular culture. For Kobe, that was Mamba Mentality.
During his time in Hollywood, the guard created his Black Mamba persona. That, in turn, gave rise to Mamba Mentality, which quickly became the stuff of legends.
While just about every professional athlete works hard, Bryant took things to the next level. Stories emerged detailing how he'd hit the gym in the wee hours of the morning and subjected himself to brutal bike rides. Away from the court, he'd do anything to gain the slightest advantage, even if that meant studying the referee's handbook to know how to get away with a little extra defensive physicality.
"Mamba mentality is all about focusing on the process and trusting in the hard work when it matters most," Kobe once told Amazon Book Review. "It's the ultimate mantra for the competitive spirit."
That willingness to work took a toll on the guard's body
In theory, hard work is a key part of athletic success. When you're competing against the best of the best, a bit of extra time on the practice court can make all the difference. Kobe Bryant, however, might have taken things a bit too far.
In 2007, the Lakers star called Michael Jordan and explained that his knees had been killing him. MJ referred Kobe to his long-time trainer, Tim Grover, and the pair linked up. Before long, Grover noticed a difference between his two famous clients.
"Michael always knew when it was enough, and he would listen to you. You know, if you told him 'that's it,' that's it," the trainer explained in a GQ interview. "With Kobe, to him, 'that's it' meant that's it for that moment, but three hours later, I can start back up again, and he never really got out of that mentality."
While Grover didn't directly criticize Bryant's work ethic — on the contrary, he explained that he couldn't blame Kobe for wanting to do more because it made him successful — the veteran trainer did seem to suggest that discretion is the better part of valor. At one point, he went as far as saying that the Lakers star "had a Ferrari and a Lamborghini acceleration … and sub car performance brakes."
Elsewhere in the interview, Grover uttered one simple line that tied everything together.
"It's hard to understand that sometimes you need to do less to get more," he said.
Kobe Bryant is a legend, but he could have been even better without his lower-body injuries
At the end of the day, Grover helped Bryant harness his energy and make his famous Mamba Mentality work for him. While that probably paid dividends, it's tempting to wonder what could have happened if Kobe received that sort of guidance earlier in his career.
As the trainer himself noted, he joined forces with the legendary guard in 2007. Although that seems like an eternity ago, it was already a decade into Kobe's NBA career. By that point, he was already plagued by knee pain. Without knowing the finer details of Bryant's body, it's possible that the damage was already done. Some injuries, like sprained ankles, boil down to bad luck, but when you see multiple knee and shin problems, it's tough not to connect the dots between the guard's early career and his later injury issues.
With all of that being said, though, the Black Mamba is rightfully considered an NBA legend. None of this is intended to disparage his legacy or suggest that he was ignorant. Instead, Grover's comments raise a hypothetical that no basketball fan can ignore. Just how much more impressive would Kobe's resume have been if he remained spent less time on the sidelines down the stretch of his career?
In classical Greek mythology, every hero has a fatal flaw. Odysseus, for example, is incredibly clever but can also be a bit too confident in his own abilities. For Kobe Bryant, it seems safe to focus on his famous Mamba Mentality and willingness to push through the pain. While it undeniably made the guard great, it also could have played a role in keeping him off the court at the end of his career.