Grant Hill Finds a Way to Compare Atlanta Hawks Star Trae Young to Rowdy Roddy Piper and Christian Laettner
Seven-time NBA All-Star Grant Hill somehow managed to get the late wrestling legend Rowdy Roddy Piper and former Duke star Christian Laettner in the same sentence. Not only did Hill, a former first-round pick and current owner of the Atlanta Hawks, put the two together, but he also compared the duo to Hawks All-Star guard Trae Young.
Grant Hill purchased ownership stake in the Atlanta Hawks in 2015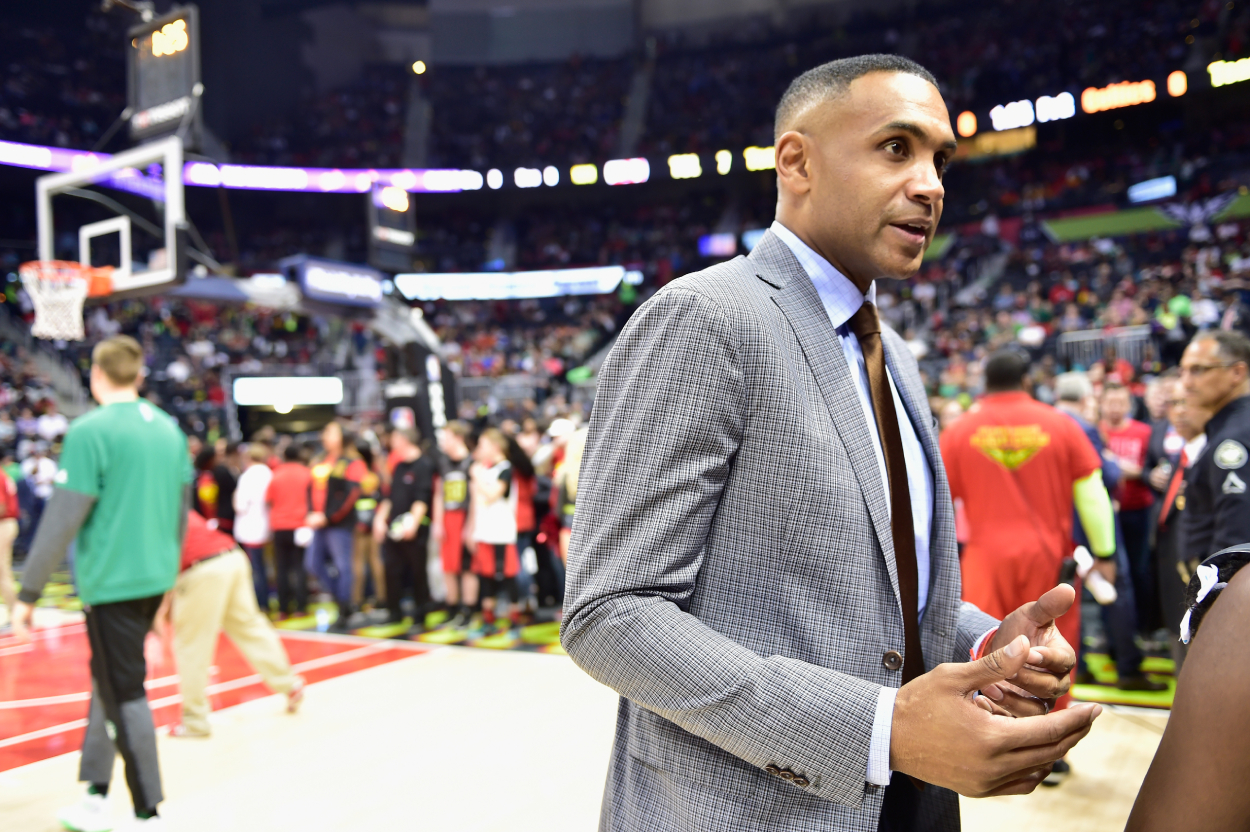 Hill had an 18-year NBA career that was marred by injuries. Drafted by the Detroit Pistons with the third overall pick in the 1994 NBA Draft, Hill spent the first six years of his career in Detroit, making the All-Star team five seasons. A 2000 ankle injury plagued him throughout his career and forced him to miss the entire 2003-04 season.
Hill made just two more All-Star appearances the rest of his career, which ended after the 2012-13 season. Two years later, Hill and a group led by equity investor Tony Ressler bought the Hawks for $850 million. Hill said he became interested in ownership from his father, an NFL veteran, who later became the VP of Personnel for the Baltimore Orioles.
"My journey to NBA ownership started long before I became one," Hill told Forbes in 2018. "It started with my father, who had tried, unsuccessfully, with groups, to purchase various teams. So, the idea of ownership was on my radar.
"Being around my father created access and relationships with the likes of Art Modell and Edward Bennett Williams gave me somewhat of an idea of what the ownership perspective before I ever entered professional sports as a player. That planted the seed."
Grant Hill compares Hawks' star Trae Young to Rowdy Roddy Piper and Christian Laettner
Hill was a recent guest on The Crossover NBA Show and spoke about Young, his team's biggest star. Co-hosts Chris Mannix and Howard Beck spoke about when Young went into Madison Square Garden during the playoffs last year and took charge. Hill was asked about Young bowing to the MSG crowd, egging them on after making several key baskets.
"To go out and dominate and to back it up on the court, to bow to the crowd — just the style and the swagger — it was like a wrestling character from back in the '80s," Hill said. "It was like Rowdy Roddy Piper or something. Or one of my former teammates, Christian Laettner. He was somebody, back when we were teammates at Duke, that was similar, although I think Trae, at times, is a little nicer as a teammate."
Hill also believes, like Piper, Young helped market himself with that playoff performance against the Knicks.
"It was fun," Hill said. "And that's marketable. When I saw that play, and ultimately we won that series, but I'm thinking Christmas Day, we might be playing New York next year. There's a story, and there's a narrative now. Trae Young against the Knicks in the Garden next time, they're going to be out for blood.
"That's what you want. You want to be relevant as a franchise. You want to have a marketable, exciting young player and an exciting young team that people want to tune in and watch."
Hill believed Young became a star in that series against the New York Knicks
Young and the Hawks faced the Knicks in the opening round of the playoffs last season, and that's when Hill believes Young became a star. The Hawks made quick work of the Knicks, winning in five games, and Young hit the 30-point mark three times. He was better known for shushing the Madison Square Garden crowd.
Hill thinks that series brought Young to a new level in his NBA career.
"It was fun," Hill said. "He became a star, I thought, in that series. Going into the Garden, the absolute best place to play as a visiting player, and to play to the crowd, to taunt the crowd, to endure some verbal abuse, and to embrace it… Not many guys enjoy playing the role of a villain.
"It takes a certain wiring. It takes a certain mental makeup, and a certain confidence not only to take that on but to deflect the pressure from your teammates. It's almost like, OK guys all of it's on me. That's part of the role, part of the responsibility for a team's best player."