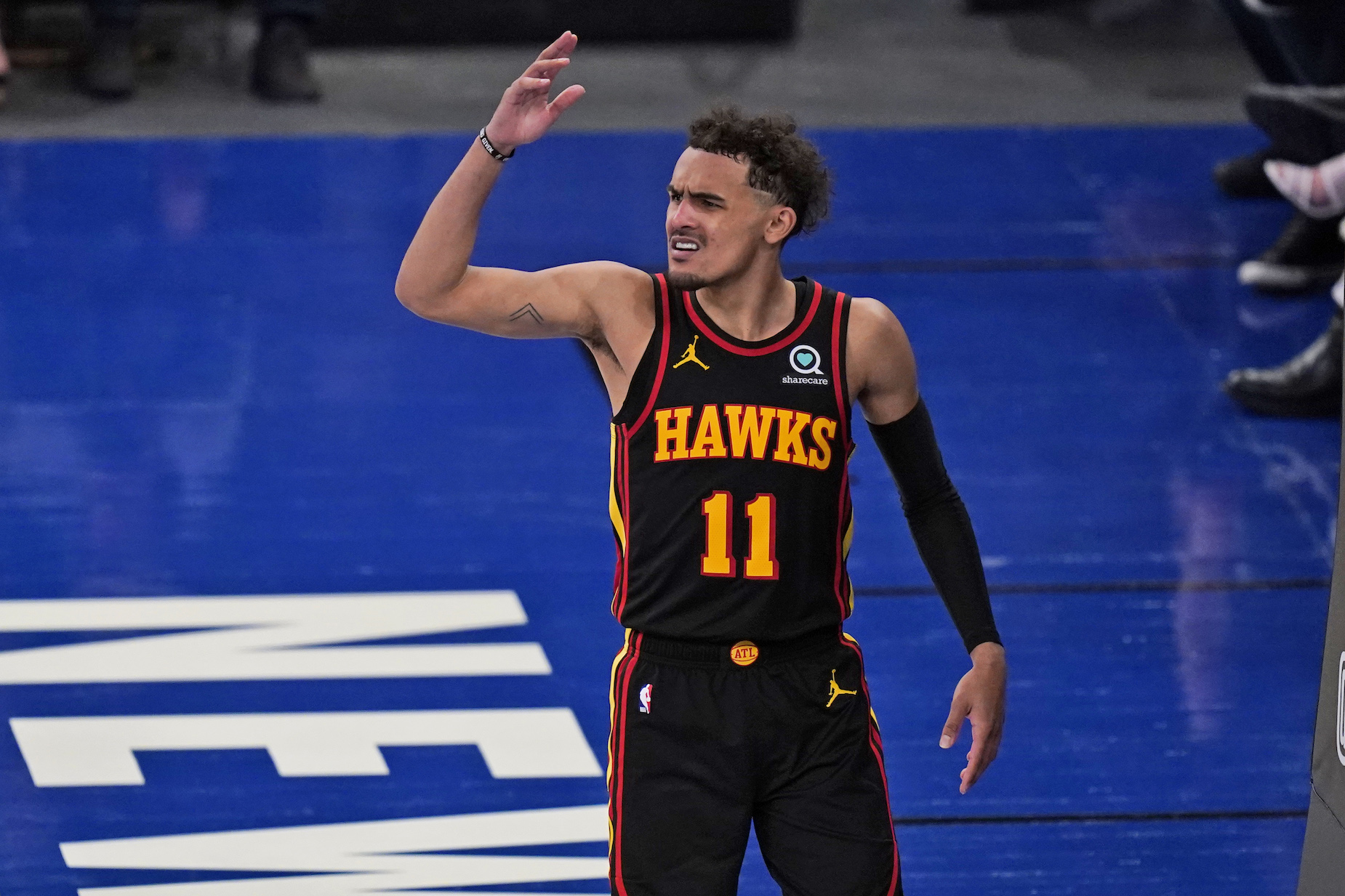 Hawks Star Trae Young Is Ironically Afraid of Birds and New York Knicks Fans Have Certainly Noticed
While they may seem like superheroes capable of leaping a tall building in a single bound when they're on the court, NBA players are still human beings. If you need a reminder of that reality, you can simply look to Atlanta Hawks star Trae Young. Although he's a pretty fearless player on the court, Young …
While they may seem like superheroes capable of leaping a tall building in a single bound when they're on the court, NBA players are still human beings. If you need a reminder of that reality, you can simply look to Atlanta Hawks star Trae Young.
Although he's a pretty fearless player on the court, Young doesn't care for birds. Given the high stakes of the NBA Playoffs, New York Knicks fans have taken notice of that fear ahead of Game 2.
Trae Young has proven to be a legitimate talent on the hardwood
When you think of elite NBA guards, guys like Steph Curry and James Harden probably spring to the forefront of your mind. Even if Young isn't quite in that category yet, he seems to be well on his way to joining the Association's upper echelon.
Young played his college ball at the University of Oklahoma and made quite the impact during his one season on campus. The guard averaged more than 27 points and eight assists per outing, earning consensus First-Team All-American honors.
On the back of that success, Young entered the 2018 NBA draft and joined the Hawks in the Luka Doncic trade. While passing up on the Slovenian star has left some fans with a bad taste in their mouth, the guard has more than held his own in Atlanta.
Over the course of his first three professional seasons, the guard has averaged 24.1 points and 8.9 assists per game and proved himself to be a legitimate talent. While there are still some questions about his ability to balance both the offensive and defensive sides of his game, Young has already made an impact on the Hawks organization.
Trae Young is ironically afraid of birds
Ever since he turned pro, Young has played for the Atlanta Hawks. That reality, however, is pretty ironic given the guard's fear of birds.
That phobia began long before Young ever entered the Association, though. As explained in a CBS Sports story written during his time at Oklahoma, the guard's fears stem from an uncomfortable teenage encounter.
You know how birds would be friendly to people? I hate birds. All you see is the ocean, the sand, and birds flying over you. The birds trying to eat the crabs in the sand, and they're all next to you. I've seen a bird attack one of my friends at my high school in the parking lot. Yeah. It scared her. The bird was by her car, she tried to turn and get in her car, but the bird was so scared it just attacked her.

Trae Young
In an Atlanta Journal-Constitution story, Young provided a bit more context about his fear. While he seemed to contradict the previous story about its origin, he did explain part of his discomfort around birds.
"I don't know (where it comes from)," Young told Steve Hummer in 2018. "Just not knowing what to do if a bird attacks you. If a snake comes at you – obviously, I'm scared of snakes – you can grab it. But if it's a bird, I don't know what you do. Maybe I had a bad dream about a bird when I was a kid."
New York Knicks fans have noticed that fear ahead of Game 2
During the NBA playoffs, everything is fair game in pursuit of a championship. For New York Knicks fans, that's meant looking for ways to slow down Young after his standout performance in Game 1.
In Knicks-based corners of the internet, plenty of fans have noted that Young is afraid of birds. Twitter, for example, is filled with gifs of Big Bird, images of seagulls, and suggestions that Madison Square Garden be filled with pictures of various winged creatures and fans wearing avian costumes. Similar posts have appeared on Reddit, complete with references to Spongebob SquarePants and It's Always Sunny in Philadelphia.
While it's unclear what Knicks fans will actually do during Game 2, you can underestimate their passion at their own risk. Will their efforts inspire Trae Young to lay an egg? At this point, only time will tell.
Stats courtesy of Sports-Reference and Basketball-Reference