Green Bay Packers Rookie WR Romeo Doubs Unfazed By the Big Stage: 'I'll Stay True to What I Do'
A questionable Green Bay Packers wide receiving corps became even more in flux this week. Allen Lazard, expected to be the top target for quarterback Aaron Rodgers this year has been nursing an ankle injury and is listed as doubtful. All eyes will turn to a young crop of rookies, including Romeo Doubs, who has …
A questionable Green Bay Packers wide receiving corps became even more in flux this week. Allen Lazard, expected to be the top target for quarterback Aaron Rodgers this year has been nursing an ankle injury and is listed as doubtful.
All eyes will turn to a young crop of rookies, including Romeo Doubs, who has wowed and frustrated Rodgers in the preseason. The Packers open the season at the Minnesota Vikings in what is sure to be a hostile environment. Doubs promised he won't be fazed by his surroundings, saying he will just "stay true to what I do."
Romeo Doubs may find himself in the thick of the Green Bay Packers passing game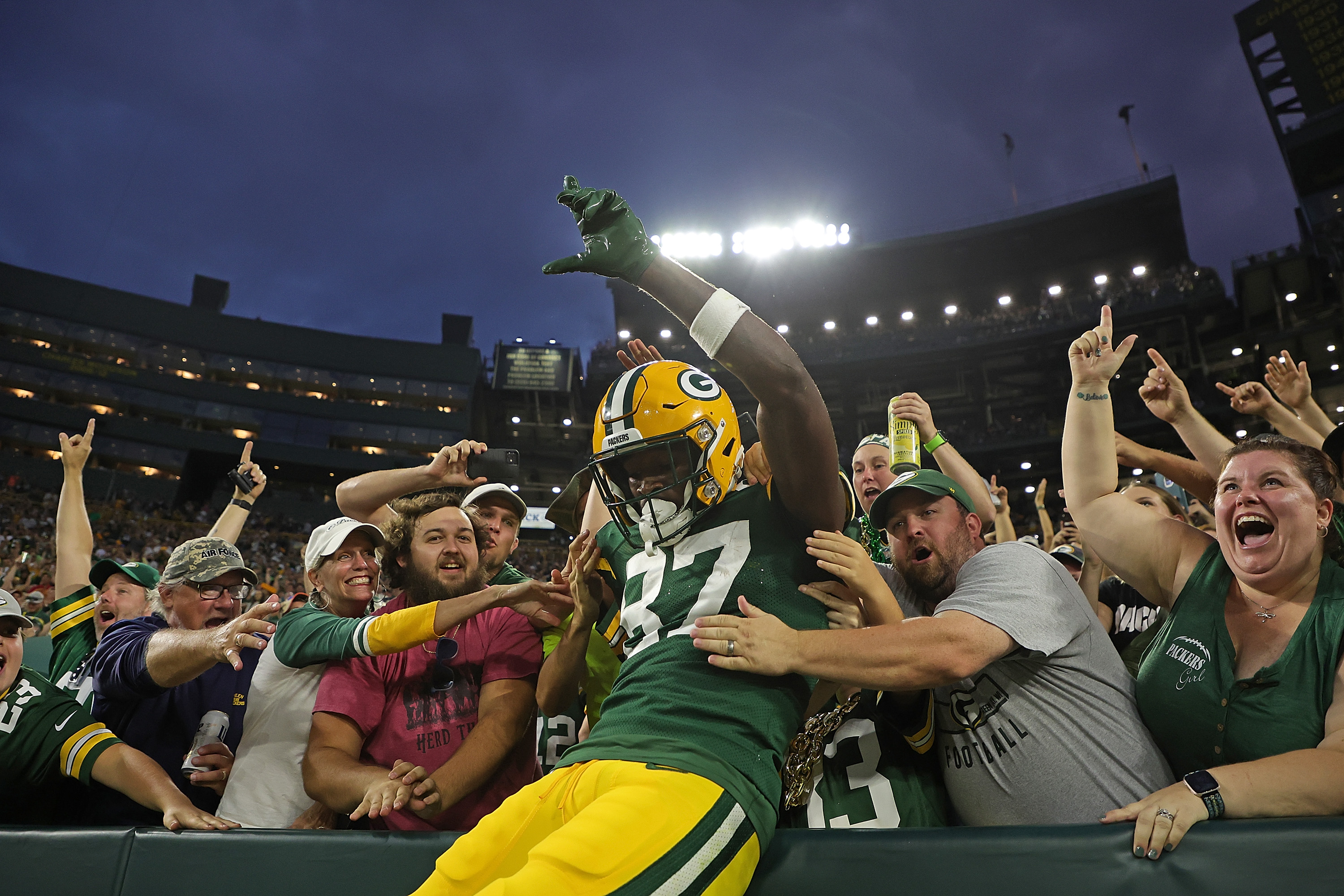 With Davante Adams traded to the Las Vegas Raiders, a major piece of Green Bay's passing attack is gone. The Packers signed oft-injured Sammy Watkins to team with Randall Cobb and provide leadership and experience to a young crew.
Lazard enters his fifth year with the team but has never caught more than 40 passes in a season. He's been projected as the team's No. 1 target, but his injury leaves an even bigger question mark with the passing attack.
Rodgers will likely spread the ball around. That means players like Doubs, Christian Watson, Amari Rodgers, and Samori Toure could be hauling in Week 1 passes.
Of those, Doubs has been the most impressive so far. Early in camp, he impressed his quarterback with his play-making abilities.
"Every single day … there's been at least one kind of 'wow' play for him," Aaron Rodgers said, per The Associated Press. "And that's kind of rare for a young guy like that."
Doubs is ready for Week 1's bright lights
If Lazard doesn't play, Doubs should see more action against the Vikings. He said if his name is called, he won't do anything different. He said he'll be ready for anything that comes his way.
"I'm not in control of how many catches I get or how many yards I have," Doubs told reporters earlier this week. "I'm just making sure that when I get my opportunity, I will be ready for it. Hopefully, it pays off."
The Packers selected Doubs in the fourth round of the 2022 NFL Draft. He played four years at Nevada. In his senior year, he caught 11 touchdown passes and racked up 1,109 receiving yards. Nevada is a far cry from the bright lights of the NFL, but Doubs said his plan is to just be himself.
"It's the first game of the season. Not only is it the home opener for them, but it's divisional on that other end as well. I'll just make sure that I stay true to what I do. We'll just play our game."

Romeo Doubs, Green Bay Packers rookie wide receiver
Doubs isn't afraid of the unknown. He's confident in his ability to play with the big boys of the NFL. He's prepared for the moment and said he's as prepared as he can be.
"Anything can possibly happen in this game, so I'm just making sure that whenever I get my role, I'll be ready for it," he said.
Like Sportscasting on Facebook. Follow us on Twitter @sportscasting19 and subscribe to our YouTube channel.