Greg Norman Once Learned an Important Life Lesson From His Friend Bill Clinton
While Greg Norman was an elite golfer, he still learned an important lesson during a day on the course with President Bill Clinton.
During his time on the golf course, Greg Norman established himself as one of the finest players the sport has ever seen. On the course, 'The Shark' was an incredibly skilled golfer, capable of pulling off aggressive shots with incredible ease; off the course, he's found just as much success in the business world. That, however, doesn't mean he's learned every trick in the book.
In fact, Greg Norman once learned an important life lesson from an unlikely source: President Bill Clinton.
Greg Norman's incredibly successful career
When you think of Australian sports, cricket, Australian rules football, and tennis probably spring to mind. Greg Norman, however, found a home on the golf course.
As laid out on his official website, the Shark's golf career started simply, caddying for his mother and reading Jack Nicklaus' book on the sport. Once he took up golf for himself, Norman had was a natural. He quickly played his way to a scratch handicap and took a job at Royal Queensland Golf Club; by age 21, he turned pro and started winning tournaments.
In 1983, Norman joined the PGA Tour and, within a few years, had made a name for himself. During the 1986 campaign, he pulled off his famous Saturday Slam, leading all four majors going into Sunday; unfortunately, he would only claim victory in one, the Open Championship. While he would only win one more major—another Open Championship—during his career, Norman still established himself as one of golf's elite players.
During his time on the links, The Shark won 20 PGA Tour events in addition to his two majors; he also spent 331 weeks as world number one and, according to the PGA's career money rankings, earned more than $14 million during his time on the links. His success hasn't ben limited to the course, though, as Norman has since turned into massive business success, doing everything from selling beef jerky to designing golf courses. Today, CelebrityNetWorth estimates the golfers' fortune at $400 million.
A begrudging round of golf with Bill Clinton
As the biggest name on the Australian golf scene, Greg Norman occasionally found himself hitting the course with celebrities and dignitaries visiting the land down under. When Bill Clinton came calling, however, The Shark had second thoughts.
"It was his first term in office," Norman explained to Graham Bensinger, "and the President was going to go down to Australia to have his first presidential visit there. And it just happened to be the week of the Australian Open. I get a call from the White House saying, you know, President Clinton's going to be in Australia and he'd really love to have a game of golf with you." Norman, however, wasn't jumping at the chance.
The golfer called President George H.W. Bush and explained that he wasn't a fan of Clinton's politics and wasn't sure about joining him for a round of golf. Bush, however, wasn't interested in hearing his reasoning.
"President Bush says to me, 'Greg, just respect the position of the President of the United States. You play golf with President Clinton," Norman continued. "I said, 'Yes, Sir."
Greg Norman learned an important lesson from Bill Clinton on the course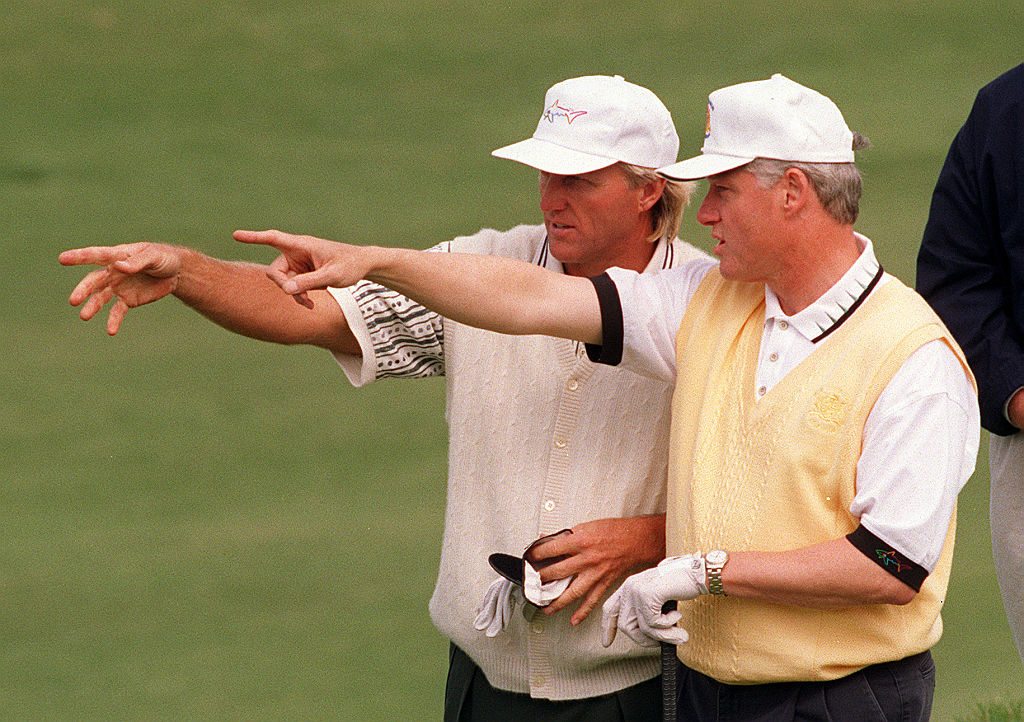 When the day finally came, Greg Norman hit the course with Bill Clinton. While The Shark wasn't initially thrilled about the pairing, the two men ended up playing a full 18 holes and having a great time.
By the end of the round, however, Norman had made a realization.
"We finish and I said to him, I was open to him, "Mr. President, I've got to tell you one thing. You have changed my attitude and philosophy about how I approach people from now on," Norman remembered. "It taught me a huge lesson: never prejudge anybody on anybody else's opinion."