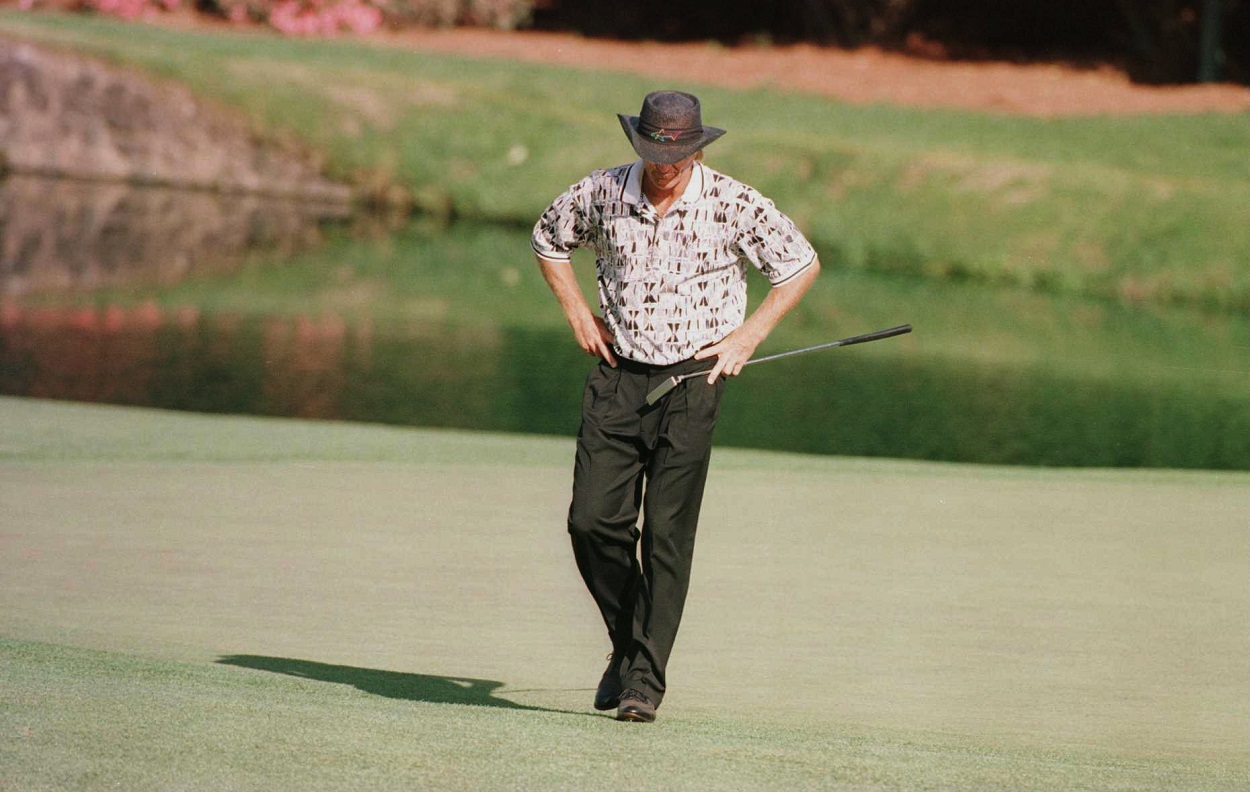 It Took Greg Norman Nearly Two Decades to Reveal He Was Dealing With a Significant Injury During His Monumental Meltdown at The Masters in 1996
17 years after his famous collapse at The Masters, Greg Norman revealed that he was dealing with an injury during the final round at Augusta.
The final round of the 1996 edition of The Masters certainly wasn't supposed to have as much drama as it did. After all, then-world No. 1 Greg Norman held a six-shot lead with just 18 holes to play and was simply supposed to cruise to victory at Augusta National. He'd experienced final-round heartbreak at Augusta before but that Sunday was supposed to be different as golf's "Great White Shark" was finally going to win that green jacket that had eluded him for so long.
But we all know that didn't happen as Norman, who'd tied the lowest round in Masters history to begin the week and sat atop the leaderboard through each of the first three rounds, completely collapsed and lost by five strokes to Nick Faldo, who won his third green jacket that day.
For years, Greg Norman really wouldn't talk about what is arguably the biggest meltdown in major championship history. He never tried to make excuses or downplay what Faldo had done that day. He'd simply lost a golf tournament. But in 2013, Norman finally let the world in on a little secret that he'd kept to himself for nearly two decades as he revealed he'd played that final round of The Masters with an injured back.
Greg Norman shot 63 to open the 1996 edition of The Masters and led through each of the first three rounds
As the No. 1 player in the world coming into the 1996 edition of The Masters, Greg Norman was obviously one of the favorites that week at Augusta National and came out of the gate hot, firing a 9-under round of 63, tying the lowest round in tournament history, which was set by Nick Price 10 years earlier, and also tying what at the time was the lowest round in major championship history.
Norman held a two-shot lead after 18 holes and doubled it after 36 following a second-round 69. Saturday proved to be a difficult scoring day for just about everyone but Norman was able to muster a 1-under round of 71 to get to 13-under for the week and was six shots ahead of Nick Faldo entering the final round.
And then it happened.
The collapse
It didn't take long for Greg Norman's epic collapse to begin as he bogeyed the first hole, dropping his lead to five. It shrunk to four after a bogey at the fourth but jumped back up to five after Faldo bogeyed the fifth. While Norman continued to make pars, Faldo made birdies at the sixth and the eighth to cut the lead to three and a Norman bogey at the ninth left the "Great White Shark" with just a two-shot lead heading into the back nine, which is where everything truly fell apart.
At the par-4 10th, Norman flew what looked to be an easy chip shot past the hole and missed the ensuing eight-foot par putt, dropping his lead to one. Then, at the par-4 11th, he lipped out an 12-foot birdie putt and then missed the three-foot par putt coming back, giving him another bogey and dropping him into a tie for the lead as Faldo made pars on both holes.
On the dangerous par-3 12th, after Faldo had his tee shot safely onto the green, Norman watched in horror as his 7-iron came up short and rolled back into Rae's Creek, which led to a double-bogey. Faldo made par and all of a sudden had a two-shot lead.
Both birdied the 13th and 15th with Norman nearly holing out an eagle chip at the latter. There was still a glimmer of hope for Norman but a double-bogey at the par-3 16th ended any chance he had to win The Masters and Faldo closed things out with a birdie at the last, giving him a final-round 67 while Norman shot 78. The 11-shot turnaround is the biggest comeback/collapse in Masters history.
Greg Norman revealed years later he was dealing with back issues during the final round at The Masters in 1996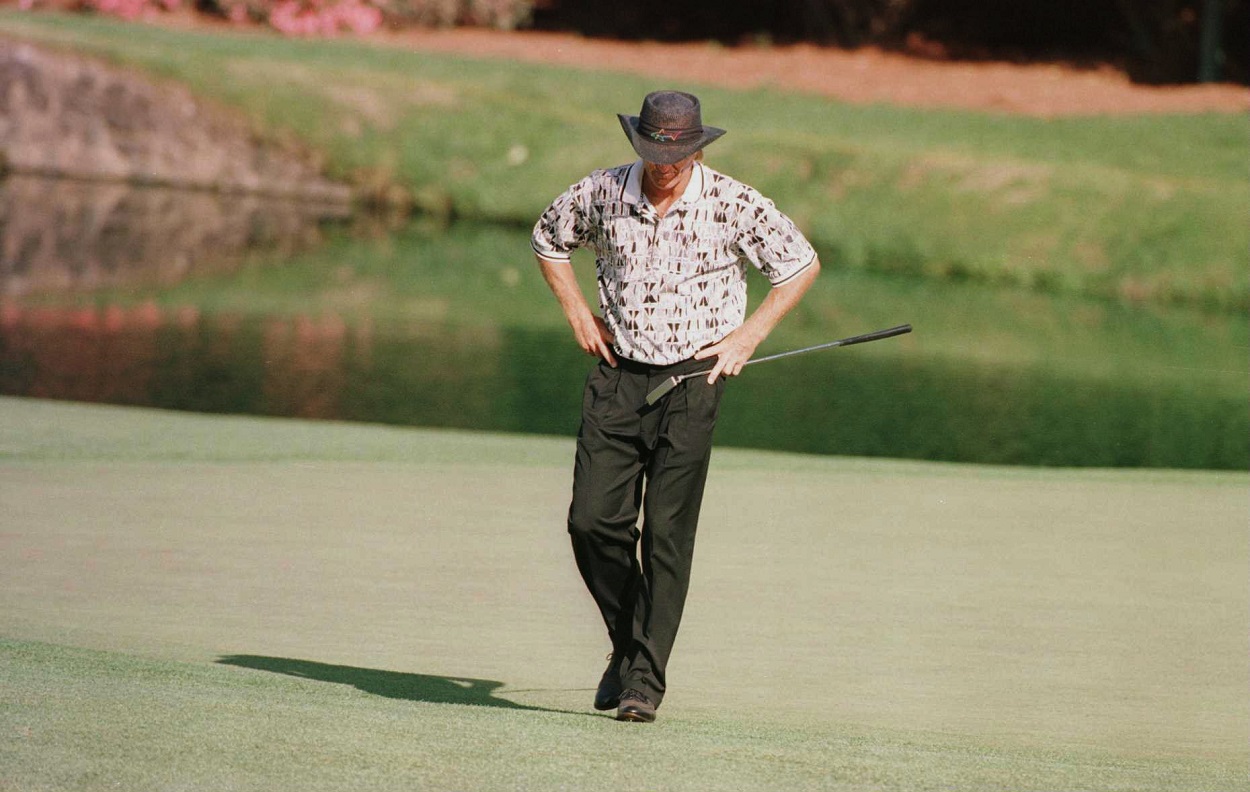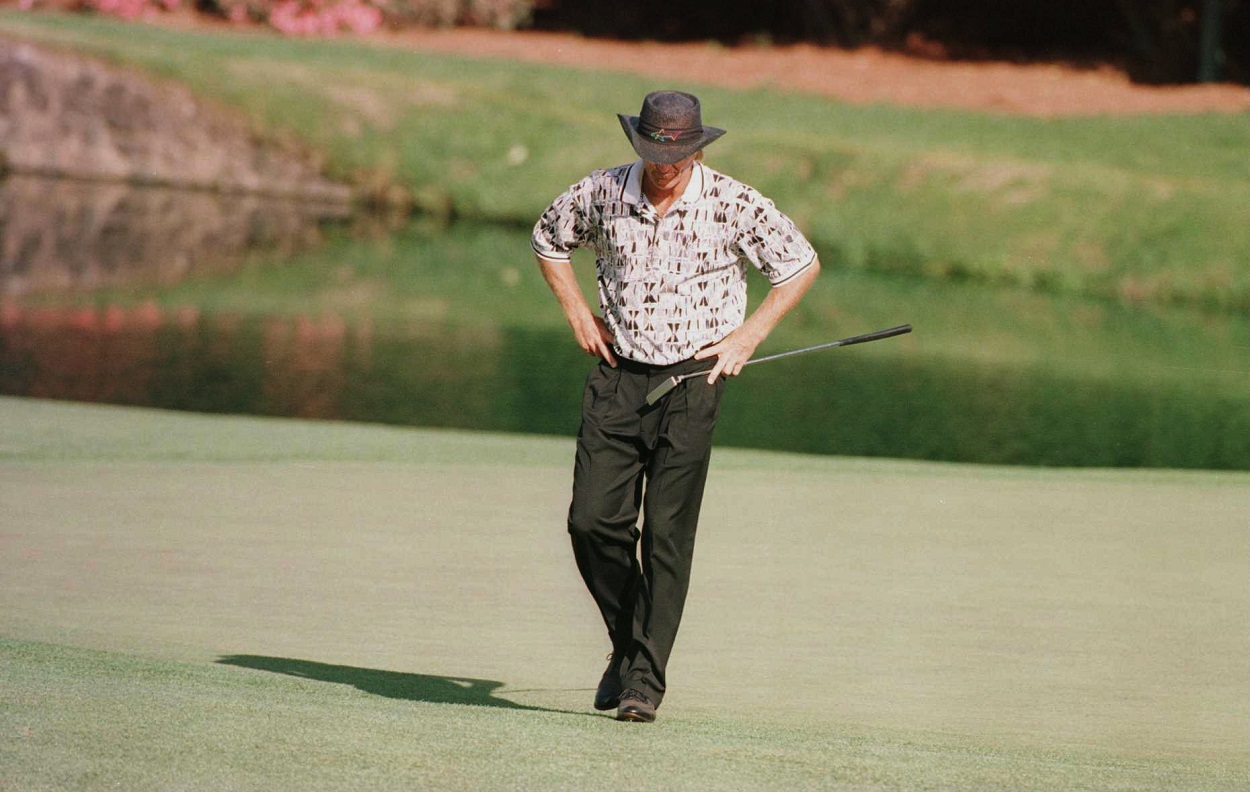 After staying relatively quiet on his epic collapse at The Masters in 1996, Greg Norman opened up a bit on the subject back in 2013 and revealed that he was dealing with intense back pain during the final round. In an appearance on Australian Story, a highly-acclaimed documentary series on ABC in his home country, Norman also revealed that the '96 Masters was the only time he let a golf tournament really get to him.
"There's more to it than people realize because I did have back issues that morning. I tried to walk it off but I couldn't. I told my coach, 'Today's not going to be easy.'

"I disappeared down to the beach after The Masters and lay on the beach and cried because I felt like I'd completely screwed up winning a tournament that I wanted to win.

"That would be about the only time that I would have brought the emotion of a golf tournament back home."

Greg Norman on the 1996 edition of The Masters
Greg Norman contended at The Masters again in 1999 but a final-round 73 left him three shots back of winner Jose Maria Olazabal. He played Augusta for the final time in 2009 at the age of 54 but missed the cut.