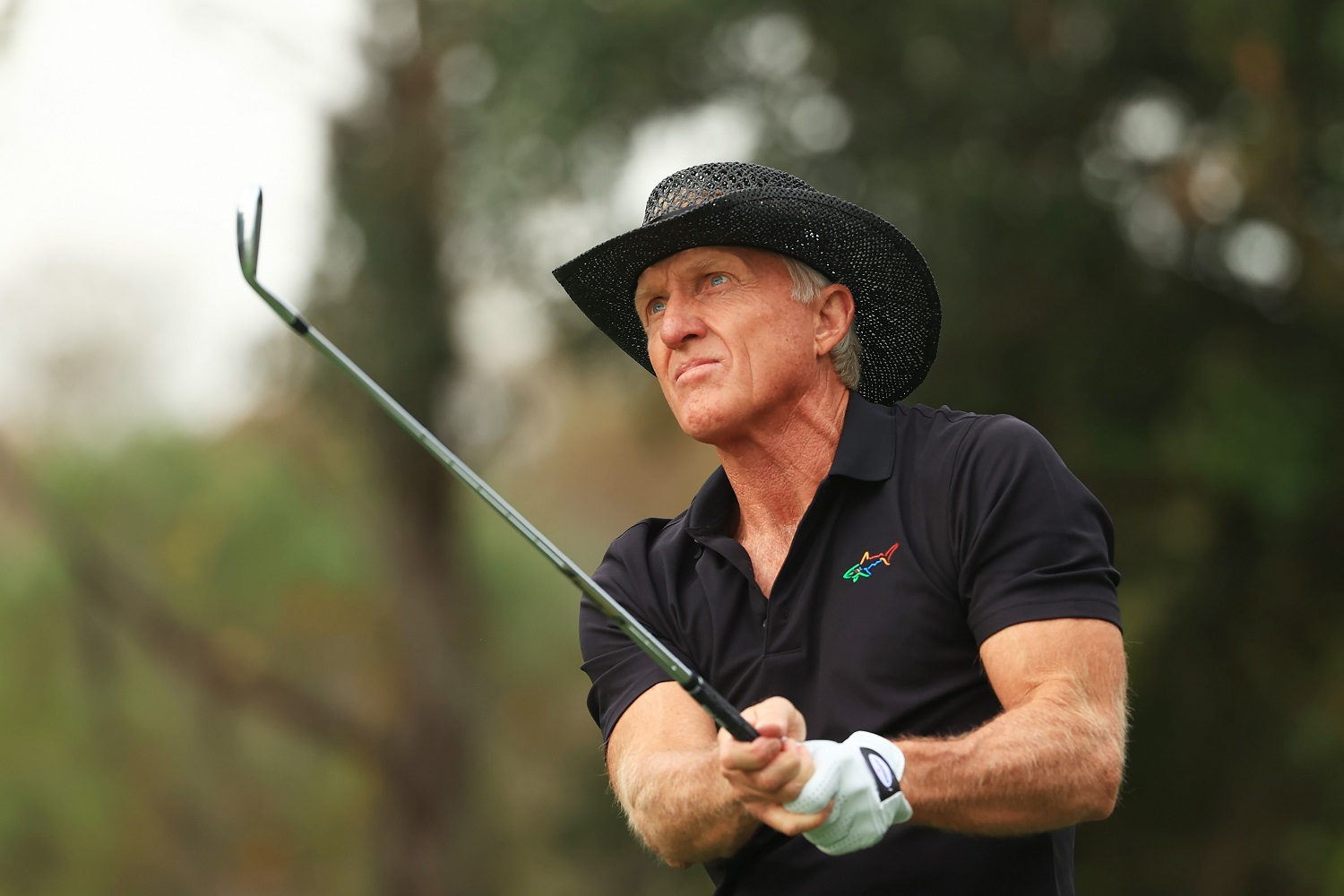 Greg Norman Candidly Admits His Greatest Victory Wasn't on a Golf Course
Greg Norman won 20 PGA Tour events and two British Opens. However, he says his greatest victory was in taking control of his business interests.
Early April is upon us, which means golf fans relive time-honored topics of The Masters Tournament like Jim Nantz's trademark phrase and Greg Norman's 1996 collapse.
Nantz waxes poetic about Augusta and "a tradition unlike any other" while aspiring to remain the broadcast host into his 70s. Meanwhile, Norman has moved on with his life to such a degree that the winner of two British Opens doesn't even rate anything he's done on the course as his greatest victory.
The Masters is a huge step back to normalcy in sports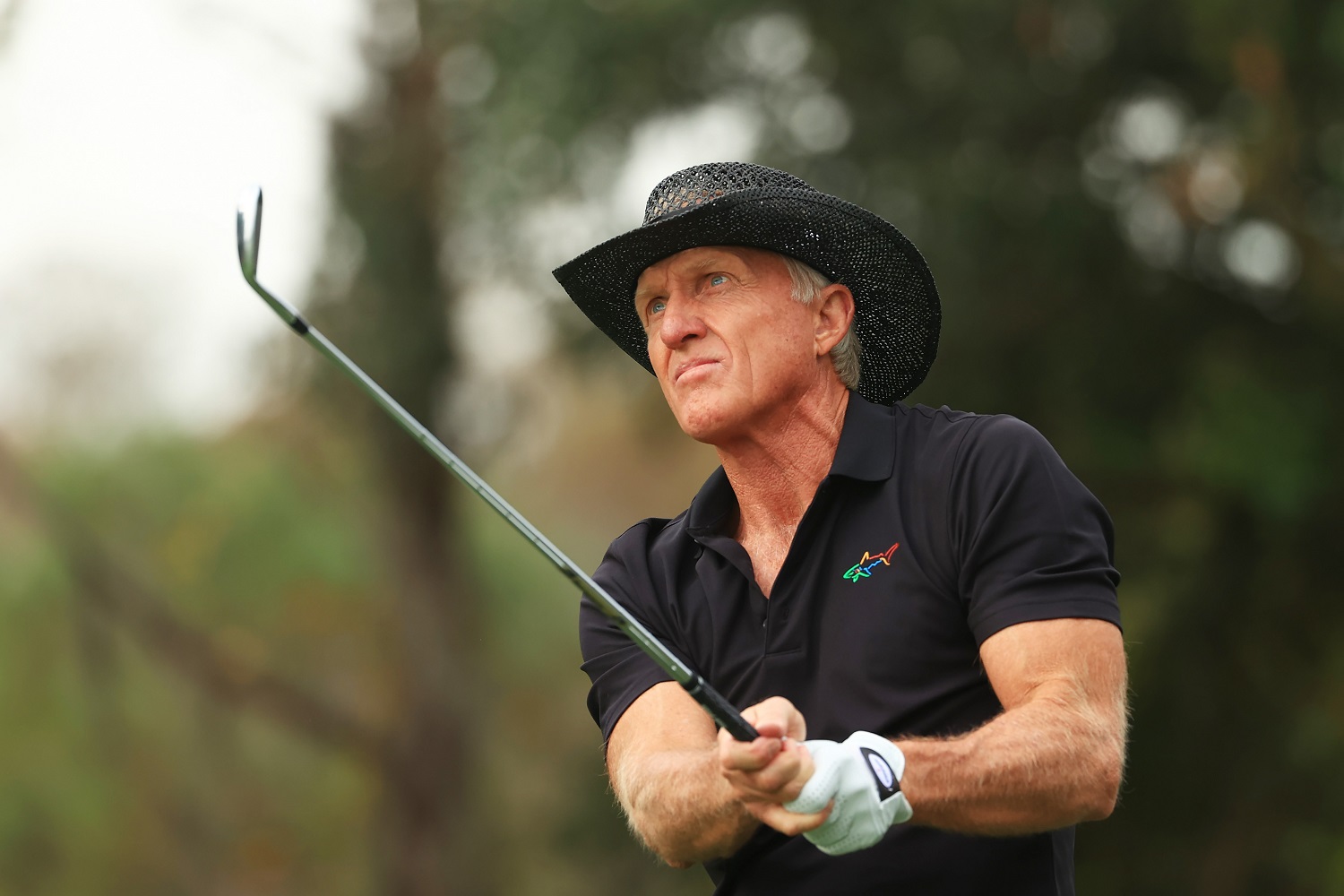 Football, basketball, hockey, and baseball all started new seasons after the onset of the COVID-19 pandemic, but none operated under normal conditions. The NFL fared best, playing games where they were originally scheduled — albeit not always when they were scheduled.
Attendance is still limited just about everywhere, but NASCAR and the PGA have kicked off their 2021 schedules on time and with no major obstacles other than the usual medical precautions. NASCAR always launches with its version of the Super Bowl, the Daytona 500. The PGA always starts with a couple of months of tournaments on courses that are beautiful but not exceptionally demanding – Pebble Beach and TPC Sawgrass excluded.
The real golf season, though, always starts at Augusta with the first of the sport's four majors. The Masters' rich history includes six victories by Jack Nicklaus, five by Tiger Woods, and four by Arnold Palmer. It also includes the heartbreaks:
Nine top-six showings for Greg Norman but no victories, not even in 1996 when he surrendered his six-shot lead to Nick Faldo.
Tom Weiskopf being denied his Green Jacket with four runner-up finishes.
And, of course, Norman losing the 1987 playoff on Larry Mize's dazzling 140-foot chip.
Greg Norman won a pair of British Opens
Greg Norman has nothing o apologize for in his professional golf career. The man tabbed The Great White Shark scored 89 tournament victories, including 20 on the PGA Tour from 1984 to '97. Along the way, he also won the British Open twice and spent 331 weeks at No. 1 in the Official World Golf Ranking.
Still, he came tantalizingly close to even more massive success. Norman held a 4-8 record in playoffs, but half the setbacks came in majors: an 18-hole route at the hands of Fuzzy Zoeller at the 1984 U.S. Open, the loss to Larry Mize on a ridiculous 140-foot chip at the '87 Masters, the four-hole playoff with Mark Calcavecchia at the '89 British Open, and against Paul Azinger in the 1993 PGA Championship.
It amounted to a grand slam of heartache but does not detract from Norman's legacy as one of his generation's best.
Greg Norman candidly admits his greatest victory wasn't on the golf course
For nearly all the while that Greg Norman was playing on the PGA Tour, he was also running a global business empire. Aside from apparel deals and the designing of golf courses that go hand-in-hand with stardom in the sport, Norman invested in real estate, entertainment venues, and private equity ventures.
Greg Norman's net worth was estimated last year at more than $400 million. As a young PGA Tour player, Norman didn't have time to manage it all himself in the early years. Like many star athletes, he used IMG, the vast talent management agency considered masters at developing and executing business opportunities.
Along the way, though, Norman had a moment of clarity.
"They're always going to build equity in their own brand. You're just a pass-through entity," Norman told Front Office Sports.
Norman parted amicably with IMG and set off to run his own game plan, something he calls his best decision and biggest victory ever. He was making more money than ever within a year. Equally important, he was improving the visibility and reputation of the Greg Norman brand.
"I looked into the future," he said. "In 1993, I wanted to look into, 'Where are you going to be in 2025?' I was that far out. If I could give a word of advice to all these young kids who are making beaucoup amounts of cash, it's this: It sounds like it's a lot of money today. But when you stop, and that cash stops coming in, not every investment is going to be a great investment. … So just get ready."
Following his own advice made Norman every bit the champion in business that he was in golf.
Like Sportscasting on Facebook. Follow us on Twitter @sportscasting19.