A Look Back on Fuzzy Zoeller's Incredibly Racist Comments About Tiger Woods at the 1997 Masters
Fuzzy Zoeller was a hell of a golfer in his day. He racked up 10 PGA Tour wins, including wins at The Masters and U.S. Open, and made more than $5 million in an era when tournament purses weren't even close to what they are today. But to an entire generation of golf fans, he'll always be known as the guy who made those racist comments about Tiger Woods during Tiger's historic win at Augusta National in 1997.
Fuzzy Zoeller won The Masters in 1979
In 1979, in his very first appearance at The Masters, Fuzzy Zoeller became just the third player in history to win in his debut at Augusta National. Zoeller had just one PGA Tour at that time but took advantage of an unfortunate meltdown to capture his first major championship.
Zoeller was three shots back of the lead after the first round and six shots behind at both the 36 and 54-hole mark. Ed Sneed was at 12-under heading into the final round and held a five-shot lead over Tom Watson and Craig Stadler and a six-shot lead on Zoeller and Bruce Lietzke. But Sneed stumbled on Sunday, shooting a 4-over 76. Watson shot 71 and Zoeller shot 70 to send things to a playoff, which Fuzzy Zoeller won with a birdie on the second extra hole.
While the green jacket and the victor's share of the purse are obviously the biggest things one can win at The Masters, an added bonus is an invitation to the annual Champions Dinner, which, for those unaware, is held the Tuesday before The Masters begins. The previous year's champion gets to select the menu at the event, which plays into the upcoming story.
Tiger Woods' historic win at Augusta National in 1997
In 1997, Tiger Woods, then just 21 years of age, made history at The Masters on so many levels. Woods set or tied 27 different Masters records that week and became the youngest player to ever win the tournament. But even more importantly, he became the first non-white golfer to win any major championship.
After a disappointing 40 on his first nine holes, Woods shot 30 on the back nine on Thursday to shoot a 2-under 70, which left him three shots back of leader John Huston. Tiger went on a tear on Friday, shooting a 6-under 66, and followed it up with a 7-under round of 65 on Saturday to take a nine-stroke lead into the final round. He shot a 3-under 69 on Sunday to complete a 12-shot victory. It's considered by many to be the most important victory in the history of golf as it certainly changed the game forever.
What did Fuzzy Zoeller say about Tiger Woods?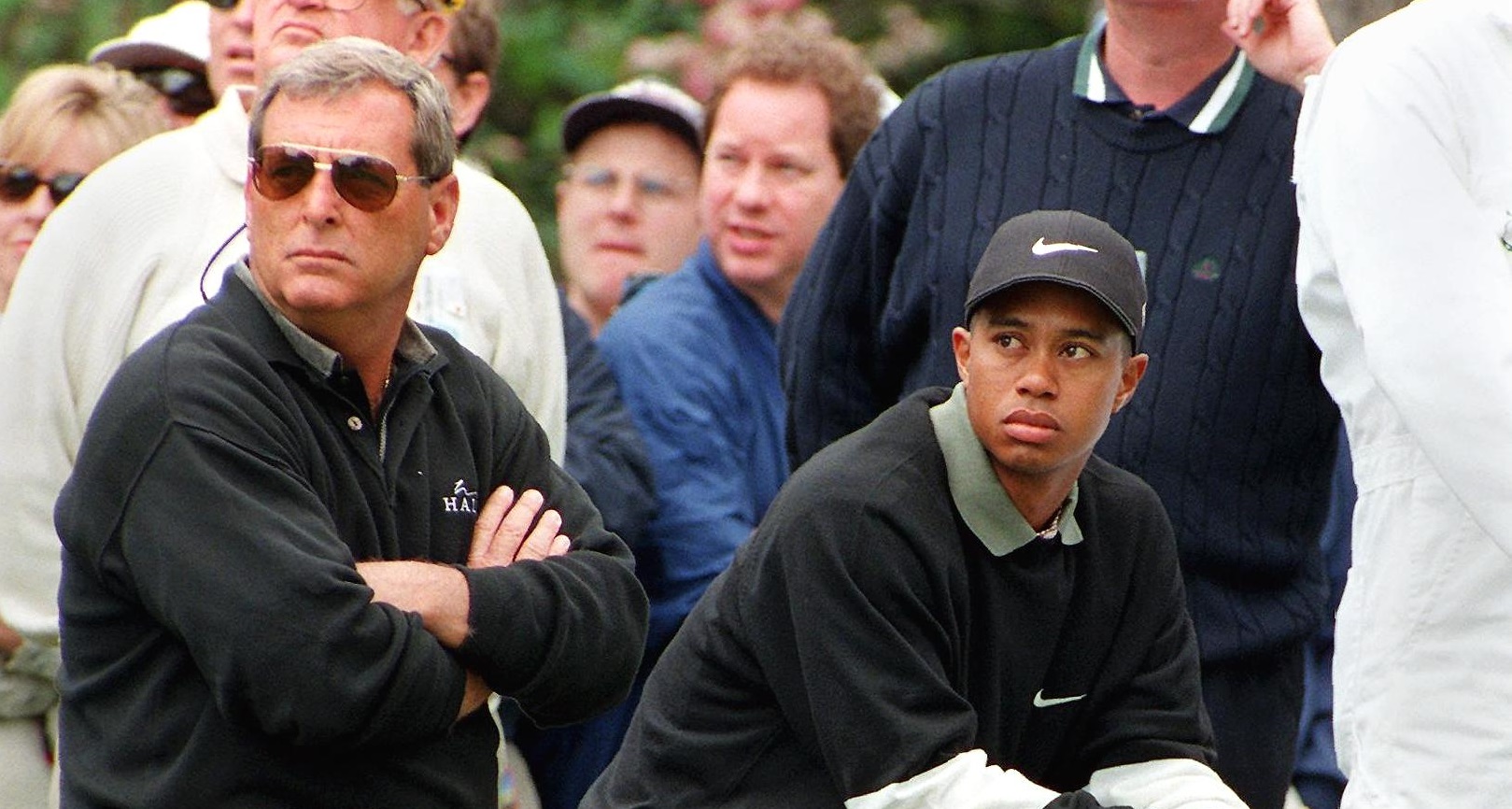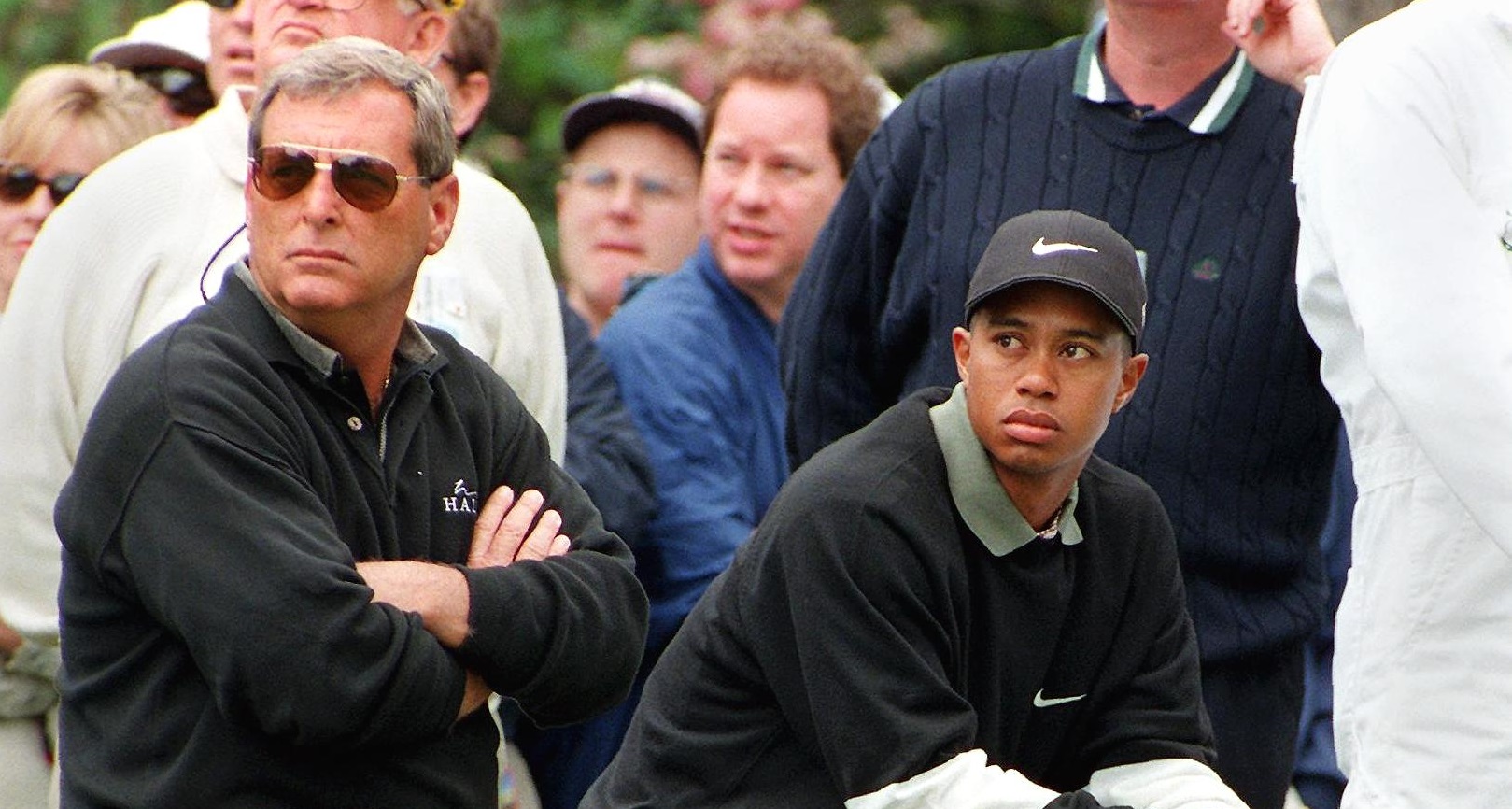 So here's what went down with Fuzzy Zoeller. Another added bonus of winning The Masters is being able to play the tournament as long as you like, even if you really have no chance of winning. By the time the 1997 Masters rolled around, Zoeller hadn't won a PGA Tour event in more than 10 years and was 45 years old.
Zoeller did make the cut at Augusta in '97 but, like everyone else, was well back of Tiger Woods on Sunday. He shot a closing-round 78 to finish at 7-over the week, 25 shots behind Woods, and tied for 34th. Zoeller was asked about Tiger upon completing his round and this is what he had to say (h/t CBS Sports).
"He's doing quite well, pretty impressive. That little boy is driving well and he's putting well. He's doing everything it takes to win. So, you know what you guys do when he gets in here? You pat him on the back and say congratulations and enjoy it and tell him not to serve fried chicken next year. Got it. Or collard greens or whatever the hell they serve."

Fuzzy Zoeller on Tiger Woods at the 1997 Masters
The backlash began almost immediately. While Zoeller claimed it was all a joke, his sponsors certainly didn't find it funny and his deals with Kmart and Dunlop were terminated. Nine days after the comments were made, his public apology appeared in the New York Times.
"My comments were not intended to be racially derogatory, and I apologize for the fact that they were misconstrued in that fashion.

"I've been on the tour for 23 years and anybody who knows me knows that I am a jokester. It's too bad that something I said in jest was turned into something it's not, but I didn't mean anything by it and I'm sorry if I offended anybody. If Tiger is offended by it, I apologize to him, too."

Fuzzy Zoeller
A month after Zoeller's was released, the New York Times reported that Tiger Woods and Fuzzy Zoeller met for lunch at famed Colonial Country Club in Fort Worth ahead of the Mastercard Colonial tournament, which was the first event in which both played following the incident at The Masters. Woods accepted Zoeller's apology and simply said that he wanted to get back to playing golf.
"Fuzzy and I had a nice lunch conversation. I found out something I needed to know and it's over. Hopefully, we will have a good tournament. Over time, we will see it be an incident that will make this better for golf."

Tiger Woods
Unfortunately, that wasn't the only time Tiger Woods has had to deal with racially-charged comments from fellow players.
Sergio Garcia and Steve Williams have both made insensitive remarks about Tiger
In 2013, Sergio Garcia made a "fried chicken" remark of his own that was not well received. And just two years earlier, Woods' longtime caddie and friend, Steve Williams, put his foot in his mouth as well.
Williams, who worked Adam Scott's bag after being fired by Tiger, said that Scott's 2011 triumph at The Masters was the greatest win of his career (he was on Tiger's bag for 13 major championships). When asked why he said that, Williams, via CBS Sports, said that he just wanted to beat his former employer and "shove it up his black a—hole."
Both comments were disappointing to Woods but as he did with Fuzzy Zoeller's comments, he handled them gracefully.