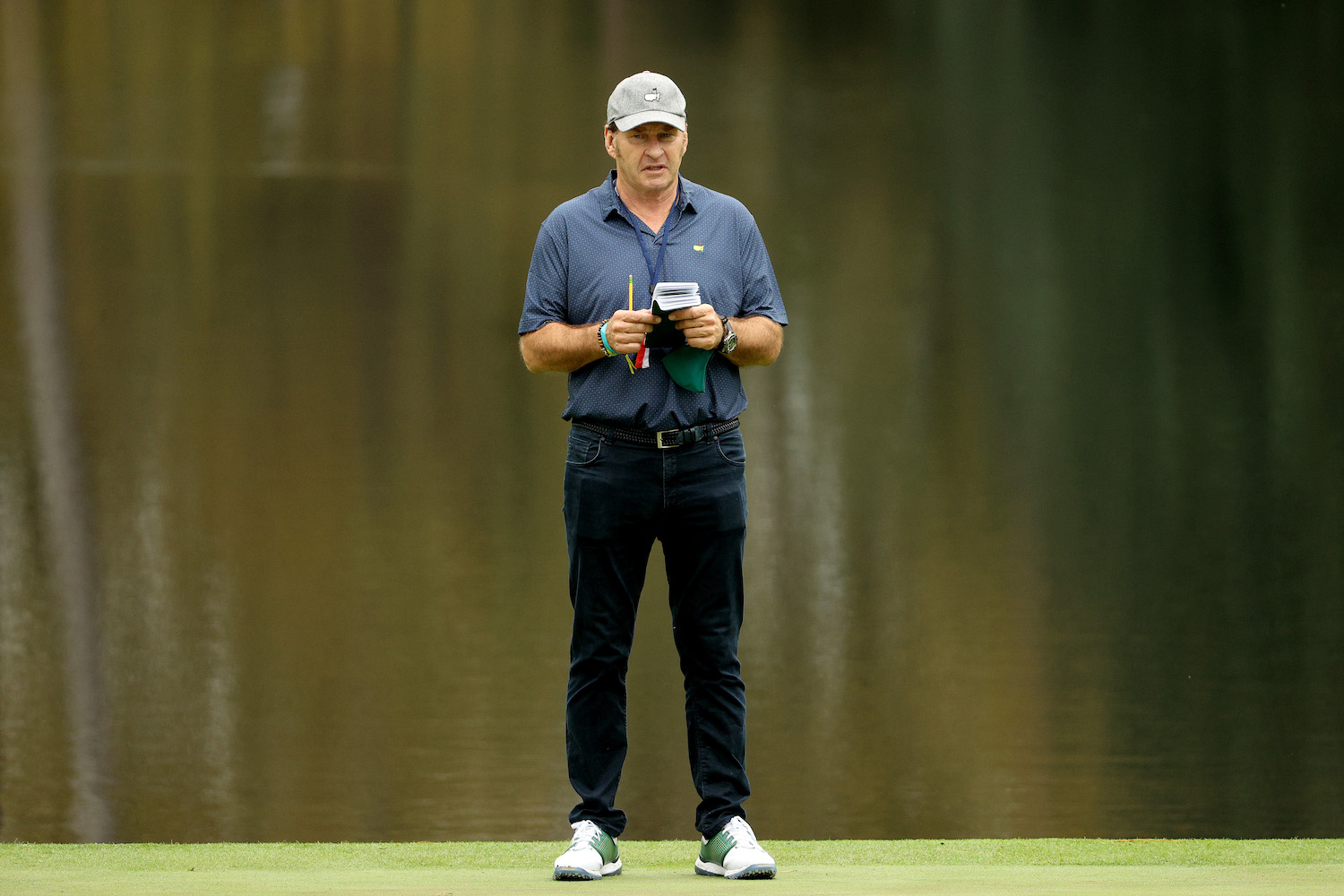 Why Is Nick Faldo Called 'Sir' and What Is His Net Worth?
Nick Faldo is one of the greatest golfers in the history of the game with six major titles. Why is he called Sir Nick Faldo and what is his net worth?
Sir Nick Faldo is one of the greatest golfers in the history of the game. He won 41 times in his career, including three Masters and three Open Championships. The Englishman was inducted into the World Golf Hall of Fame in 1998. He joined with CBS Sports in 2006 as the lead analyst in golf coverage. Why is he called Sir Nick Faldo and what is his net worth?
Nick Faldo is one of golf's greatest players
Nick Faldo made his professional debut in 1976 on the European Tour. He won Rookie of the Year honors in 1977 and became the then-youngest Ryder Cup player at age 20. By 1983, he finished top of the Order of Merit, with five European Tour victories. 
Four years later, Faldo won his first major championship, The Open Championship at Muirfield. It was the start of a nine-year run that would see him add five more major titles, including a pair of Open Championships and three green jackets at Augusta National Golf Club. 
During the early 1990s, Nick Faldo was undeniably the best golfer in the world, holding the No. 1 ranking for 97 weeks between September 1990 and February 1994. Faldo captured his final major at the 1996 Masters, and then a year later won his last PGA Tour event, the Nissan Open. 
He finished his career with a total of 41 tournament victories across the multiple tours. 
Nick Faldo receives knighthood
In 2009, Nick Faldo was knighted for his golfing exploits by the Queen during a ceremony at Windsor Castle. In addition to winning six major titles, he also won the European Order of Merit twice and earned 30 wins on the European Tour. He is Britain's most successful golfer of the modern era. 
"You've been in the game a long time," the Queen told him during the ceremony.
While Sir Nick Faldo was captain for the European Ryder Cup team that suffered a lopsided defeat in 2008, during his 11 appearances as a player, he accumulated a record 23 points and helped the Europeans to victory five times.
He is just the second golfer ever to be knighted by the Queen, the first being Sir Henry Cotton in 1987.
Success in the business world 
With all of his success during his playing days, Sir Nick Faldo earned millions. Since he retired, Faldo has devoted much of his time to his golf course design business, which has developed courses on five continents and in 20 countries around the world.
In addition to course design, he's been with CBS Sports since 2006, where his initial contract was reportedly worth $8 million a year. While he's accumulated considerable wealth both during and after his playing days, Faldo has been through multiple divorces. As a result, he's lost a reported $20 million in settlements. 
Despite being out of competition, Nick Faldo's career accomplishments still entice brands to partner with him. He has endorsements with a variety of companies, his most recent with SQAIRZ Golf Shoes. All of his business deals, plus his career earnings, minus the divorce settlements, Faldo has a reported net worth of $60 million.