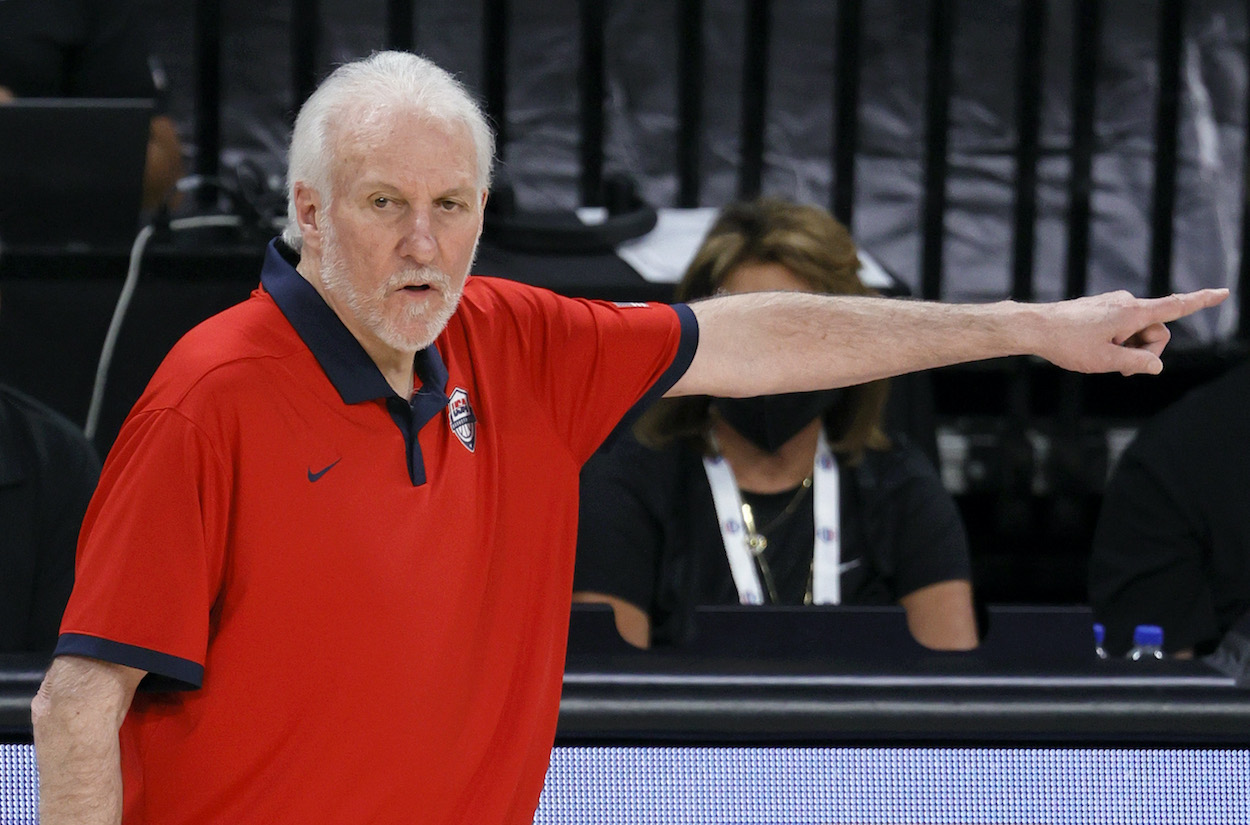 Gregg Popovich Has Tense Exchange With Reporter After Another Team USA Loss: 'You'll Be Quiet Now While I Talk'
Team USA head coach Gregg Popovich can be tough to deal with for the media but consecutive exhibition losses have made him even more prickly. Team USA is not as strong as usual in the 2021 Tokyo Olympics and the world has gotten better. This could lead to the USA losing out on a medal.
San Antonio Spurs and Team USA head basketball coach Gregg Popovich can be prickly with the media on his best days. When things aren't going well, like after back-to-back exhibition losses for the first time in modern "Dream Team" history, he can apparently be even more on edge.
During a press conference following a 91-83 loss to Australia in an Olympic tune-up, Popovich took offense to a reporter's question and got testy with his answer. This isn't a good sign for future press conferences where Coach Pop might have more tough questions to answer if the struggles continue.
Team USA Basketball has struggled in exhibition games ahead of the 2021 Tokyo Olympics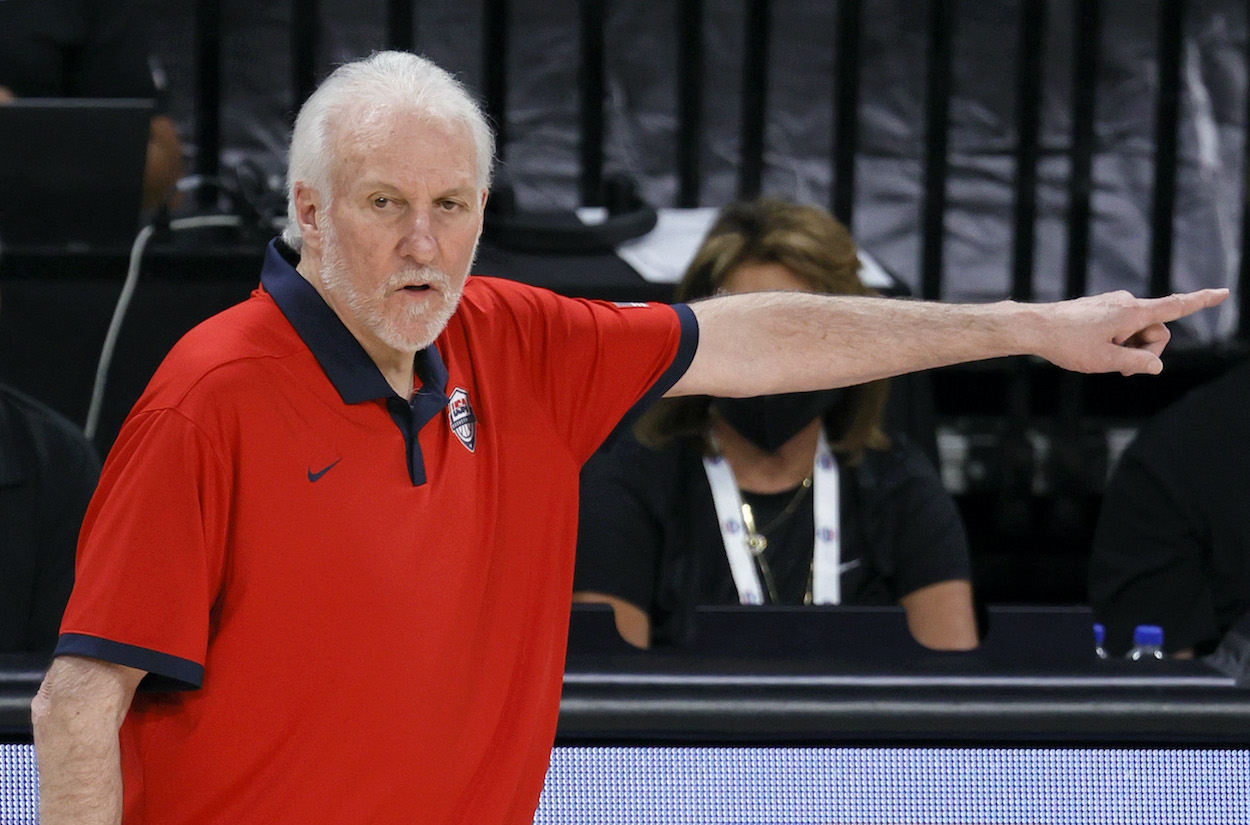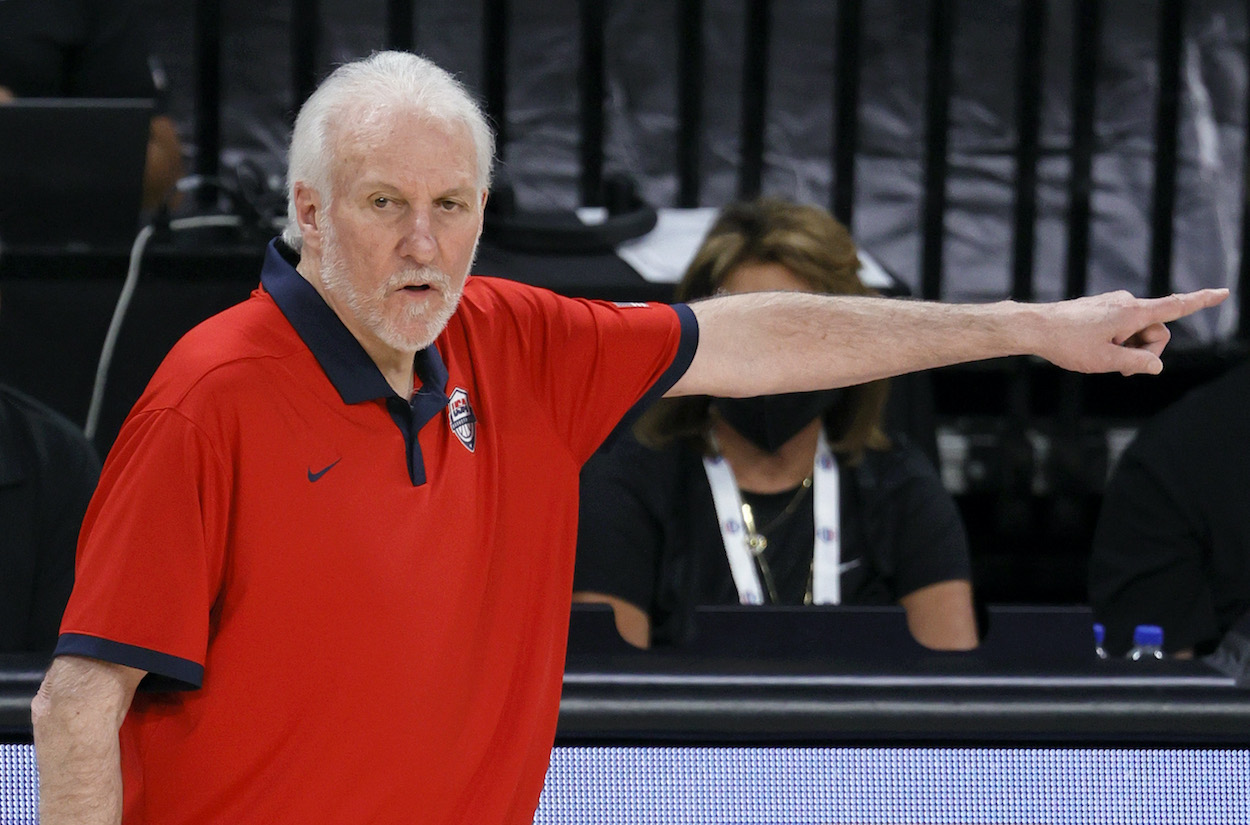 Prior to this week's pre-Olympics mini tournament in Las Vegas, the U.S. men's basketball team had a 54-2 record in exhibition games dating back to the original Dream Team in 1992, per The Athletic.
In the span of two games against Nigeria and Australia, the current incarnation of the team doubled that loss total.
First, Nigeria pulled a historic upset over the 2021 group of NBA stars, 90-87. Then, the team lost to one of the top teams in international basketball in Australia before righting the ship and beating Argentina 108-80.
These results go to show that Team USA will be tested in this international competition like never before. In addition to Nigeria and the Aussies, which both have several current and former NBA players, there are other strong teams in the 2021 Games as well.
France features Rudy Gobert, Nicolas Batum, and Evan Fournier. Spain has the Gasol brothers, the Hernangomez brothers, and Ricky Rubio, and Slovenia has Luka Doncic, and, well, it doesn't really matter who else.
Head coach Gregg Popovich took offense to a reporter's question
Senior NBA writer for The Athletic Joe Vardon joined The Dan Patrick Show to discuss his tense press conference confrontation with Gregg Popovich.
The reporter asked a question to Damian Lillard, following the Australia loss, about what it was like to watch previous USA basketball teams "blow these teams out" and "roll through these tournaments" and now "having to experience the other side of it."
Lillard answered the question thoughtfully, but then the head coach got involved. "When you just mentioned 'blowing these teams out,' that's never happened," Popovich claimed. "So I don't know where you get that."
When Vardon interrupted to try and give Popovich some historical margin of victory stats, Popovich snapped back:
Can I finish? Can I finish? Can I finish my statement? Can I finish my statement? Are you going to let me finish my statement or not? So you'll be quiet now while I talk, then I'll listen to you. When you make statements about in the past just blowing out these other teams, number one, you give no respect to the other teams, and I talked to you last time about the second thing. We've had very close games against four or five countries in all these tournaments. So, the good teams don't get blown out.
Vardon explained to Patrick that Popovich is the one who had his facts wrong. He cited statistics about Team USA's average margin of victory in the past, which generally falls in the high 20s or even low 30-point range. In the 2016 Olympics gold medal game, Team USA beat Serbia 96-66.  
Team USA may have reinforcements on the way, but it won't be enough 
The 2021 U.S. Olympic men's basketball team lacks the star power of many of its predecessors. LeBron James, Stephen Curry, James Harden, Anthony Davis, Kawhi Leonard, and Anthony Davis are just a few of the marquee names that either opted out of the Tokyo Games or pulled out due to injury.
That leaves Kevin Durant and Lillard as the only MVP-level players on the team. Players like Zach LaVine and Bam Adebayo have only made one NBA All-Star team. Jerami Grant hasn't even done that.
One thing the team is counting on for improvement is getting three additional players once the NBA Finals conclude. The Athletic's Shams Charania reported on the Pat McAfee Show 2.0 podcast that Devin Booker, Jrue Holiday, and Khris Middleton would be on their way to Tokyo as soon as the Finals end:
If the NBA Finals is still going on, on July 22, Game 7, that game will end, and those three guys – Khris Middleton, Jrue Holiday, and Devin Booker – these three guys will be on the next flight out to Tokyo on private charters from what I'm told.
While that will be helpful to have three additional All-Stars (although the three only have five combined appearances), it doesn't help Team USA with additional size, which they need, or additional superstars who can truly take over a game.
The combination of a lackluster Team USA and more talented, more cohesive squads around the world than ever means this "Dream Team" isn't guaranteed to walk away with the gold, or any medal, for the first time in decades.
If this worst-case scenario happens, you can be sure there will be more tough questions from the media. Which also means more surly answers from Gregg Popovich.  
Like Sportscasting on Facebook. Follow us on Twitter @sportscasting19