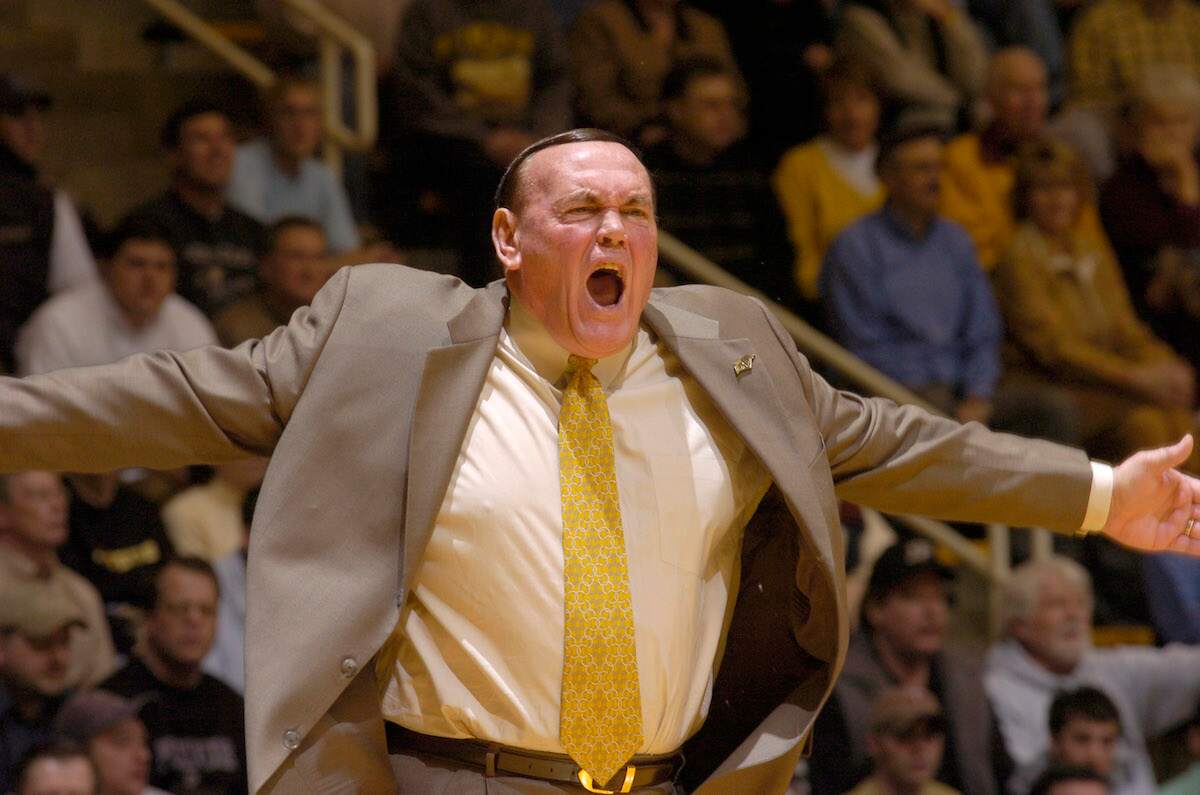 Who Is Hall of Fame Basketball Coach Gene Keady?
After almost three decades of coaching, Gene Keady has joined the Naismith Memorial Basketball Hall of Fame class of 2023.
Despite an incredible track record as the longtime head coach of the Purdue men's basketball team, Gene Keady never got the Hall of Fame nod. But now, after almost three decades of coaching, the 87-year-old was among the inductees in the Naismith Memorial Basketball Hall of Fame class of 2023.
While many recognize Keady as the head coach who took Purdue to the NCAA Tournament 17 times over a span of 24 years, there is a lot more to know about this legendary college basketball coach.
Gene Keady's Hall of Fame induction
The National Association of Basketball Coaches inducted the beloved Purdue head coach into the National Collegiate Basketball Hall of Fame in 2013. A decade later, Keady entered the Naismith Basketball Hall of Fame via enshrinement festivities on August 11-12, 2023 in Springfield, Massachusetts.
Hall of Fame President and CEO John L. Doleva said this group of accomplished individuals represents "not only household names in the game but also those who teach, coach and counsel to men and women at the most organic levels of basketball."
Doleva continued, "The ultimate achievement of a storied career is Enshrinement in the Naismith Hall, and this Class punctuates and defines what it means to be a Hall of Famer."
Gene Keady spent 25 years as the head coach of the Purdue men's college basketball team
From 1978 to 2005, Keady coached the NCAA Division I Purdue Boilermakers to victory in 550 games. He is the second-winningest coach in the Big Ten and holds the record as a seven-time winner of the Big Ten Coach of the Year distinction.
Purdue Sports reports, "After 25 years of running up and down the sidelines and perfecting his famous scowl, Gene Keady's name has become synonymous with Boilermaker basketball. He forever will be known as one of the greatest to ever coach the game." 
Keady maintained the second-longest men's basketball coaching tenure in the college's history. From 1994-96, the esteemed coach led the Purdue Boilermakers to three consecutive conference titles, earning him the national Coach of the Year honors for three years running.
The beloved coach and father of three has succeeded off the court as well, striving to be a mentor to his student-athletes. During his time at Purdue, almost 90% of Keady's players graduated college, and the Boilermakers received Academic All-American honors seven times and Academic All-Big Ten 35 times.
Keady ended his illustrious head coaching career at Purdue with a conference record of 265-169 (.611) and a school record of 512-270 (.655). This makes him Purdue's all-time winningest coach.
Gene Keady's basketball career before becoming a Hall of Fame coach
Before Keady became a renowned head basketball coach for Purdue, he was a four-sport athlete growing up in Kansas. According to the Indy Star, "While Keady said his best sport was baseball, he played football at Kansas State and was drafted in the 19th round of the 1958 NFL Draft by the Pittsburgh Steelers (223rd overall)."
After a short-lived NFL career, Keady returned to Kansas to work as a high school basketball coach and teacher from 1959-65. From there, he moved on to a coaching position at a local junior college and worked his way up the ranks.
In 1975, Keady accepted an assistant coaching position for the Arkansas Razorbacks and then became the head coach for Western Kentucky for two years until landing the head coaching job at Purdue in 1980. He remained with the Boilermakers for 25 years until his retirement in 2005. In 2010, he took an assistant coaching position with St. John's, where he remained until 2015.
While Keady never became an NBA head coach, during the 2005-06 season, he was the assistant coach for the Toronto Raptors. He is also credited with helping select the 1984 U.S. Olympic "Dream Team." In 2000, Keady was the assistant coach for the U.S. Olympic team that brought home the gold medal in Sydney, Australia.