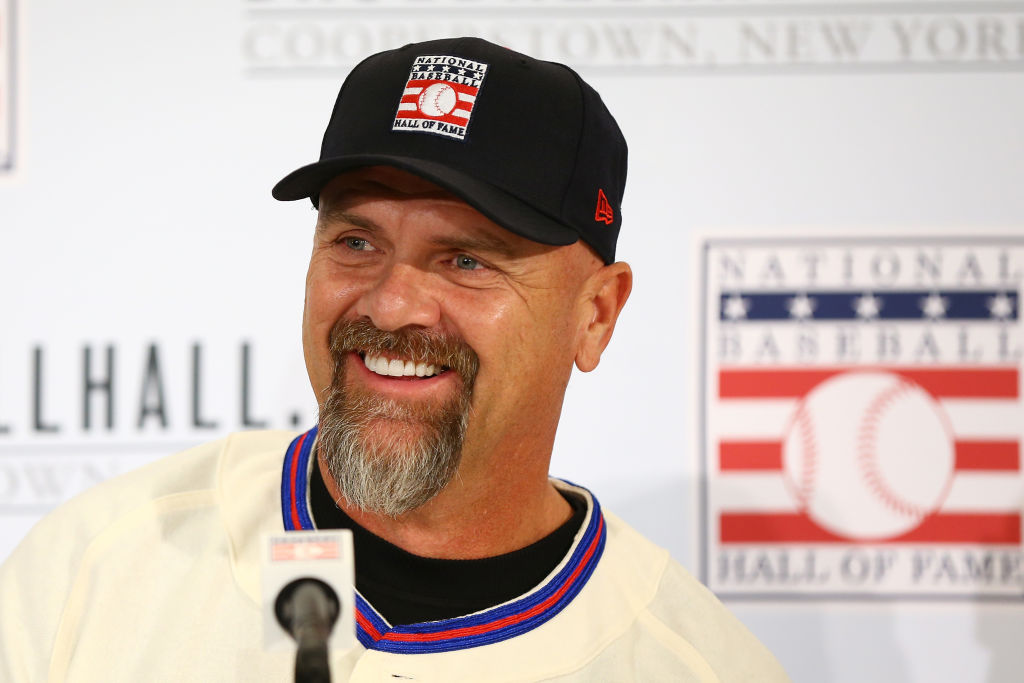 Hall of Famer Larry Walker Will Soon Be Living His Dream In Another Sport
Larry Walker might be a Hall of Fame baseball player, but he'll be trying his hand at another sport in the coming days.
Playing one sport at a professional level is hard enough. Being an elite talent in two different fields, however, is much tougher. That reality is what made guys like Bo Jackson and Deion Sanders so impressive; while only the gifted few can make it to the NFL or MLB, they bounced between the two leagues without missing a beat. Larry Walker, it seems, will become another double-threat athlete.
Walker, of course, was a Hall of Fame outfielder who spent most of his career with the Colorado Rockies. The veteran Canadian, however, is going to be living his dream in a different sport.
Larry Walker's Hall of Fame baseball career
During Larry Walker's childhood, baseball didn't have a major presence in Canada. While he primarily played hockey, Walker did spend some time on the diamond, too; his father played semipro ball, and Larry, a natural athlete, shone wherever he played. Eventually, he caught the attention of Montreal Expos' scouting director Jim Fanning. Before long, Walker signed an amateur free agent contract.
While the club knew Walker was raw, they believed he had the athleticism and talent to eventually make it as a baseball player. There were plenty of growing pains along the way—the young outfielder needed to learn the nuances of professional baseball, like identifying pitches—he started to improve. In August 1989, he got was called up to the big leagues; this was his chance to impress.
Walker would spend the next five seasons in Montreal, developing into a promising young star. In a cost-cutting measure, however, the Expos didn't offer him arbitration; Walker hit the open market, where he inked a deal with the Colorado Rockies.
In Colorado, Walker truly took off. While Coors Field's thin air helped his power numbers, he didn't become a one-dimensional hitter; the outfielder never sacrificed his batting average to chase home runs. During his 10 seasons with the Rockies, the big Canadian hit .334, while driving in 848 runs and belting 258 homers. He would finish his career with the St. Louis Cardinals and finally received his invitation to Cooperstown earlier this year.
Larry Walker will be suiting up as an NHL goalie
While it might veer into stereotypes to assume Larry Walker loves hockey, the Canadian did spend plenty of time on the ice in his youth. His career, however, is about to come full circle.
Growing up, Walker was an accomplished goalie in his own right. He was friends with Cam Neely—who would go on to earn a place in the Hockey Hall of Fame—and honed his craft facing off against the future Bruin. Walker was talented enough to try out for Junior A teams in the Western Hockey League but never made the cut.
This weekend, however, Walker will get a bit closer to living his dream as an NHL player. The Colorado Avalance announced that the veteran outfielder will serve as their emergency backup goaltender against the Vegas Golden Knights. While it's highly unlikely he'll see any action, Walker will also be honored before the March 15 game.
Another great emergency backup goalie story
Larry Walker, of course, isn't the only emergency backup goalie to make recent news. In February, David Ayres was forced into the net when the Carolina Hurricanes lost both netminders to injury; he would go on to earn the win, making him the first emergency backup goalie to be credited with a 'W.' After the game, he went on a whirlwind tour, appearing at a Hurricanes home game, late-night TV shows, and the Hockey Hall of Fame.
While Ayers' story was a bit more touching than Walker's, they both hold a common thread. The former man lived his dream of winning an NHL game; on Sunday afternoon, Larry Walker will finally get to be the hockey player he always wanted to be. At the end of the day, moments like that are part of what makes sports so great.