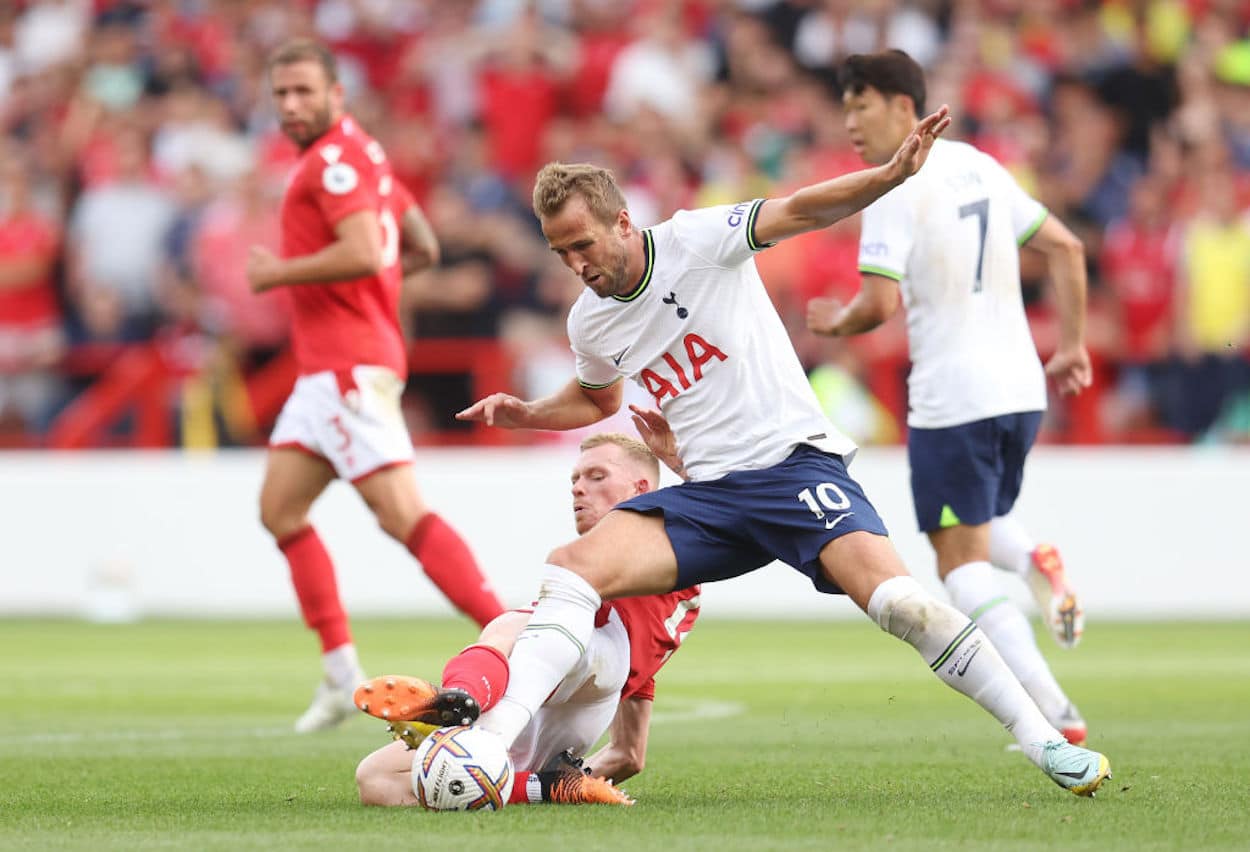 Harry Kane Admits That Tottenham 'Need to Fix' a Recurring Problem Despite Their Hot Start
While Tottenham Hotspur have gotten off to a hot start this year, Harry Kane didn't pull any punches during a post-match interview.
After four weeks of Premier League soccer, things are going pretty well for Tottenham Hotspur. The North London club has won three matches; their only dropped points came from a draw away to Chelsea. Harry Kane has been scoring, and, while the opposition has been able to take plenty of shots, Antonio Conte's defense has largely limited things to low-danger shots.
While that all might seem sunny, the club's star player knows that things haven't been perfect. In fact, Kane went as far as saying that Spurs needed to fix some issues moving forward after a win over Nottingham Forest.
Harry Kane knows that Tottenham can't keep starting matches slowly
As the cliche says, winning solves a lot of problems. While that's largely true, Harry Kane knows that his Tottenham Hotspur squad has been playing with fire. Even in victory, they've been starting games slowly. An early goal somewhat changed that narrative on Sunday, but it still took until the second half for Spurs to finally flex their muscles and seal the deal.
"I think we've done that [dropped deep defensively] in the first half a lot this year already, and then it's taken us a kind of a wake-up call until the second half, and then we'll be a bit more aggressive," Kane told Sky Sports, as seen during NBC Sports Premier League coverage. "We become better on the ball because of it, and then, yeah, obviously today, we got away with it in the first half being 1-0 up. But it could have easily been a different story, so, for sure, it's something we need to fix and quickly. We've got a lot of games coming up in a short space of time, so we can't afford to not start the first halves well."
Later in the interview, Kane admitted that Spurs are feeling good from a physical perspective but haven't shown that on the pitch. When asked, he struggled to explain why that was the case.
"It's hard to say, you know," the striker continued. "At the end of the day, we're still winning games, which is the most important. I feel like second half, we're definitely showing physically that we're becoming stronger as the game goes on. But, yeah, look, it's a long season left. We're still grinding out wins when we're not at our best, which is important, and, yeah, we've got another important game on Wednesday when we've got to try and start well."
As Kane said, creating sustained pressure has been tricky for Spurs. While you could argue that's somewhat by design — Antonio Conte has no problem with his team sitting behind the ball and playing on the counter — there is an element of risk involved. Tottenham have done a good job of limiting high-danger chances against this season, but if the game hasn't been killed off, a single deflection or 1-in-100 strike to can turn a win into a draw. For a club that wants to challenge Manchester City and Liverpool while pushing deep into the Champions League, there isn't much room for missteps.
Perhaps that's something that a slightly different midfield — maybe one including Yves Bissouma as more of a progressive ball-carrier — could help mitigate. That wouldn't blunt Conte's preferred style of play, but could help avoid the slow starts and lack of control that Kane discussed.
As things stand, having Antonio Conte in the dugout along with Kane, Heung-Min Son, Dejan Kulusevski, and Richarlison in attack seems to be enough to keep Spurs firmly in the top-four picture. If they can exert a bit more control, though, they'll look that much better.
Like Sportscasting on Facebook. Follow us on Twitter @sportscasting19 and subscribe to our YouTube channel.