Hassan Haskins Contract: Why the Titans Rookie RB Could Cost Derrick Henry His Job
When the NFL booked the final Amazon Prime Video Thursday Night Football game of the season between the Tennessee Titans and the Dallas Cowboys, they surely envisioned an elite running back matchup. The Titans-Cowboys game would feature arguably the best backfield in the league, with Ezekiel Elliott and Tony Pollard on the Dallas side and possibly the most dominant individual back in Tennessee's Derrick Henry. Instead, with Henry and Pollard out, we get Elliott vs. the unknown Titans rookie Hassan Haskins. Ahead of this unexpected RB matchup, we'll look at who Haskins is, what the Hassan Haskins contract looks like, how it compares to the Derrick Henry contract, and why this comparison might cost Henry his job next season.
Who is Titans rookie RB Hassan Haskins?
Prior to Week 17, most NFL fans — and even most Titans fans — probably didn't know the name Hassan Haskins.
The 2022 fourth-round pick out of Michigan comes into the Week 17 Titans-Cowboys game with 11 catches for 50 yards and seven catches for 31 yards on the season. Before that, though, he was a prolific runner for the Wolverines.
Haskins played three seasons in Ann Arbor, breaking out during his senior season in 2021. Last year, he had 270 carries for 1,327 yards and 20 touchdowns. He also added 18 catches for 131 yards.
The RB's NFL.com scouting report described him as a "Big runner who is much more workmanlike than dynamic with the ball in his hands. In his lone season as a lead back, Haskins' downhill, physical style was well-paired with the 'cloud of dust' rushing philosophy for Michigan."
And it seems that at pick No. 131, the 6-foot-2, 228-pound Haskins found a perfect NFL home, backing up the 6-foot-3, 247-pound Derrick Henry in Tennessee.
So, as a fourth-round pick, here is what the Hassan Haskins contract looks like.
The Hassan Haskins contract is a bargain if he is good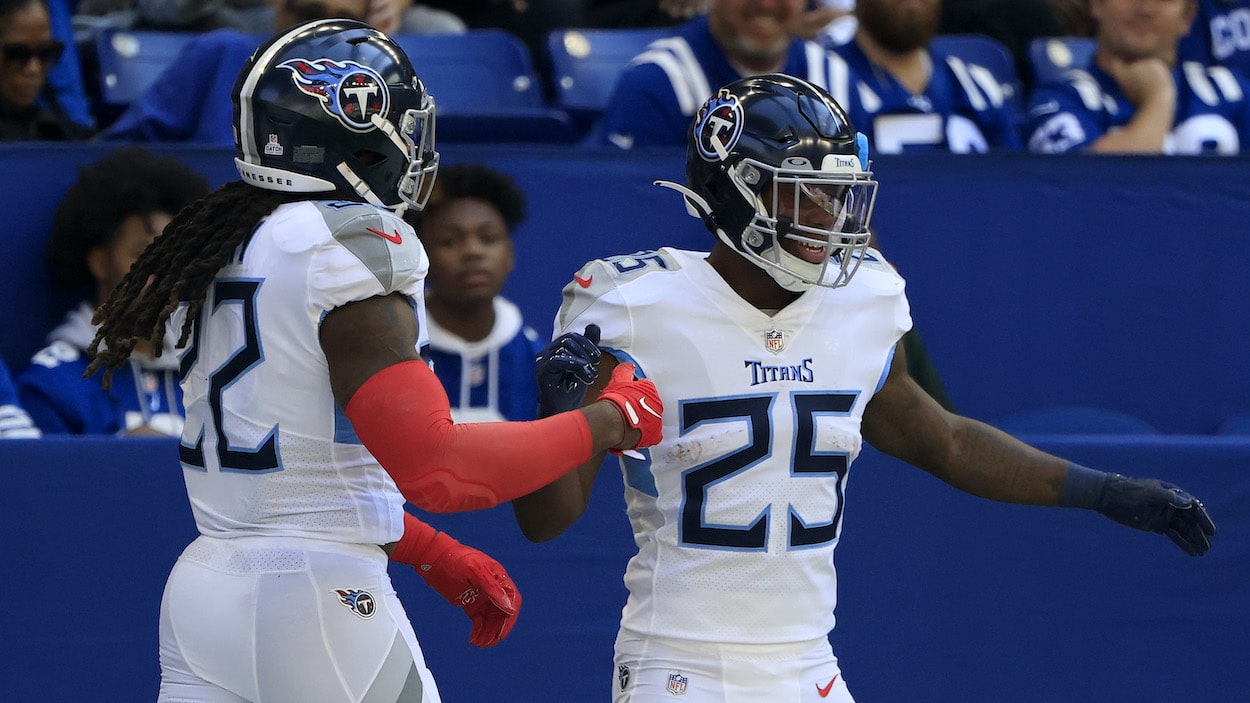 After the Titans took the former Michigan back at the end of the fourth round, the team and player signed an initial Hassan Haskins contract for four years and $4,352,220. That deal includes $692,220 guaranteed in signing bonus at an average annual value (AAV) of $1,088,055 per season.
As a rookie, The Hassan Haskins contract pays the back a base salary of $705,000 and $173,055 in prorated signing bonus. He carries a cap hit of $878,055 and a dead cap value of $692,220.
Over the next three seasons, Haskins' base salary will go from $870,000 to $985,000 to $1,100,00, while his cap hit will rise from $1,043,055 to $1,158,055 to $1,273,055.
Those numbers are a bargain, especially compared to the Derrick Henry contract. That's why this Week 17 Thursday night Titans-Cowboys game is so crucial for both Haskins and the Titans franchise. If he can prove himself as a true NFL back, it could save Tennessee a ton of money next season.
Hassan Haskins contract vs. Derrick Henry contract
The Hassan Haskins contract makes him the 87th highest-paid RB in the NFL in 2022 in terms of cap hit and the 69th by AAV. By comparison, the Derrick Henry contract makes him the third highest-paid RB in the NFL by cap hit ($9.3 million) and the fifth by AAV ($12.5 million).
In 2020, the Titans star runner signed a new Derrick Henry contract for four years and $50,000,000 with $25,500,000 guaranteed. The 2023 season would be the final year of the deal, but the Titans do have an out before 2024.
If the team cuts Henry — whose 2023 cap hit is $15.8 million next season and dead cap figure is $9 million — they will save $6.8 million.
The Week 17 Titans-Cowboys game is a trial run for life without Henry. If Haskins does well, Henry may be expendable. If the running game is a disaster vs. Dallas, the team might be more inclined to keep Henry another season and make one more run with him as their RB1.