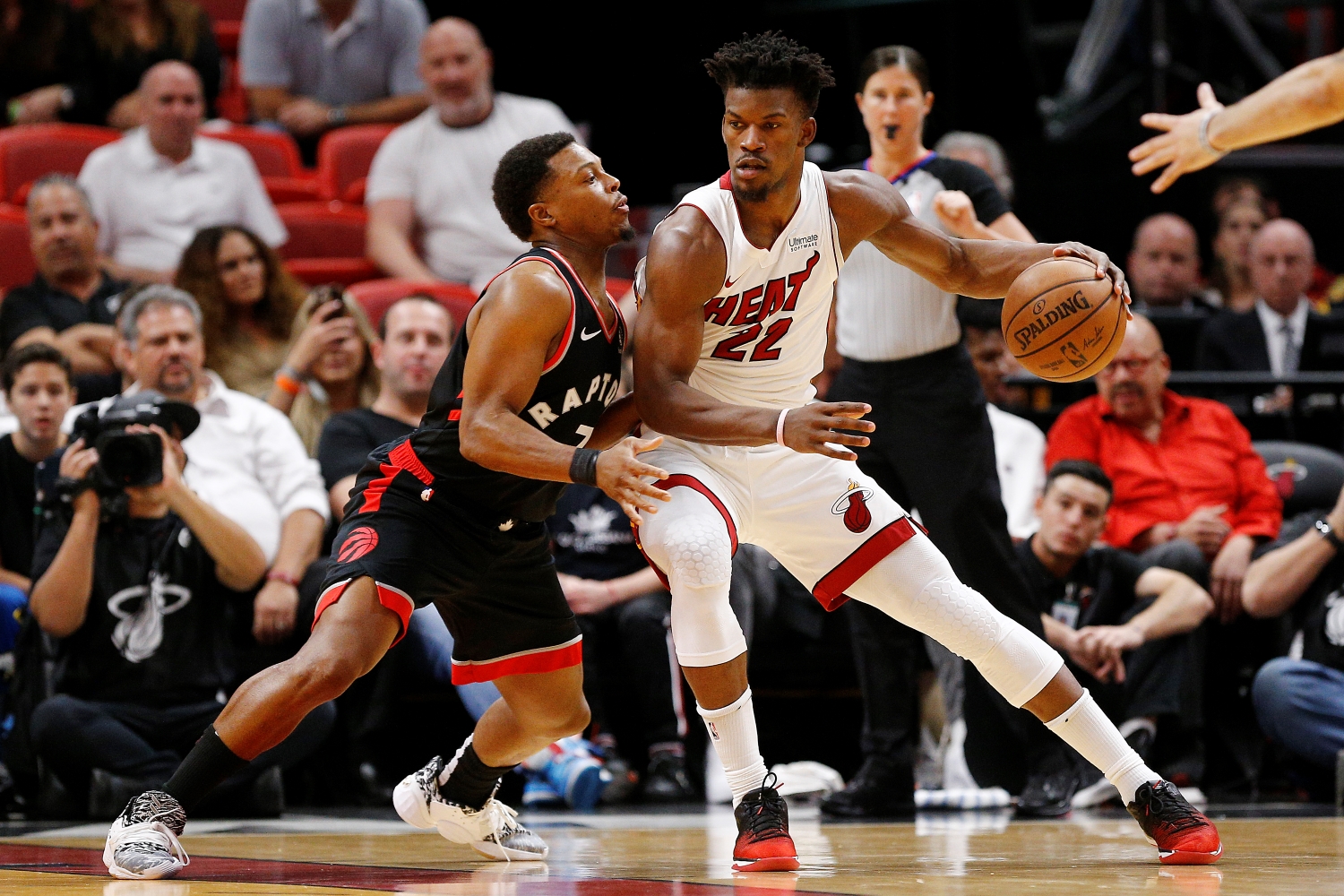 The Miami Heat Are Reportedly in Hot Pursuit of Jimmy Butler's Close Friend
Pat Riley may have his sights set on acquiring Jimmy Butler's longtime friend, but that doesn't mean Kyle Lowry is the only NBA star on the Miami Heat's wish list.
Even with Jimmy Butler in the midst of yet another sensational season, the Miami Heat don't look nearly as imposing as they did a year ago. While there's still time to turn things around, the reigning Eastern Conference champions currently sit in fifth place.
With the team in need of more help on the offensive end of the floor, the Heat reportedly have their sights set on bringing their biggest star's close friend to Miami. And even if that plan doesn't work out, don't be surprised if another perennial NBA All-Star finds his way to South Beach sooner than later.
The Heat need more offensive firepower in their lineup
After going 44-29 and earning a trip to the NBA Finals, the Heat have taken a sizable step back this season. While Miami has played fantastic defense through 43 games, scoring has been a major issue. The Heat rank just 26th out of 30 teams with 106.3 points per game.
Ironically, Jimmy Butler has actually increased his scoring average to 21.6 points per game in his second year playing for Spoelstra. The 31-year-old is on pace to finish with career-highs in shooting percentage (47.9), rebounds (7.8), and assists (7.5).
Still, Butler's strong play hasn't been enough to put Miami over the top on most nights.
Several of his teammates have regressed following breakout campaigns. After shooting 47% from the field and 44.6% from 3-point territory last season, Duncan Robinson has only shot 41.7% and 38.2%, respectively.
Tyler Herro, who looked like a future star in the playoffs, has also experienced a significant regression as a shooter. Although he's increased his scoring average from 13.5 to 15.3, the 21-year-old has only hit 31.7% of his 3-point attempts after making 38.9% as a rookie.
If the Heat plan on making another deep postseason run, they certainly need to add more firepower on offense.
Miami has its sights set on uniting Jimmy Butler with his longtime friend
It's no secret Jimmy Butler needs help down in Miami. Luckily for the five-time All-Star, his close friend could become his new teammate.
According to Kevin O'Connor of The Ringer, the Heat "are pursuing a deal for Raptors point guard Kyle Lowry harder than anyone."
However, the LA Clippers and the Philadelphia 76ers are also interested in acquiring the highly-respected veteran.
O'Connor further reported that although Lowry prefers to retire with the Raptors, if he gets dealt, Miami remains his preferred destination. And while the warm weather and no state income tax certainly seem like enticing factors, Lowry would welcome a trade to the Heat because he would get to play alongside Butler—someone with whom he shares a close friendship.
The soon-to-be 35-year-old has earned six straight NBA All-Star selections. Plus, the gritty guard boasts championship experience to go along with top-notch leadership skills.
According to O'Connor, acquiring Lowry would likely cost the Heat at least Tyler Herro or Duncan Robinson. But given their age and theoretical upside, it might be difficult for Pat Riley to pull the trigger on a deal that would send either of the team's young sharpshooters north of the border.
Kyle Lowry isn't the only perennial NBA All-Star on Miami's wish list
Even if Kyle Lowry does not get a chance to play alongside Jimmy Butler, Miami could still make a trade for another perennial All-Star.
"The Heat are also considered by front-office executives as one of the favorites to land LaMarcus Aldridge if the Spurs buy out the veteran big," O'Connor also wrote in his March 21 report.
After averaging at least 18 points per game in nine of his previous 10 seasons, Aldridge has only averaged 13.7 in 21 games this year.
Although the 35-year-old power forward is clearly on the back end of his career, he would provide size and a decent scoring punch to Miami's lineup. And with 72 playoff games under his belt, he certainly knows what it's like to compete under the bright lights and high stakes of the postseason.
For a team seeking revenge for losing in the NBA Finals, adding either Lowry or Aldridge definitely makes sense. Let's see if Pat Riley can pull off some magic to make Miami a more formidable title contender.
All statistics courtesy of Basketball Reference.