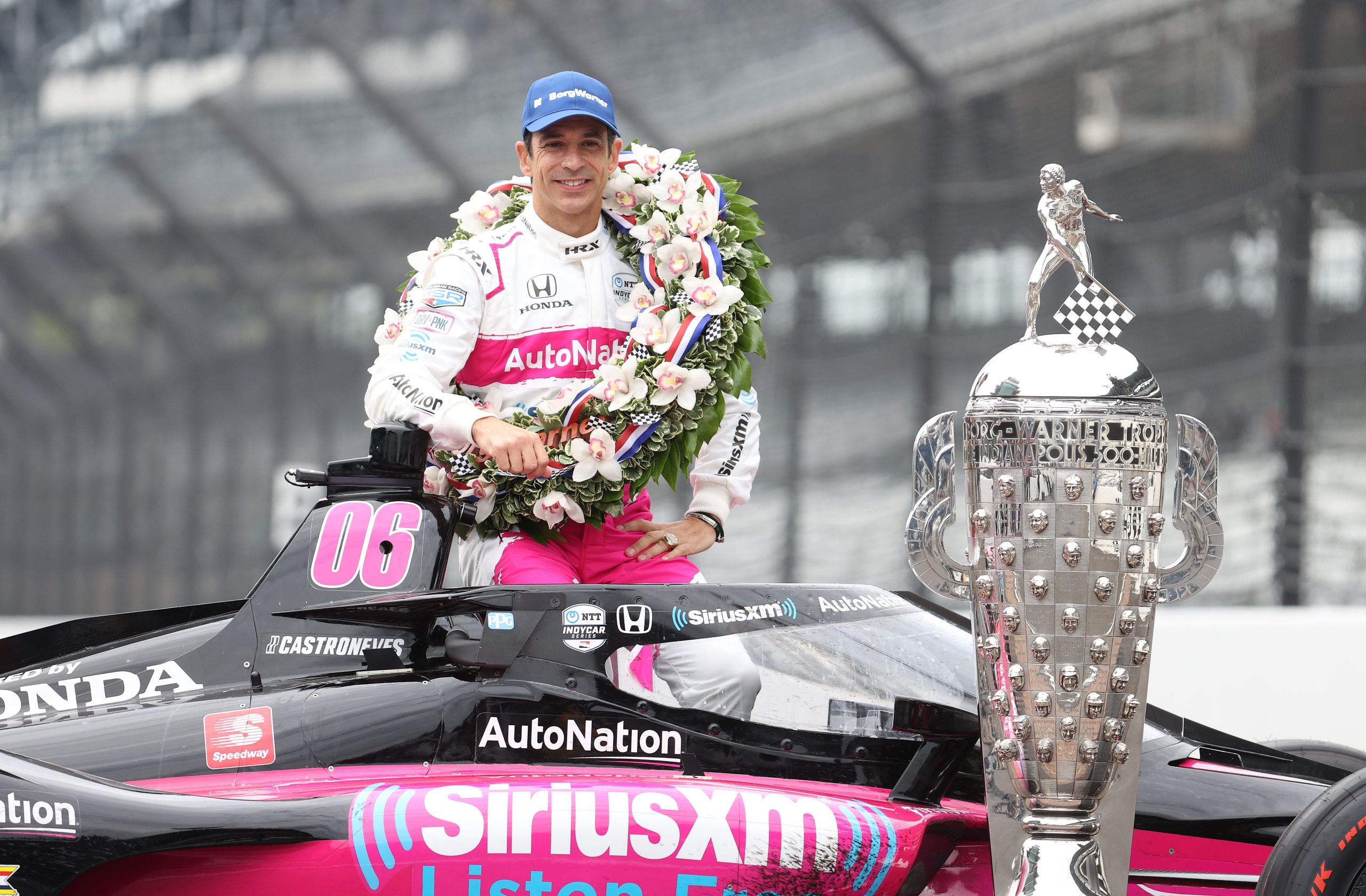 Four-Time Indy 500 Winner Helio Castroneves Reveals Desire to Check off Bucket List Item and Race in NASCAR Cup Series After Roger Penske Denied Him for Years
Helio Castroneves surprisingly announced during an appearance on SiriusXM NASCAR Radio that he wants to race in the Cup Series and check off that item on his bucket list.
When racing fans hear the name Helio Castroneves, it evokes images of a driver scaling the fence after one of his four wins at the Indianapolis 500. Despite being 46 years old, the Brazilian is still racing competitively, evidenced by his win over the weekend at the 24 Hours of Daytona. 
This week Castroneves visited with SiriusXM NASCAR Radio about his victorious team effort and then surprised the hosts when he admitted that one main item on his bucket list is to race in the NASCAR Cup Series. After years of being denied by Roger Penske, now is his chance, and he's serious about it happening. 
Helio Castroneves raced to record-tying four Indianapolis 500 wins
Helio Castroneves steadily made his way up through the open-wheel ranks, racing in multiple series, including Indy Lights and CART. In 2001, he debuted with the IndyCar series, with one race in Phoenix and the other at the Indianapolis 500. He finished 18th in the desert. He won the crown jewel and then proceeded to scale the fence. 
The following year, the Brazilian did something that hadn't been done since the 1970s when he won back-to-back at the Brickyard. He also finished second in the final points standings that year. He achieved runner-up status four times in his career. 
He stayed with Penske for 21 seasons and won three Indy 500s, his last with the team in 2009. In 2018, his racing schedule was dramatically reduced, and he competed just a couple of times in the IndyCar Series. The writing was on the wall. 
In 2021, he joined Meyer Shank Racing and raced a part-time schedule, including the 500. He climbed the fence after his record-tying fourth victory on the bricks. 
Competed in multiple race disciplines
While most will recognize Castroneves as a four-time Indy 500 winner, he's also proven adept in other racing disciplines. Since 2018, he's raced in the WeatherTech SportsCar Championship. He has seven wins to his credit, including the 2021 and 2022 24 Hours of Daytona. He earned the 2020 title with four wins. 
Last year, Tony Stewart invited Castroneves to join him in the SRX Series. With no dirt background, he proved quite impressive. He won a heat race at Lucas Oil Raceway and finished in the top 10 for all six races, with his best a third place at Eldora Speedway.  
Helio Castroneves wants to race in NASCAR Cup Series
Castroneves appeared on SiriusXM NASCAR Radio to talk with co-hosts Danielle Trotta and Jeff Burton about his win at Daytona. After discussing the race, Burton asked what's next. The answer surprised everyone. 
"Look, you guys know that I'm a big fan of any type of racing," Castroneves said. "Something that I never did, and I understand, it's a completely different car. And Roger Penske — I drove for him for over 20 years. Probably what he did was making the right decisions for me not to do it. He never let me drive a Cup car. And I said, why not. 
"I swear to God, I always ask him, and I stayed there for a long time, and I didn't ask repetitively. Like I'd wait for one to two years, and then he said no, another two years. Hey, what about this? There was a test I can do. Who knows. Until finally, he said I'm not going to let you do that. And so, but now, I can. 
"I feel that when I drove the SRX and drove in dirt, which was really cool, I had a great time last year. I said why not. Why not try the Daytona 500 or some sort of a road course. That would be something that I like to try. I feel that I would definitely check that box on my bucket list of driving cars." 
Will it happen? Burton, who is known as the Mayor of NASCAR, was certainly pushing for it to happen after the driver's remarks.
Some NASCAR Cup team would be wise to jump at this opportunity. It would be a chance for fans to see the four-time Indy 500 winner and defending champ try his hand at racing against the top stock car drivers in the world. And based on his recent performances in other racing styles, a top finish wouldn't be out of the question.
Like Sportscasting on Facebook. Follow us on Twitter @sportscasting19.