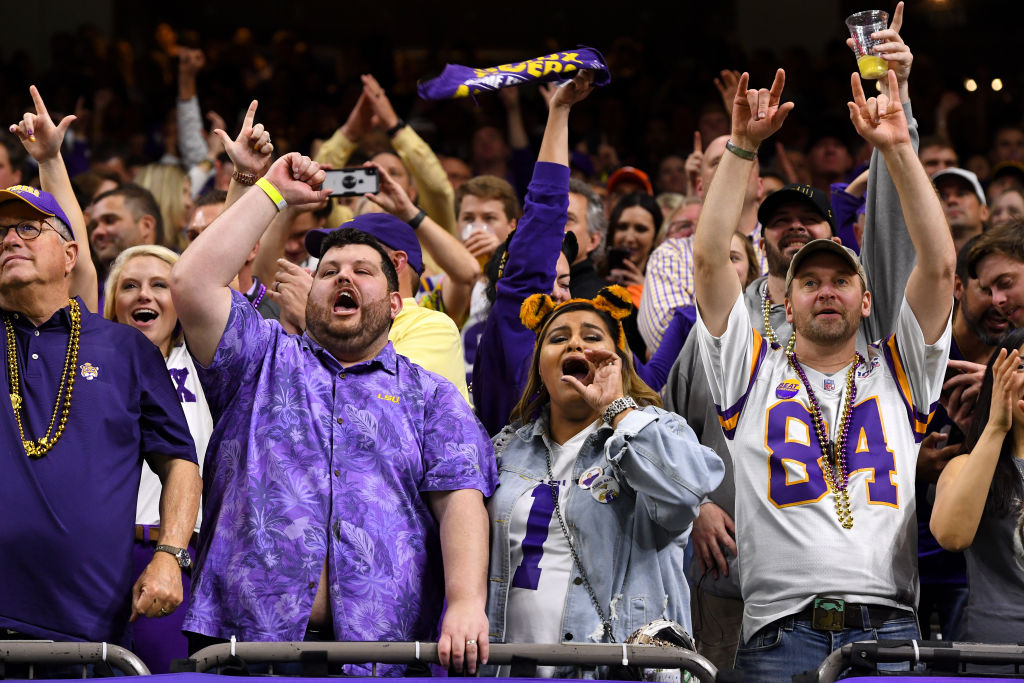 Here's How the Pandemic May Compound a College Problem
There's a potential for fewer students on campus next fall, which could contribute to yet another drop in attendance.
What if health officials give the OK to re-open the stadium for games but attendance falls off from what it was a year ago?
That's a question that a lot of athletic directors and marketing departments are going to be forced to address in the upcoming college football season. The scary part for them is that they were already facing challenges even before the coronavirus pandemic cleared out many campuses this month.
One more challenge for a sport that didn't need one
One way that colleges are addressing the coronavirus outbreak in the spring semester is by moving classes from campus buildings to virtual rooms online. Even after the pandemic is contained and eradicated, there is a likelihood that many colleges will continue offering more online options.
Students in the physical sciences, where lab work is a required part of the course, will continue to learn on campus, but it's feasible for many others to take in lectures online and have no need to visit school grounds more than occasionally. That can translate to fewer students in residence halls Monday through Friday and fewer fans in the stands on Saturday.
That's one more reason for the people in charge to worry. College football attendance last season fell only slightly from 2018 but it was enough of a drop to hit a 24-year low according to NCAA data.
The Football Bowl Subdivision average of 41,477 per game was the fourth-lowest figure since 1982. The attendance had dropped almost 12% since 2008.
The eighth decline in average attendance in nine years was fueled by declines that saw the Big Ten average drop to 65,065, its lowest level since 1993. The Pac-12 average of 46,080 was the conference's lowest since the NCAA began compiling data in 1978.
What issues could be contributing to the decline in attendance?
College football games are three-and-a-half-hour events at stadiums that are sometimes on campuses with inconvenient parking and tailgating and fewer local food options for more discerning diners. Combined with more games than ever being available on television – with the many commercial breaks contributing to the length of the contests — staying home to watch football can be an attractive alternative to navigating the security procedures.
The quality of many college stadiums is no match for NFL facilities — which are frequently newer — despite investments averaging over $1 billion per year according to Forbes.
In addition, colleges continue to face the issue of roster turnover. The better players leave after two or three seasons and everyone departs after four. Graduates of the school may be reliable season-ticket holders regardless, but other fans may leave when the star players do, too.
One other factor out of the control of the colleges: Changes to tax laws in 2017 make it difficult to take deductions. That's put a dent in season-ticket sales.
Is the most important problem self-inflicted?
It's difficult to draw a connection between the drop in attendance in eight of the past nine seasons and the arrival of the seven-game College Football Playoff in 2014.
Conference championship games and the College Football Playoff are two relatively two new tiers in the football season. Fan interest has always dropped off when a team gets off to a slow start to snuff out the possibility of a major bowl. Now that slow start takes schools out of the running for conference and national titles, potentially dimming interest even sooner and shifting attention to the handful of schools still in the running.
For what it's worth, attendance for the College Football Playoff this past season dropped to a record low.