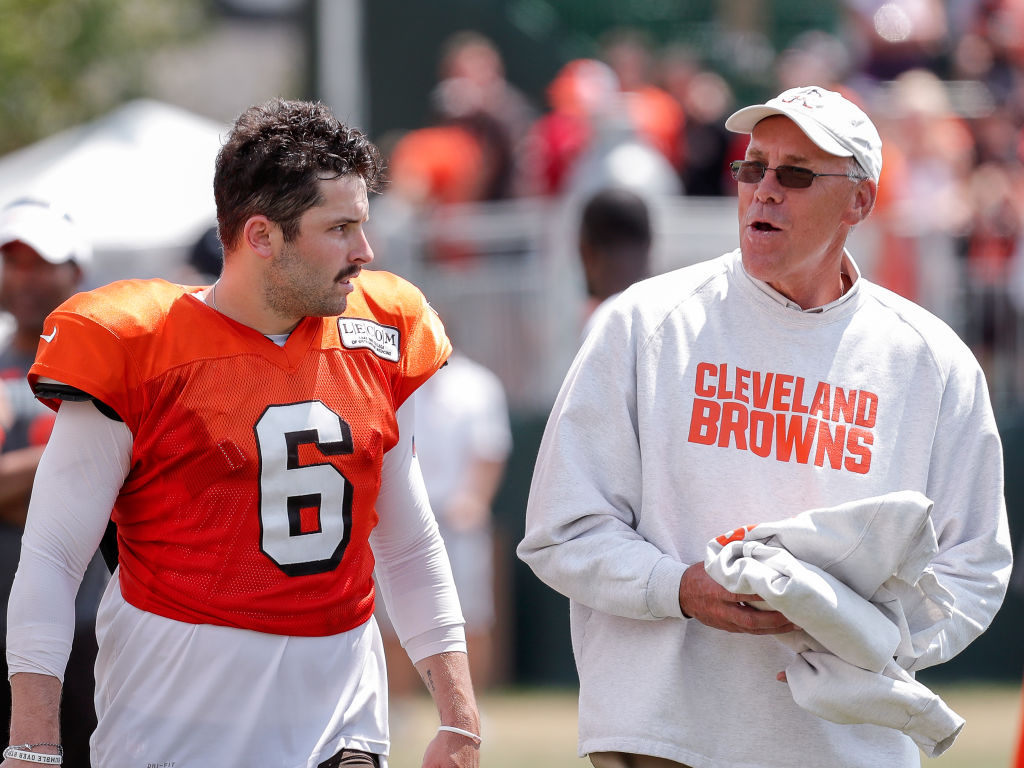 Here's What Really Happens at NFL Training Camp
Shows like Hard Knocks show the details of this stage of the NFL season, but many fans still don't realize what goes on at NFL training camp.
Every summer, NFL players report to training camp. While TV shows like Hard Knocks do a good job showing the ins and outs of this stage of the NFL season, many fans still don't understand what goes on at training camp. Several former players have shared about the experience. Here's their take on what really happens every summer.
Arrival 
In a piece written for SB Nation, former offensive lineman Geoff Schwartz likened the players' arrival at training camp to the first day of school. Athletes first get settled at either a hotel or dorm, depending on where the camp is held. Then, they set it up just like a college student would. 
Players are asked to weigh in. This can be nerve-wracking, particularly for lineman like Schwartz. Some players limit their calories or hit the steam room prior to ensure they made weight. Teams often fine players for not being able to do so. However, the process has become flexible in recent years by letting players weigh in for a range rather than a specific number. 
The next step involves a visit to the medical team for what amounts to a check-up. Then, players get their football equipment. This includes pads, gloves, cleats, and anything he needs to practice. 
Following all of this, players must pass a conditioning test. For those who need multiple attempts or can't pass, this can make for an embarrassing situation. Once the drills are complete, it's time for a meal or prep meeting, then it's off to bed to get ready for the first day of actual practice. 
Workouts
In Ryan Riddle's piece about training camp schedules, he writes about how weightlifting typically occurs in the morning. If you think lifting heavy weights after putting your body through a whole day's worth of punishing drills is difficult, you're right: 
After treatment, it was time to head over to the gym for an hour of weightlifting. Lifting weights in training camp was always difficult to get motivated for. The body feels like it has been in a car accident and is incredibly worn out, yet you have to find a way to push through the stiffness, strained backs and, of course, bruises.
Riddle added that lighting weights typically occurred every other day, which made it slightly more manageable. 
Meals
Former Giants punter Steve Weatherford wrote a piece on the spreads at NFL training tables and what players tend to eat. Teams employ nutritionists to help create well-balanced, tailored diets. Athletes looking to add weight will eat a lot of carbohydrates and pasta. Players looking to stay slim and quick consume a lot of fruits and vegetables. 
The meals are calibrated depending on each player's individual needs. Teams want to ensure players are well-fed, but that they're eating the right foods. Gone are the days when snack foods are available. 
Practice
One of the biggest parts of training camp involves daily practice sessions. Coaches will install new formations and schemes and expect players to learn them like the back of their hand. Position battles also occur as the teams' rosters take shape. 
In his post for the New York Times' "Fifth Down" blog, former Denver Bronco Nate Jackson explains the rigorous schedule of NFL training camp: 
About three or four days into training camp is when the soreness starts to peak, and it sticks around for about a week and a half until your body starts to desensitize itself to misery. During my six seasons with the Denver Broncos, there were days when getting out of bed was so difficult I was sure there was no way I could practice. Of course, I was wrong. I found a way to get it done.
NFL training camp is no joke. It's an absolutely grueling process many players can't handle. But the ones who do are even better prepared for a successful NFL season.