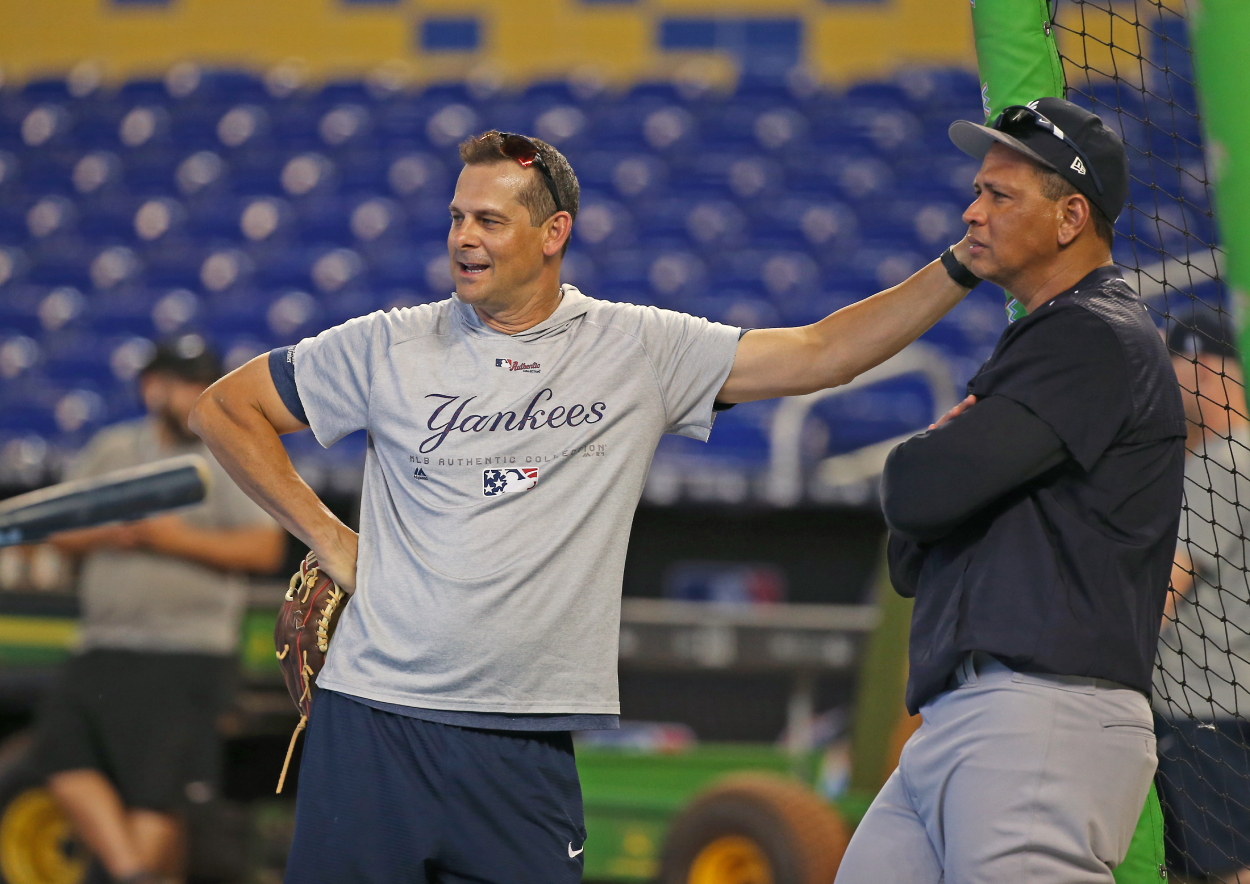 HOF Hopeful Alex Rodriguez Joined the Yankees After Aaron Boone Played Basketball and Then Told the Truth
A basketball game played by Aaron Boone may have been the reason the New York Yankees pulled the trigger on a trade for Alex Rodriguez.
Controversial Hall of Fame hopeful Alex Rodriguez played 12 of his 22 years in Major League Baseball with the New York Yankees. He smacked 351 of his 696 home runs in pinstripes. Half of his 14 All-Star appearances were when he played in the Bronx. Perhaps none of that happens if former New York third baseman and current Yankees manager Aaron Boone blew off a basketball game.
Alex Rodriguez is on the Hall of Fame ballot for the first time
Statistically, Rodriguez belongs in the Baseball Hall of Fame. Nobody will argue his numbers, but he's not likely to get there — at least for now. The three-time MVP finished his career with a .295 batting average. He collected 3,115 hits and smacked 696 home runs. He did this despite missing the entire 2014 season — and that's where the problem lies.
In 2003, Rodriguez tested positive for steroids but that's just the beginning. In 2009, he admitted taking performance-enhancing drugs. That, however, came two years after telling Katie Couric in front of a national television audience that he had never used them.
Rodriguez was then suspended for the entire 2014 season for his involvement in Major League Baseball's Biogenesis scandal. According to ESPN, 12 other players were suspended after the investigation of PED usage.
For many voters, the use of steroids and lying are far bigger than any numbers put on the field. Just ask Barry Bonds and Roger Clemens. They are also Hall-worthy players who have failed to reach the required 75% of the vote in each of their first nine years on the ballot, although their numbers have increased since Year 1.
Alex Rodriguez may not have joined the Yankees if Aaron Boone hadn't played basketball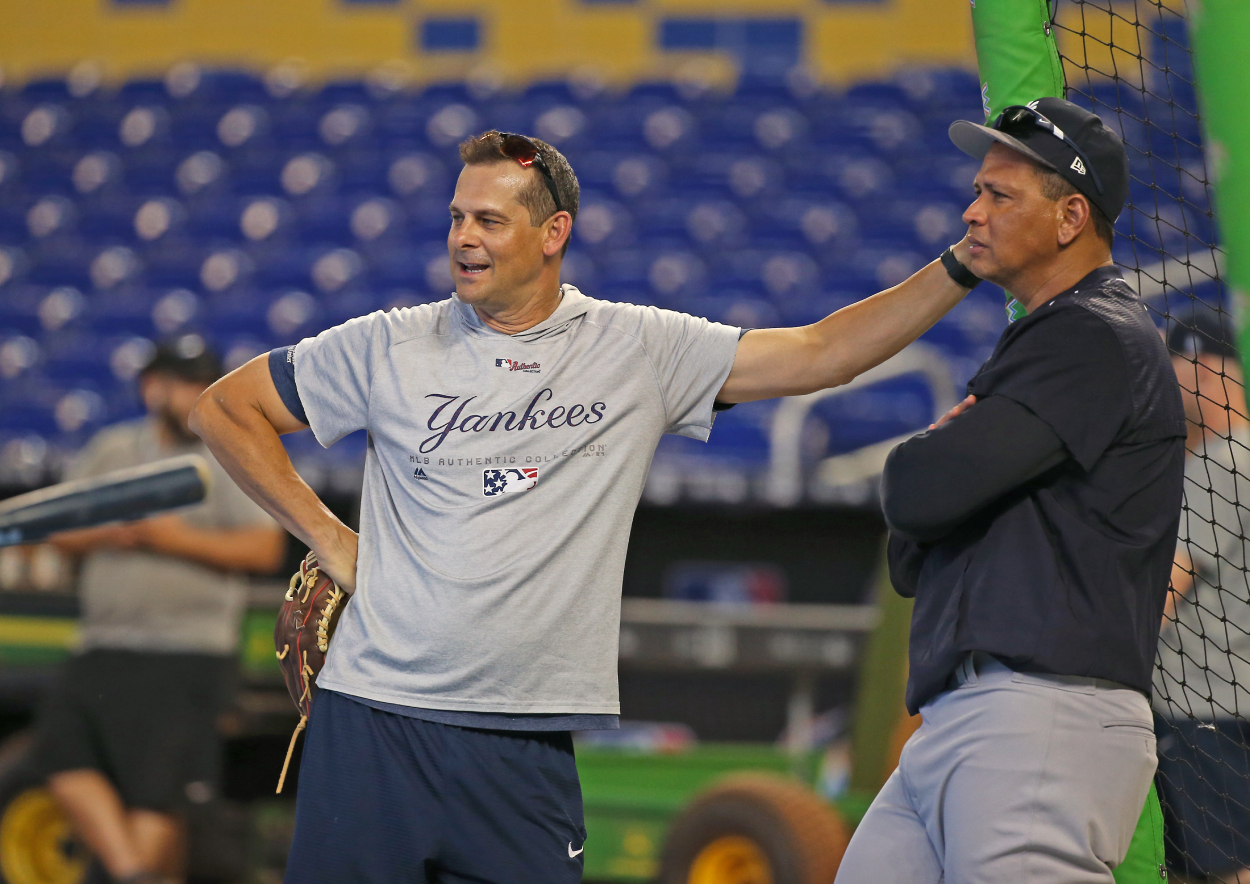 Aaron Boone sent the Yankees to the World Series when he smacked his Game 7, extra-inning home run off Boston Red Sox pitcher Tim Wakefield in the 2003 ALCS. Two months later, his baseball career was in jeopardy. Boone blew out his knee playing pickup basketball, opening the door to Rodriguez playing in New York.
One month after Boone's injury, Yankees GM Brian Cashman sent Alfonso Soriano and a minor leaguer for Rodriguez and $67 million of the remaining $179 million on his contract, according to NJ.com. Boone was released two weeks later.
In April 2020, Boone recalled that pickup game that took place at a health club in Newport Beach, California.
"I actually worked out with my trainer, but I didn't do my cardio that day," he said, per NJ.com. "And my brother-in-law was going to play a pickup basketball game that night and my wife and I had nothing going on.
"It wasn't like I was rebounding or anything. I was just going up and down the court."
He said one of the players went to save a ball that was going out of bounds and flipped it in Boone's direction.
"The guy saved it … and I almost received a pass, like a football pass, over my shoulder, kind of going that way," Boone said. "I went to go receive it, and this guy came in and just wiped me out from the side. It was kind of violent and painful."
Boone never thought of lying about how the accident occurred
Boone said he knew it was serious when it happened. He struggled with his emotions after he made his way off the court.
"I got up and hopped off the court and cried as I drove home back to my house," Boone said.
Boone tore his ACL and missed the entire 2004 season. He could have lied. He could have said it happened falling down the stairs. Instead, he told the truth.
"My mama taught me better than that," he said regarding lying about the injury.
Boone chalked the incident up to fate.
"I kind of believe everything happens for a reason," Boone said. "It's all part of your journey, part of your path. It was part of my path and it led me to other places and other teams and other great experiences that have all gone into shaping who I am.
"Life isn't all good, obviously, and there are different adversities we all have to face, and you try and do the best with all of it. I've always had that attitude."