Aaron Boone's Continuing Heart Issues Have Forced Him to Leave the New York Yankees
New York Yankees manager and one-time MLB All-Star Aaron Boone had his playing career cut a bit short due to issues with his heart and it's now also affecting his coaching career as it was announced on Wednesday that he'll be taking a medical leave of absence to have a pacemaker put in because of a low heart rate.
Aaron Boone played parts of 12 seasons in the big leagues and hit one of the most famous home runs in Yankees history
The grandson of two-time All-Star and World Series champion Ray Boone and the son of four-time All-Star and World Series champion Bob Boone, Aaron Boone began his own big-league career in 1997 with the Cincinnati Reds, with whom he played parts of seven seasons before being traded to the New York Yankees in 2003.
Boone played less than half a season in the Bronx but sure left his mark on the franchise as he famously hit a walk-off home run in the 11th inning of Game 7 of the 2003 ALCS against the rival Boston Red Sox, although the Yanks lost the World Series that year to the Florida Marlins.
Boone missed the entire 2004 season after tearing his ACL in a pick-up basketball game but returned in 2005 with the Cleveland Indians, with whom he played two seasons. He played one year each for the Marlins and Washington Nationals before closing out his playing career in Houston, although he played just 10 games with the Astros in 2009 as he underwent open-heart surgery.
In 1,152 big-league games, Aaron Boone had a slash line of .263/.326/.425 with 126 home runs and 555 runs batted in.
He underwent open-heart surgery in 2009
In March 2009, three months after signing a one-year deal with Houston, Aaron Boone underwent open-heart surgery to replace a bicuspid aortic valve. He'd actually been aware of the condition since he was a child but tests had revealed that things had worsened, which is what led to the surgery.
He resumed baseball activities that summer and began rehabbing with the Astros' Double-A affiliate, the Corpus Christi Hooks, in August. His goal was to join the big-league club when rosters expanded on September 1, which he accomplished. But he went hitless in 14 plate appearances over 10 games and played his game on October 4.
Boone announced his retirement in February 2010 and promptly became an analyst for ESPN. He called two World Series for ESPN Radio and was a color commentator on Sunday Night Baseball for two seasons before becoming the manager of the New York Yankees in December 2017 when the franchise decided not to retain Joe Girardi.
In his three seasons as the skipper in the Bronx, Aaron Boone has led the Yankees to three postseason berths and two appearances in the ALCS.
Aaron Boone has taken a medical leave of absence from the Yankees to have a pacemaker put in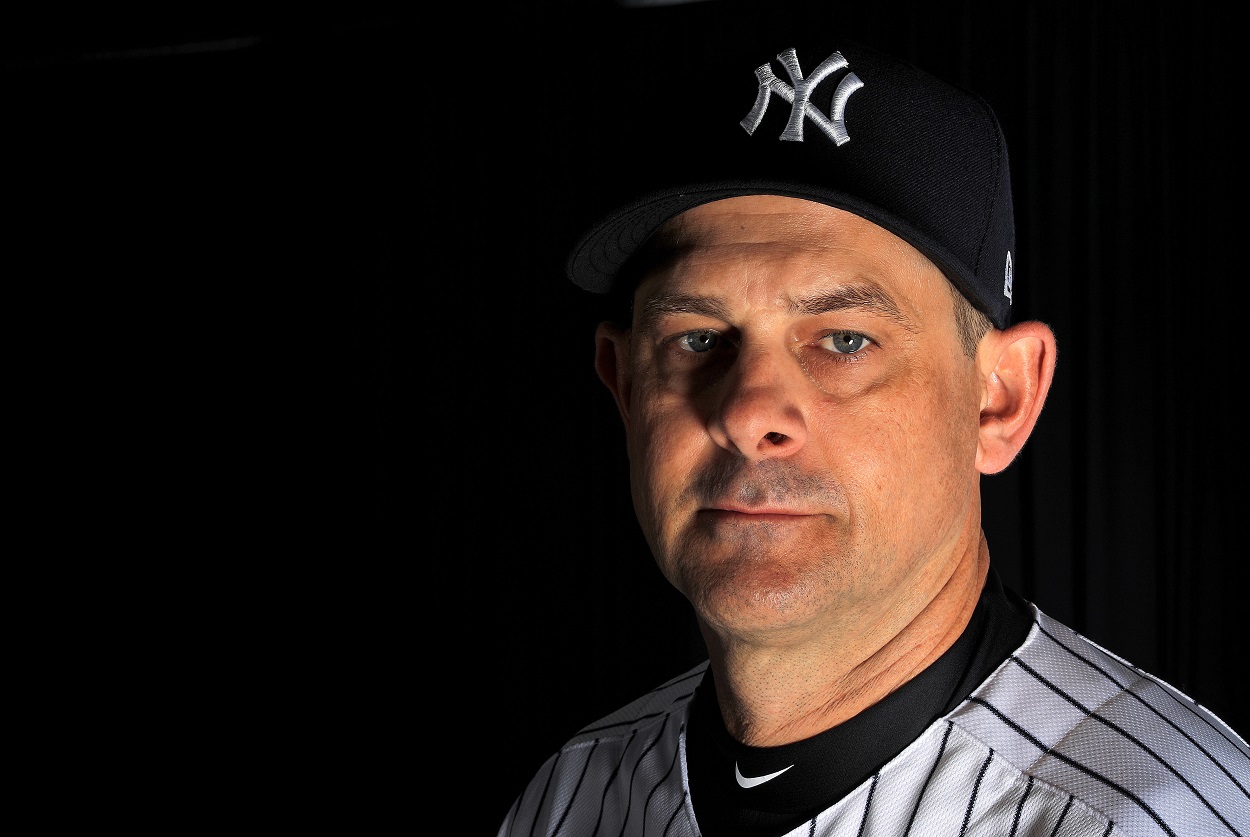 On Wednesday, the Yankees announced that Aaron Boone would be taking a medical leave of absence from the team to have a pacemaker put in due to a low heart rate. In a statement from the Yankees' skipper himself, Boone explained the situation and why doctors think the procedure is necessary (h/t New York Post).
"Over the last six-to-eight weeks I've had mild symptoms of lightheadedness, low energy, and shortness of breath. As a result, I underwent a series of tests and examinations in New York prior to the beginning of spring training, including multiple visits with a team of heart specialists. While the heart checkup came back normal, there were indications of a low heart rate which, after further consultations with doctors in Tampa, necessitates a pacemaker."

Aaron Boone
Boone went on to say that his doctors are confident the procedure will allow him to resume his normal activities and that he's hoping to be back to work "in the next several days."
Stats courtesy of Baseball Reference