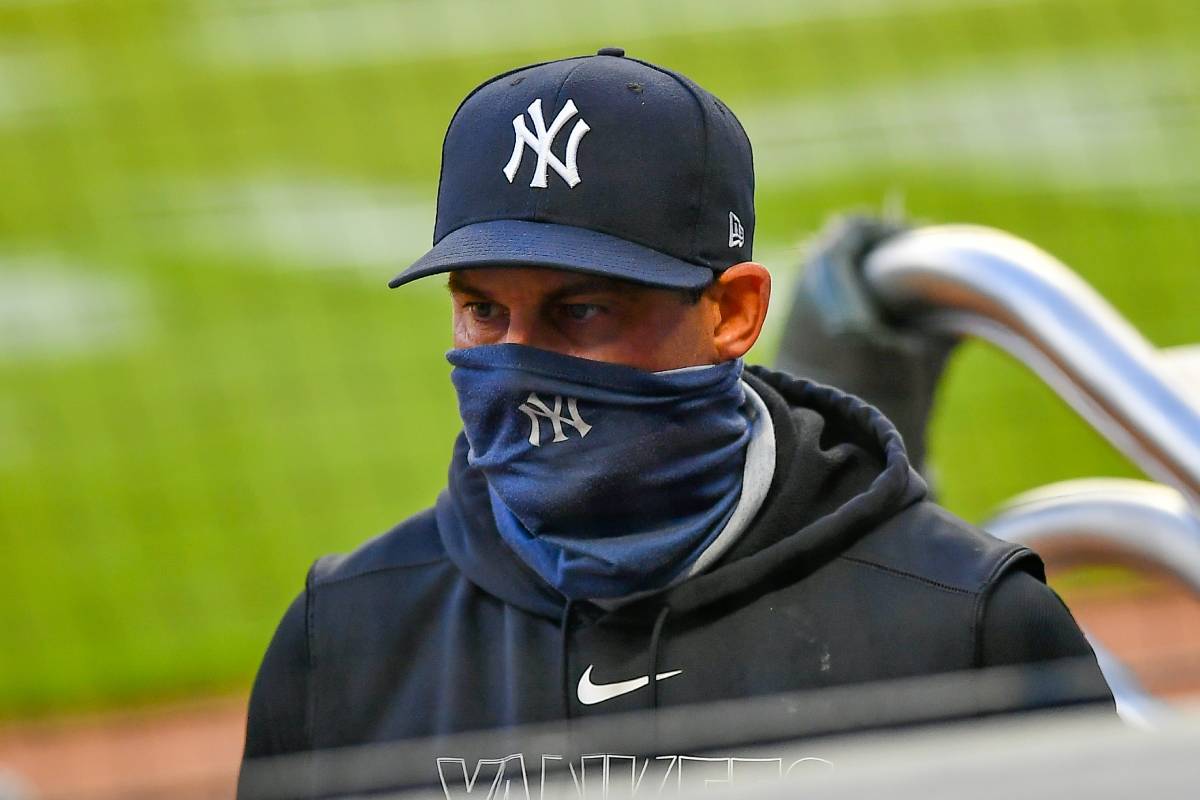 Why Did Yankees Manager Aaron Boone Adopt 2 Children From Haiti?
New York Yankees manager Aaron Boone went viral when he talked about his two adopted Haitian children. What made the Boone family adopt them?
The paused Zoom screen during Aaron Boone's press conference said it all.
Boone, the Yankees' third-year manager, joined Giancarlo Stanton and hitting coach Marcus Thames in discussing social injustice and inequality in America.
When a reporter asked Boone — who wore a Black Lives Matter shirt on the call — what the movement meant to him, the New York Yankees' manager broke down crying. Although Boone is white, he has two adopted children from Haiti.
What made Boone and his wife, Laura, adopt the Haitian children? Here's the full story.
Aaron Boone played 12 MLB seasons
Before Aaron Boone became the New York Yankees' manager after the 2017 season, he was a longtime infielder in the sport.
The son of ex-MLB catcher Bob Boone and the brother of former Mariners second baseman Bret Boone, the youngest Boone debuted with the Cincinnati Reds in 1997.
Boone's grandfather, Ray Boone, also played in the majors. The oldest Boone, who died in 2004 at age 81, played from 1948-60 and made two All-Star Games with the Detroit Tigers.
Back to Aaron Boone, who hit .271 with 86 home runs, 362 RBIs, and 83 stolen bases with the Reds from 1997-2003. The Reds traded Boone, who had just made his first All-Star Game, to the New York Yankees in July 2003.
Although Boone only hit .170 that postseason, he defined his career with a walk-off home run against Red Sox knuckleballer Tim Wakefield in Game 7 of the American League Championship Series.
Boone famously tore his knee playing pickup basketball before the 2004 season began. That allowed the Yankees to trade for Texas Rangers shortstop Alex Rodriguez, who promptly moved to third base.
Boone hit .246 with 23 home runs and 106 RBIs over two seasons with the Cleveland Indians from 2005-06. He played for three teams in three years before retiring after the 2009 season.
Boone and his wife, Laura, adopted two Haitian children
In 2012, Aaron Boone was working on ESPN's baseball coverage. His wife, Laura, embarked on a Highlands mission trip to Haiti, which had been ravaged by a catastrophic earthquake two years earlier.
While in Haiti, Laura Boone met a young Haitian boy named Jeanel (JOHN-el). Laura and her church members were building a medical clinic and some of the local children would sometimes come and help with the labor.
Laura returned later that year and met Jeanel's younger brother, Sergot (SIR-go).
In a 2018 interview with the New York Daily News, Aaron Boone — who later joined his wife on those trips — explained how he felt upon understanding his wife's relationship with Jeanel and Sergo.
"Haiti's complicated. Certain things are hard for us to fathom. When Laura first went down there, (Jeanel and Sergot) were not in the best of situations. Not great is an understatement. It hits you hard."
The Boones received blessing to adopt the children from Jeanel's and Sergot's biological parents.
Although the Boones formally adopted the two in 2012, the boys didn't come to America until 2014. Aaron Boone and Laura already had two children of their own.
Aaron Boone went viral when he broke down discussing them
Aaron Boone and his wife are white. Their two original children are white, too.
Jeanel and Sergot are not white, though. That's why Boone became extremely emotional when a reporter asked him what the Black Lives Matter movement meant to him.
According to the New York Post, Boone was so overcome with emotion that he paused his Zoom meeting with reporters. When he returned, Boone — who by that point was crying — answered the question.
"I know I'm talking to a lot of people out there. It's just been a hard and heavy year, and a heartbreaking year in so many ways. For my family, too. But I think that's the case for a lot of people of all different backgrounds and races. My prayer is just that … at the end of the day we're better for it. That's my continued prayer."
Boone wasn't the only Yankees coach seriously impacted by the recent shooting of Jacob Blake, a Black man from Wisconsin.
Yankees hitting coach Marcus Thames, who is Black, said his 11-year-old son, Marcus Jr., watched the video and asked his father about it.
"He wants to know why this keeps happening," Thames said. "We're tired of it. It's time for a change."
Boone said he donated money to the Players Alliance, a group of 100 current and former MLB players — all of whom are Black — fighting racial inequality. Yankees outfielders Giancarlo Stanton, Aaron Judge, and Aaron Hicks are part of The Players Alliance.
Like Sportscasting on Facebook. Follow us on Twitter @sportscasting19.