A Houston National Championship Would Be the Perfect Send-Off for Jim Nantz
Jim Nantz must be impartial when calling NCAA Tournament games for CBS, but he has a clear rooting interest in March Madness 2023.
The legendary broadcaster, who attended the University of Houston and graduated in 1981, will be quietly rooting for his alma mater to win the national championship in what will be his final year calling the NCAA Tournament.
It just so happens Houston is the betting favorite to win the national championship, and the Final Four will be held in the city of… you guessed it — Houston, Texas. What a send-off it would be for Nantz if he was able to call his beloved Cougars' first basketball title in school history.
Jim Nantz is calling his final NCAA Tournament for CBS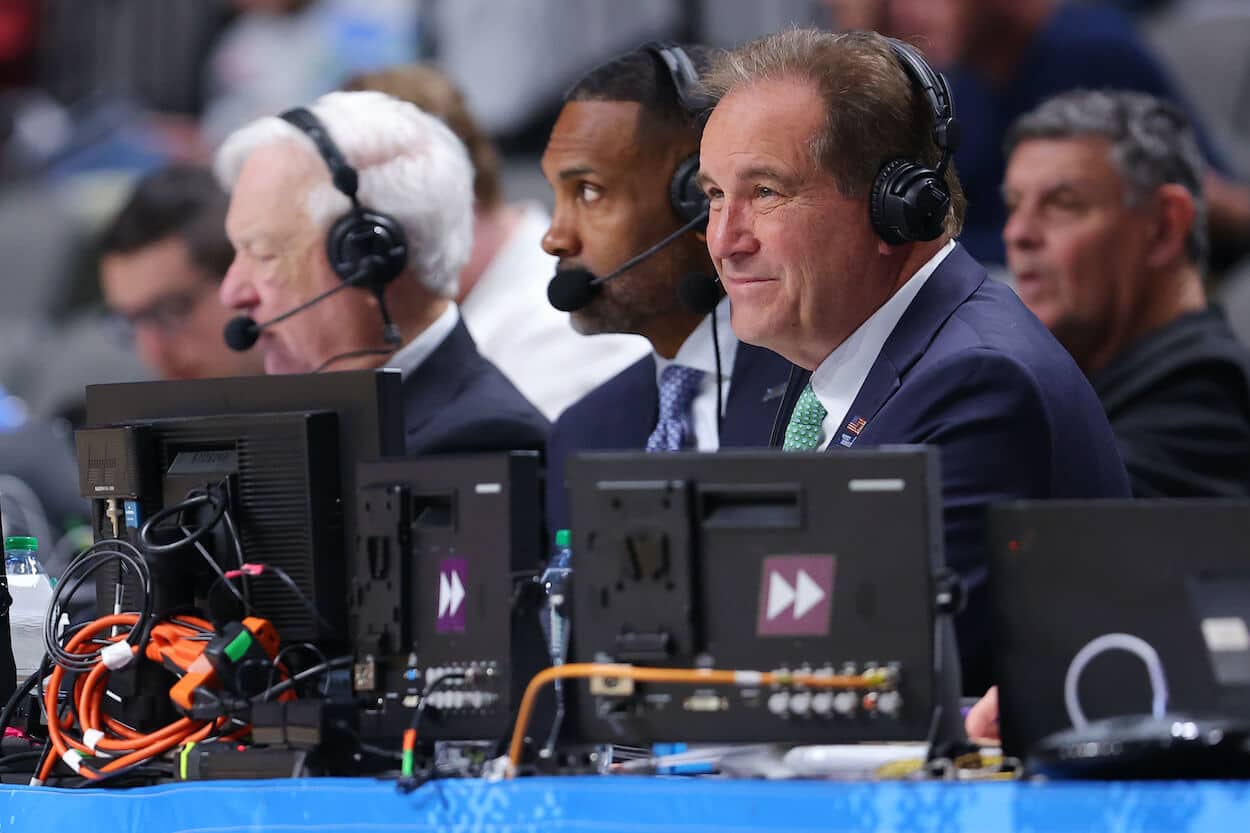 It's impossible to think about the NCAA Tournament without simultaneously thinking about Jim Nantz. The 63-year-old has served as CBS' lead play-by-play broadcaster for the Final Four since 1991. He's called 62 national semifinals and 31 national championships in his career, but the 2023 title game will be his last.
Nantz decided two years ago to step away from his NCAA Tournament duties after this season to devote more time with his family. The longtime announcer works a busy schedule early in the calendar between college basketball and the PGA Tour, but stepping away from the NCAA Tournament will give him a six-week break to spend with his wife, Courtney, and his three children.
Nantz will continue calling the NFL through at least 2033, which is the final year of CBS' contract with the league. His work with the NCAA Tournament, though, is about to come to an end, and a Houston national championship could be the final March Madness game he ever calls.
A Houston national championship would be a perfect send-off for Jim Nantz
When the microphones and television cameras are on, Nantz doesn't have a favorite team. He must act as an unbiased commentator while in the booth, but he'll be quietly rooting for Houston to win it all this year.
Nantz graduated from the University of Houston in 1981 and started his broadcasting career at KHOU in Houston, Texas. He still has a deep admiration for the city of Houston, the university, and especially, the basketball team.
Coincidentally, the Cougars are the betting favorites to win their first-ever national championship this year, and the Final Four will also be held in Houston. Nantz would love nothing more than to call a national title run for his alma mater in his final year calling the NCAA Tournament.
"I wanted it to be a CBS year, but especially I wanted Houston to be my last dance for me and to exit college basketball stage right," Nantz told Fortune. "It was truly through the basketball program — being the student public address announcer and while still a student later being entrusted to host the Guy Lewis television show, that was my entryway into television. I was just a kid living in the dorms. With a chance to possibly call my last basketball game with Houston playing for a championship, that would be amazing."