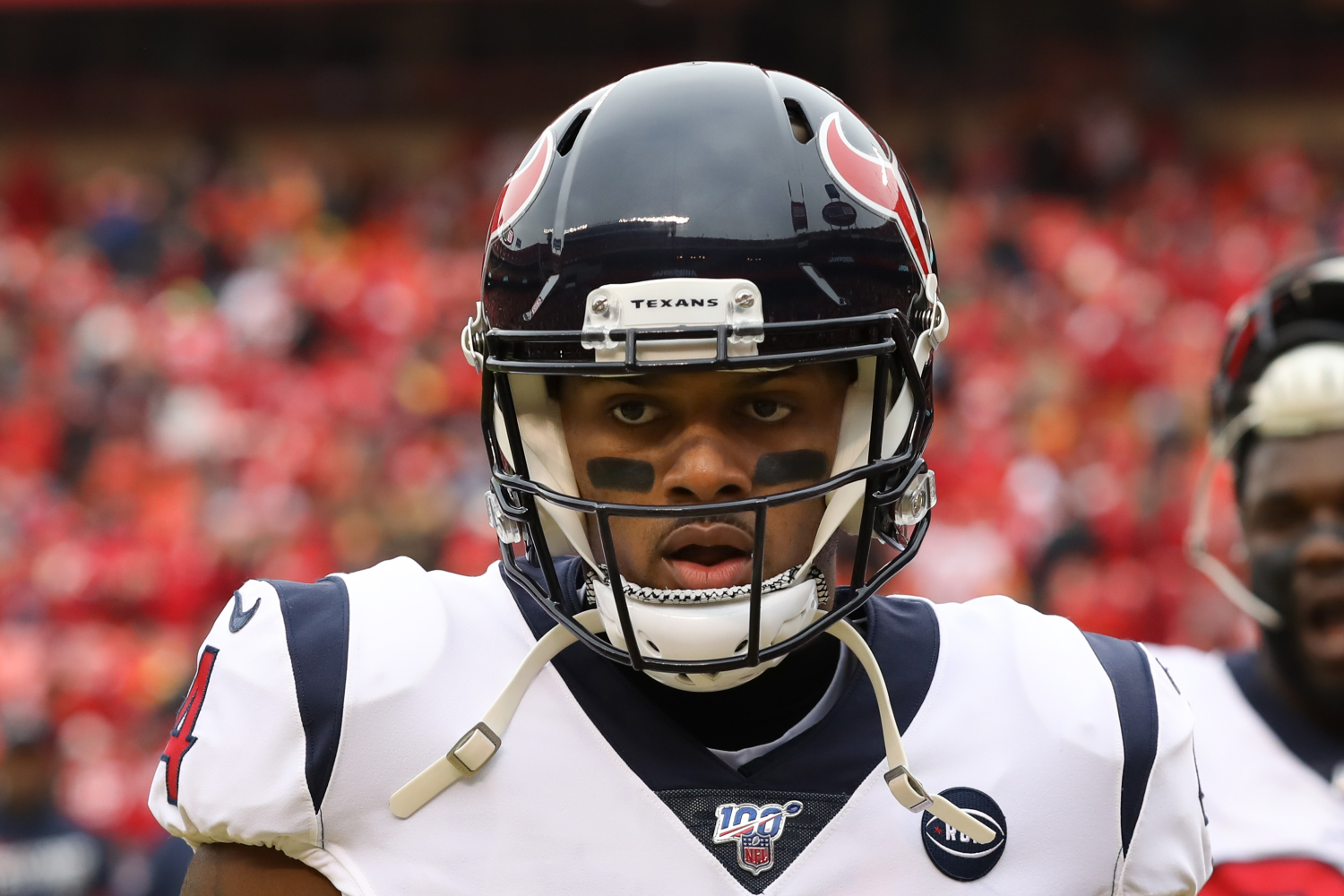 Deshaun Watson Weighs in on Earl Thomas Release; Texans Have 'Zero' Interest
Houston Texans standout quarterback DeShaun Watson weighs in on Earl Thomas' release. The Texans reportedly have 'zero' interest.
Two days after an on-field altercation, the Baltimore Ravens released seven-time Pro Bowl safety Earl Thomas. Thomas got into it with former teammate Chuck Clark and the Ravens quickly took action. While the news stunned the football world, Houston Texans quarterback DeShaun Watson voiced his opinion Sunday. It was also reported that if Watson was hoping for Thomas to join him in Houston, it likely wasn't happening.
Earl Thomas has been a star in the NFL
Earl Thomas is a standout on the football field. Thomas has made the Pro Bowl seven times as a safety during his 10 years in the league. Thomas played his college football at Texas and was a first-round pick of the Seattle Seahawks in the 2010 NFL draft. Seattle took him with the 14th overall pick.
Thomas made an impact right away, starting all 16 games in his rookie season. He had five interceptions in his first year in the league and also had 76 tackles. Thomas was the epitome of durability early in his career as he started all 16 games in his first six seasons in the league.
The 5-foot-10, 202-pound Thomas began a string of five straight Pro Bowl in his second year in the league. In 2011, Thomas had a pair of interceptions to go along with two fumble recoveries. He also added 98 tackles. In nine seasons with the Seahawks, Thomas finished with 28 interceptions. He broke his leg during the 2018 season and signed with the Baltimore Ravens prior to the 2019 season.
Thomas has now had his second ugly split from an NFL team
According to ESPN, Thomas and the Seattle Seahawks couldn't come to an agreement on a contract extension prior to the 2018 season. Thomas held out after publicly making pay-me-or-trade-me demands. He returned to the team the week of the season opener, but he refused to practice. In Week 3, he intercepted two passes against the Dallas Cowboys.
"I'm invested in myself," Thomas said after the Cowboys game. "If they was invested in me, I would be out there practicing. But if I feel, like, anything — I don't give a damn if it's small, I've got a headache — I'm not practicing. But I don't want that to be taken the wrong way. I know I'm going to get fined. But that's just where I'm at with that."
The following week, Thomas broke his leg during a game against the Arizona Cardinals. As he was being carted off the field, he stuck up his middle finger, aiming it at Seahawks coach Pete Carroll. In an interview with ESPN's Josina Anderson, Thomas said his middle finger was directed at Carroll "because I felt like he wasn't being honest with me."
DeShaun Watson weighs in on Thomas' latest incident
While Earl Thomas' lastest incident and second ugly departure from an NFL team was the talk of the sports world the last couple of days, Houston Texans quarterback DeShaun Watson offered his opinion. Watson said he was surprised the Ravens let him go.
"Surprised the Ravens released my guy @Earl_Thomas," Watson posted on Twitter. "Hearing all the noise but Earl's always been someone I can rely on when I had questions and I have nothing but respect for him. Can't wait to see where he lands." If Watson is hoping Thomas lands in Houston, he's likely to be disappointed.
John McClain, who has covered the NFL for 45 years for The Houston Chronicle, said the Texans have "zero interest" in bringing in Thomas. "I'll reiterate what I tweeted Saturday: Texans have zero interest in Earl Thomas if he becomes available," McClain tweeted.