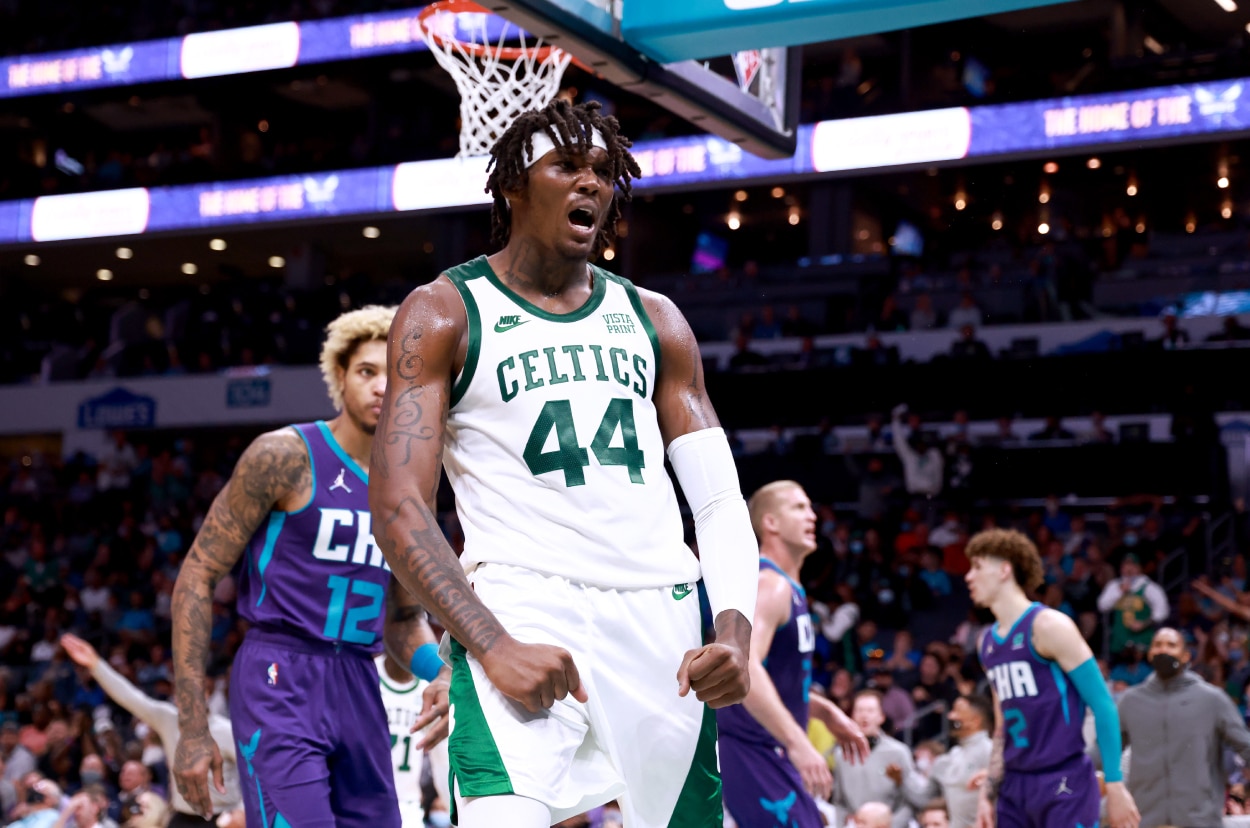 How Did Robert Williams Get the 'Time Lord' Nickname?
Robert Williams has come a long way since a couple of blunders to begin his Boston Celtics career.
Robert Williams keeps showing his value to the Boston Celtics each time he steps on the court. Even when hobbled by a knee injury, the fourth-year center had made a difference.
Despite being only 6-foot-8, Williams makes his presence felt in the paint. His length and jumping ability cause chaos for opponents as he alters and swats away multiple shots per game. He's a difference-maker on defense.
Since he came into the league out of Texas A&M as a late first-round pick in 2018, fans refer to him as "Time Lord." The nickname originally confused him, but now it's sticking as he continues to make a name for himself in the NBA.
Robert Williams had a rough start with the Boston Celtics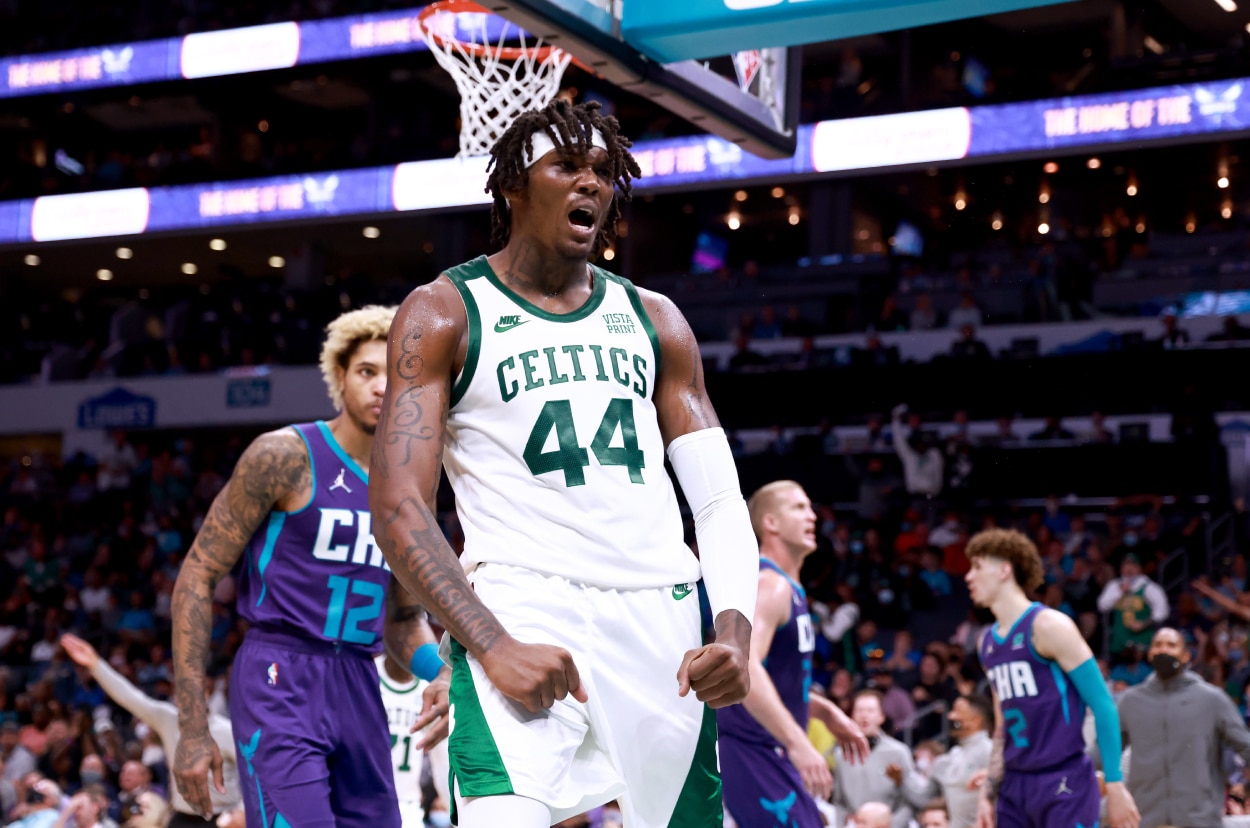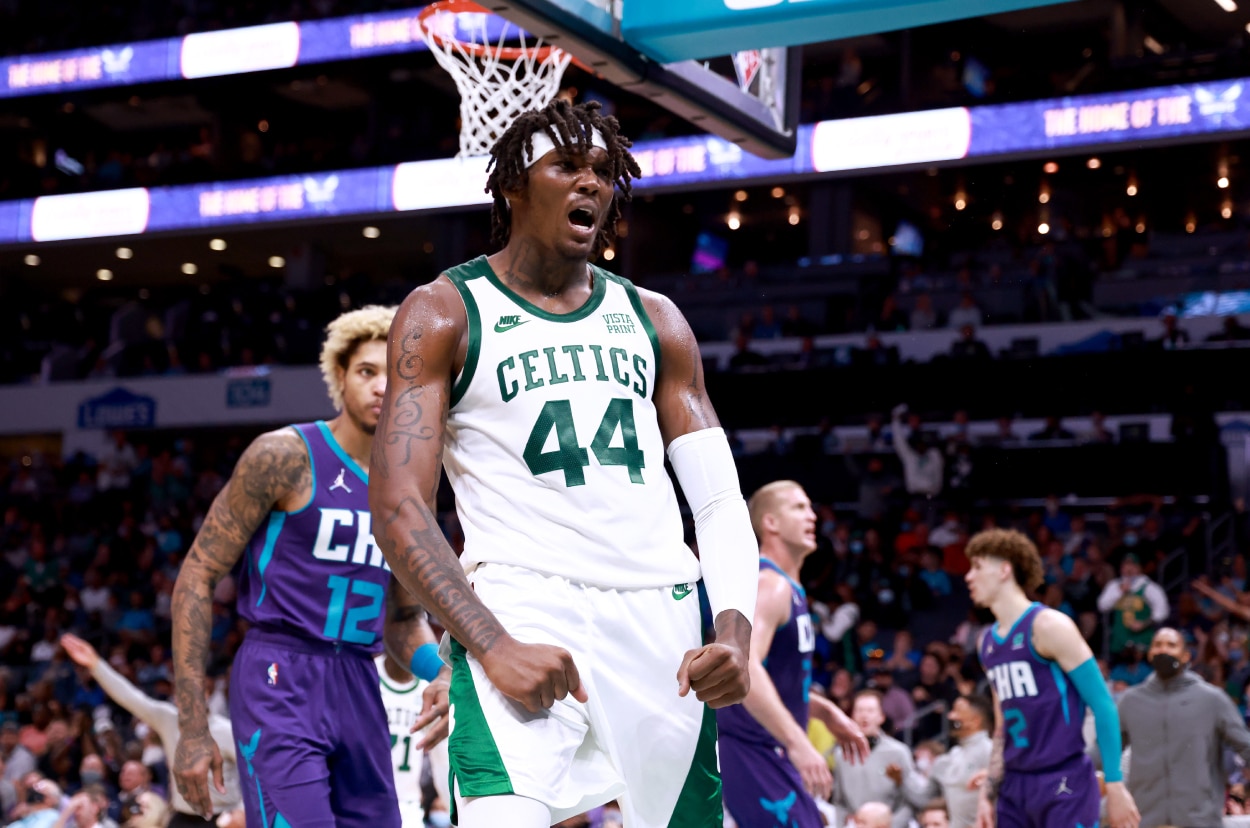 Williams was a star at Texas A&M, especially on the defensive side of the ball. A two-time SEC Defensive Player of the Year, Williams slipped in the 2018 NBA Draft, and the Celtics scooped him up with the 27th overall pick.
His first couple of days as a pro didn't go so well.
Williams, now a Celtic fan favorite, missed his introductory press conference call with reporters because he overslept.
"Right after the draft, I actually ran to my aunt's house and went to sleep because I was so tired from everything," Williams admitted in 2018, per ESPN. "When I woke up, my sister woke me up, she said, 'You have a conference call.'"
He missed the original call but had one rescheduled an hour later. He attended that one, but it was marred by poor quality.
Then Williams missed a flight and wasn't present for the start of summer practices.
"We expected him to be here, but obviously he missed his flight," said Celtics assistant coach Jay Larranaga back then. "We're excited for him to get here [Monday] and get started. I think everyone's disappointed. You want to get everything off to a good start in the first day, but we'll handle that internally and move forward."
Teams questioned Williams' work ethic, which likely was the reason for him dropping to No. 27 in the draft. He admitted both incidents were his fault and wanted to move on.
How did Williams get the 'Time Lord' nickname?
Williams has come a long way since those early days with the Celtics. On the court, his motor never stops. He's fresh off surgery for a torn meniscus in his left knee and typically deals with swelling and pain after each game. He missed much of the Eastern Conference Semifinals against the Milwaukee Bucks, and he's been questionable ever since.
When he plays, even in limited minutes, he makes a significant difference on both ends of the court. One could argue he's been Boston's MVP of the Eastern Conference Finals.
Those early days of oversleeping and missing his flight contributed to his Time Lord nickname. According to Mass Live, it began on Twitter from a group of Celtics fans who were part of "Weird Celtics Twitter." Long story short, Weird Celtics Twitter wasn't poking fun at Williams for missing those events. It was more making fun of the media for blowing things out of proportion.
"So (we) started joking that he wasn't late, he was operating on a different timeline concurrent to the one we are in," said Ryan Hebert, one of those Weird Celtics Twitter folks who helped come up with the nickname. Hebert said Williams was on par with former Boston Red Sox star Manny Ramirez, who was in the spotlight for similar instances.
"Manny Ramirez is the first athlete I loved and it was very Manny," Hebert said. "And like, local writers and talk-radio people overreacted, and the whole point of Weird Celtics Twitter is to make fun of them and media, in general, being too uptight."
That's when Time Lord was born. Danny Ainge, then the Celtics' president of basketball operations, didn't approve of the name.
"That's a bad name," Ainge said during a 2018 interview with 98.5 The Sports Hub. "I think we can do better."
Ainge then offered his own, not-too-shabby nickname for Williams — "Lob Williams."
When it originated, Williams said he heard of the nickname. He didn't mind it, but didn't know the full story.
"Instead of calling me 'Robert,' they call me 'Time Lord.' But I don't know where that (expletive) came from."
He's learned to embrace the nickname, and he can thank Weird Celtics Twitter for it.
Like Sportscasting on Facebook. Follow us on Twitter @sportscasting19 and subscribe to our YouTube channel.