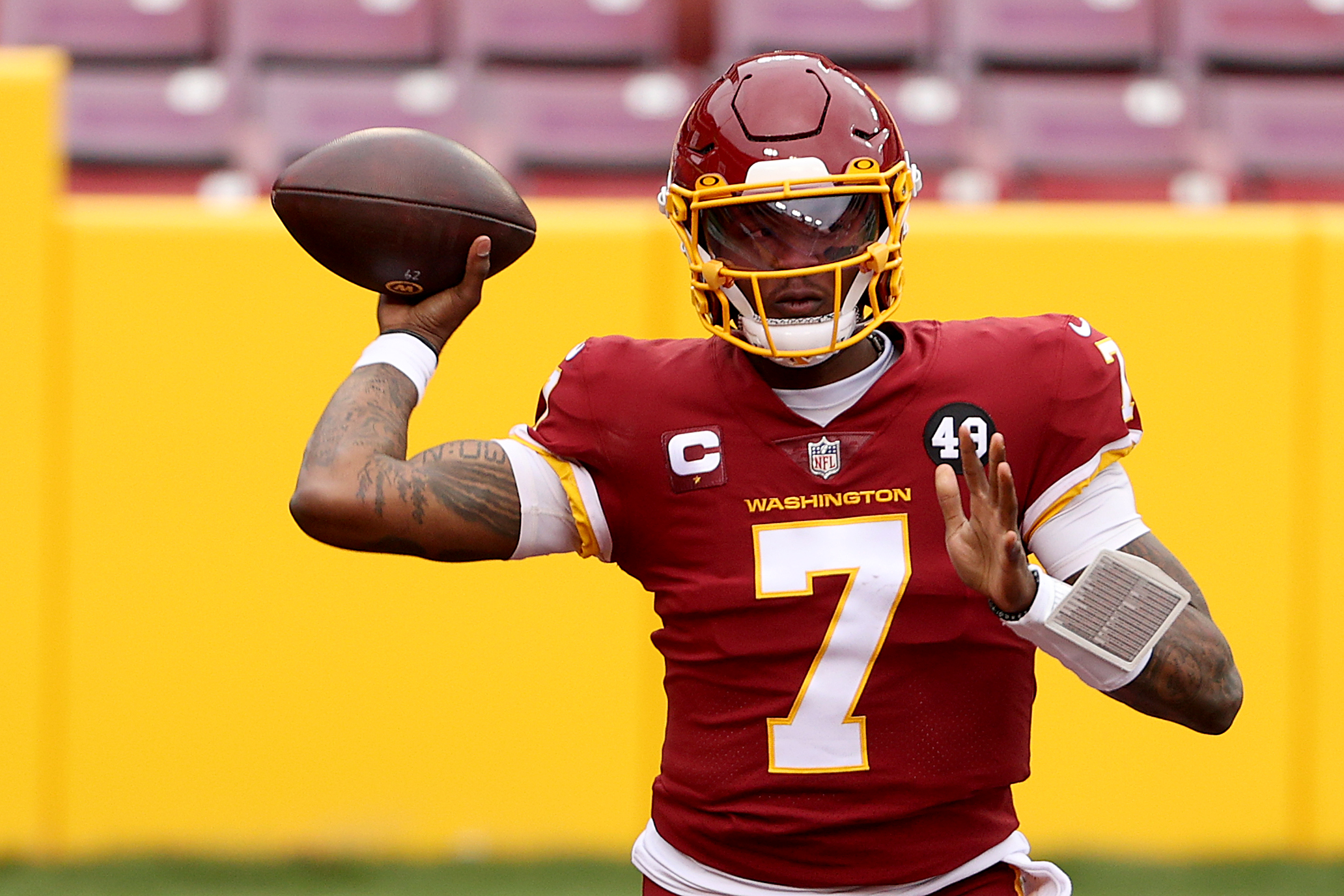 How Does the Fan Who Took Selfie With Dwayne Haskins Feel About QB's Release?
The fan who took a selfie with former Washington quarterback Dwayne Haskins speaks out on the quarterback's release from the team.
The beginning of the demise of Dwayne Haskins was a selfie as a rookie with the Washington Redskins. It triggered a snowball effect of poor decisions by the former NFL quarterback. Those decisions, combined with poor play on the field, have Haskins in the unemployment line. The man who took the selfie with Haskins would like to see the quarterback get another chance in the NFL.
Haskins takes selfie during a game
It happened in November of his rookie season. In Week 12 against the Detroit Lions, Washington quarterback Dwayne Haskins missed the final snap of the game. He wasn't hurt, nor was he being replaced. He was taking a selfie with a fan. Case Keenum had to run in and take the final knee in the 19-16 win over the Lions.
Haskins didn't seem to think it was that big of a deal after the game. "I was so hype I think I broke a water bottle," Haskins said, according to ESPN. "I look up and we were in victory (formation) and said, 'Oh, I thought the game was over with already. But I'll get it next time."
Washington's interim head coach Bill Callahan wasn't overly pleased with his quarterback. "We were looking for him," Callahan said. "I think he thought the game was over. I think he thought it was over. I'll have to find out a little bit more."
Haskins wore out his welcome
On Monday, the Washington Football Team released quarterback Dwayne Haskins. Haskins was drafted with the 15th overall pick in the 2019 NFL draft and was expected to be the quarterback of the future. Haskins' problems both on and off the field appear to have contributed to his release.
As a starter in Washington, Haskins went 3-10. His numbers were ugly. Haskins tossed 12 touchdowns and had 14 interceptions during his two years in the league. He completed 60% of his passes.
Off the field, Haskins was no leader. Missing the final play on the first win of his NFL career because he was taking a selfie was just the beginning. According to The Washington Post, coaches were annoyed with Haskins for being late to meetings. They weren't happy with Haskins not knowing the playbook. Perhaps the final straw was him partying last week at a strip club without a mask, violating NFL COVID-19 protocol.
Fan who took selfie hopes for another chance for Haskins
Jaime López-Verduzco was attending his first football game in November of 2019. He asked for and got to take a selfie with quarterback Dwayne Haskins. When Haskins was let go last week, López-Verduzco's photo was brought back into the spotlight.
"I think the die-hard Haskins fans and people who generally believe in giving any human being a second chance are hoping that he gets picked up by a practice squad and that he makes it to an active roster and rebuilds his career," López-Verduzco said to The Washington Post. "It's been a rough past week for him, but tomorrow is a new year, so hopefully it's a fresh start for him wherever he goes. I do believe that people deserve a second chance and we've seen how other players have done that for themselves in the league."
López-Verduzco said he doesn't have a favorite team. He just roots for players. He said he will continue to root for Haskins wherever he winds up.