How Good Is Cody Gakpo Going to Be for Liverpool?
While the January transfer window is yet to open, Cody Gakpo is heading to Liverpool. How much of a difference will he make at Anfield?
While soccer's January transfer window is yet to technically open, Liverpool have already done a major piece of business. The club has signed Cody Gakpo, who you may remember from the 2022 FIFA World Cup, away from PSV. He'll have to say his goodbyes and integrate into Jurgen Klopp's squad, but the Dutch forward should make his debut on Merseyside before too long.
That may be exciting, but one $45 million question looms large: Just how good will Cody Gakpo actually be for Liverpool? Is he going to be the key to the Reds' revitalization? Or will he fail to live up to the post-World Cup hype?
Let's break it down.
Cody Gakpo has moved to Liverpool for $45 million, and his potential is clear
In modern football, transfer fees have gone through the roof. Things are even more dramatic if a big-time English club is doing business with a continental club. In those cases, there's a tendency to inflate the price and squeeze every penny possible out of the deal. Through that lens, Liverpool got a pretty good deal when buying Cody Gakpo.
While the forward seemed to be destined for Manchester United, the Merseyside club swooped in and completed the January signing for approximately $45 million. The exact timeline for his arrival is unclear — as mentioned above, Gakpo will have to wait for the transfer window to officially open, then train with Liverpool before being thrown directly into the fire — the potential is plain to see.
The forward may be a bit slight — he'll presumably bulk up as he continues to grow — but his physical tools are apparent. He's tall (about 6-foot-2) and can use that size to his advantage, but based on his time in the Netherlands, he is more than capable of picking up the ball and exploding past opponents.
Gakpo is also a proven goal-scorer, albeit at a lower level of competition. Now, let's consider those numbers.
Cody Gakpo stats: The forward can certainly make things happen
If you've spent any amount of time working with statistics, you'll know that there's no perfect metric. Numbers can always be cherry-picked and placed into different contexts depending on what you're trying to prove. With that being said, though, Cody Gakpo's stats, which come courtesy of FBRef, do paint a solid attacking picture.
| | | | | | |
| --- | --- | --- | --- | --- | --- |
| Season | Minutes Played | Goals | Assists | Goals+Assists per 90 | npxG+xAG per 90 |
| 2018-19 | 399 | 1 | 5 | 1.35 | 1.11 |
| 2019-20 | 1,462 | 7 | 6 | .8 | .57 |
| 2020-21 | 1,663 | 7 | 3 | .54 | .61 |
| 2021-22 | 1,905 | 12 | 12 | 1.09 | .93 |
| 2022-21 | 1,122 | 9 | 12 | 1.52 | .93 |
Now that we've got those raw numbers, there are a few explanations and caveats.
These numbers are from league performances only.
The metric "npxG+xAG per 90′ may sound like a mouthful, but it's not too unintuitive. It stands for non-penalty expected goals plus expected assisted goals per 90 minutes. Expected goals can kick off their own argument but think of it this way. Have you ever watched a match and said a striker should have scored that chance? If you have, you understand the concept of an expected goal. For our purposes, think of this metric as something of a catch-all, expressing how well Gakpo is performing from an attacking perspective.
We also want to note competition quality. Gakpo plays for one of the Netherlands' better teams, and the Eredivisie isn't the deepest league around. Through that lens, his numbers should be taken with something of a grain of salt. They're clearly good, but don't expect him to be producing more than a goal contribution per game in the Premier League, at least not right away.
So, with those caveats out of the way, what can we glean from Gakpo's numbers? He's clearly a capable attacking player who has been following an upward trajectory. Again, there are some valid concerns about how that will translate into a much tougher league, but promising signs are there.
His npxG+xAG per 90 are particularly encouraging. During the World Cup, for example, the forward scored multiple goals but converted some incredibly difficult chances. These underlying numbers, however, suggest that he's doing the right things with PSV rather than riding his luck, even if they don't always translate onto the score sheet.
Even if the goals dry up in England, he'll theoretically still have that ability.
Can Cody Gakpo play striker?
Beyond the issue of adjusting to the Premier League, position could be another issue for Gakpo. He's something of an in-betweener, usually operating as a winger who wants to drift centrally. Does he have what it takes to play through the middle in the Premier League?
At the risk of not really answering that question, joining Liverpool might mean it's somewhat irrelevant. The Reds recently bought Darwin Nunez, suggesting that he'll be the long-term frontman. So, where does that leave Gakpo?
While we'll have to see how things play out, there are two potential options. First, Gakpo can start from the left and drift centrally, as he's done at PSV. That could work well at Liverpool, as Nunez is also capable of playing from the left. The two young forwards would theoretically be able to interchange, drifting in and out of the central areas as play dictates. It's also possible that Gakpo could drift more centrally and play alongside his strike partner, which would allow Andrew Robertson more space to push forward on the left-hand side.
Alternatively, the new signing could play in a more withdrawn central role, as we saw during the World Cup. Liverpool has been good about replacing players before they leave the club, so maybe the Dutchman could take over the Roberto Firmino role. Gakpo doesn't have the same passing range as the Brazilian, but slotting him into that spot would allow him to use his size and athleticism to act as something of a second striker.
Will there be some situations when we see Jurgen Klopp play his new signing as a striker? Probably, but I don't think Gakpo is viewed as the club's out-and-out number 9.
So, how good is Cody Gakpo going to be at Liverpool?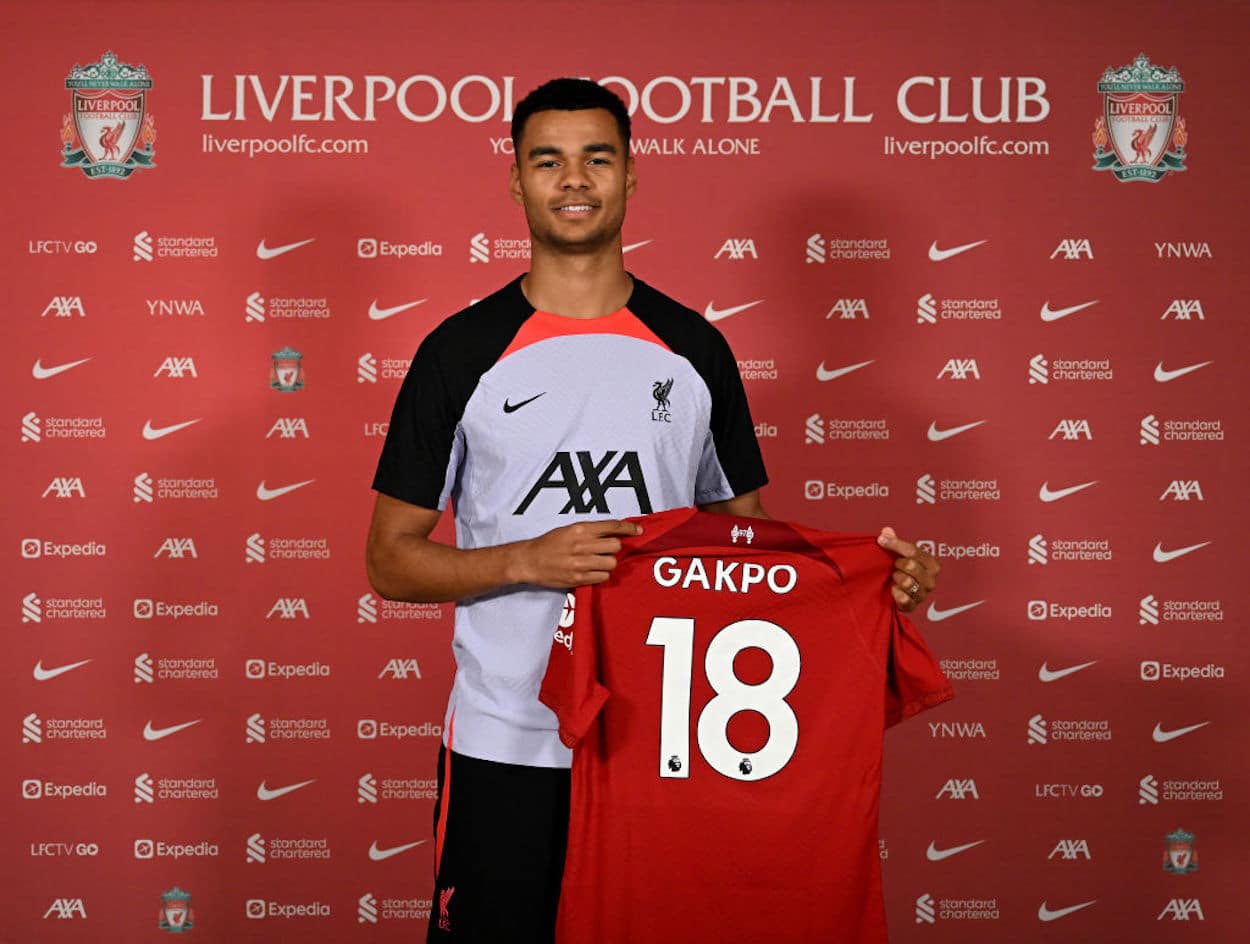 Now that we've looked at the stats and addressed the positional question, we've reached the elephant in the room: Gakpo's overall effectiveness at Liverpool. While I (obviously) can't see the future, I am cautiously optimistic about his future with the Reds.
As I see it, the forward is a player who clearly possesses talent. He has the physical tools to shine and knows how to get into the right place and put the ball into the back of the net. You can't teach those parts of the game. You either have them, or you don't.
With that being said, though, it's fair to wonder how Gakpo will adjust to life in the Premier League. While he is used to playing for a big team and the challenges that come along with that, England will represent a new challenge. At the risk of getting uncomfortable close to the "cold, wet night in Stoke" cliche, there's no easy game in the Premier League. The worst team in the division can pose a challenge for the best team, and those clubs at the bottom half of the table will usually prioritize defensive stability. Obviously, the other big clubs have elite defenders, too. What will happen when Gakpo can't simply outplay the opposition?
Through that lens, I think the forward has landed in a good spot. Liverpool has attacking depth, even if a good deal of it is injured at the moment, which should take some weight of Gakpo's shoulders. He'll also be working with a world-class coach and have Mohamed Salah on the opposite flank to occupy defenders.
Will Gakpo be a complete game-changer, especially given the club's midfield issues? We simply can't tell at this point. Based on his resume, skill set, and situation, though, I do think he'll make a positive impact at Anfield.