How High Could Michael Jordan Jump?
Michael Jordan's nicknames include Air Jordan and His Airness. The logo on his multi-million dollar brand is a silhouette of him flying through the air. He won multiple dunk contests. So exactly how high could Michael Jordan jump?
Michael Jordan dominates dunk contests
In Michael Jordan's 15-year NBA career, his accomplishments are many. But his victory in the 1988 Slam Dunk contest, while not considered a revered title recorded in the official NBA history books, is the place on Jordan's timeline where he forever cemented his legacy as the father of flight. 
Jordan appeared in the NBA's Slam Dunk Contest three times in his career. He finished second in 1985 behind Dominique Wilkins before outlasting Jerome Kersey in the 1987 contest.
Jordan started slowly in the first round of the 1988 contest, similar to his previous two appearances. After the first round, he trailed a familiar foe, Dominique Wilkins. Jordan overtook Wilkins in the final round with two of his three dunks coming on length-of-court runs that finished with Jordan taking off from the free-throw line and slamming it home.
He became the first-ever two-time winner of the event and went out on top, never entering the contest again.
How high could Michael Jordan jump?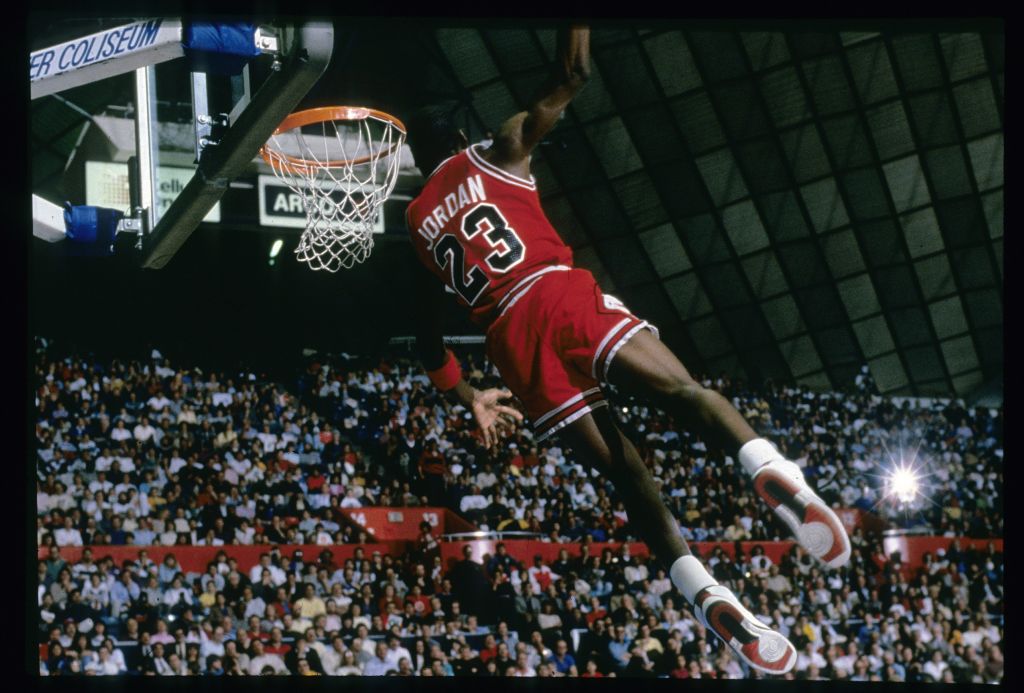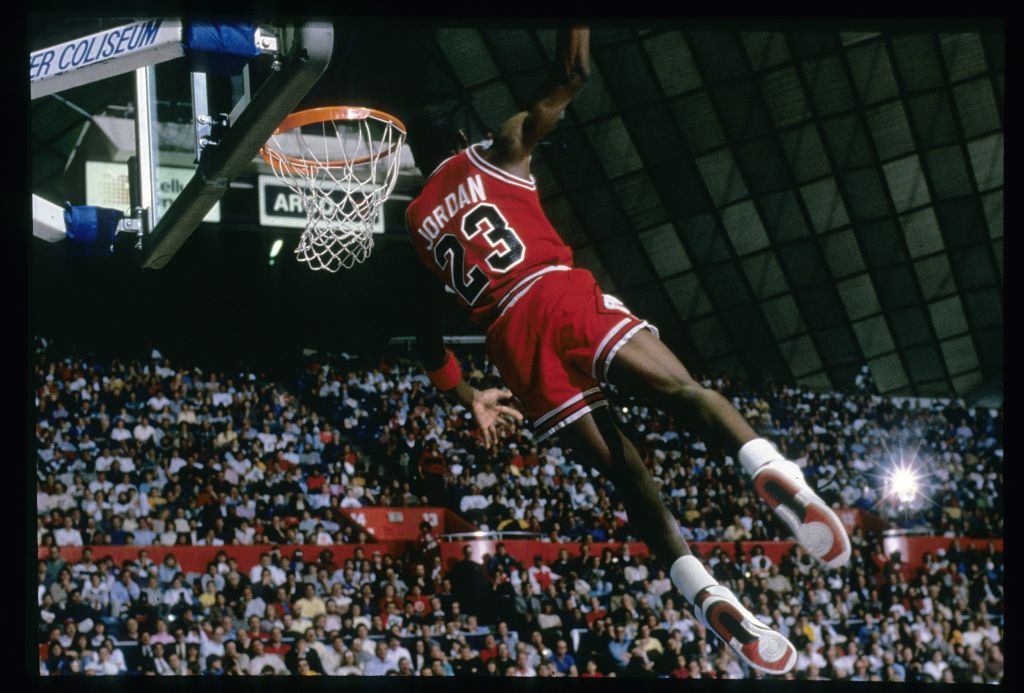 While Jordan's jumping ability is undisputed, the exact height has always been a question. One study from his days in Chapel Hill with the North Carolina Tar Heels had Jordan's vertical at 45.76 inches, or more impressively, just a couple of inches shy of four feet.
In 1984, while still playing at Carolina, Jordan reportedly had his vertical leap measured during his time with the men's U.S. Olympic basketball team. According to those involved, Jordan soared to a height of 48 inches. It was then and still is today, considered to be one of the top highest vertical leaps.
While Jordan's vertical leaping ability may not have been an official measurement recorded, numerous videos from his playing days show the incredible heights he reached. Whether it was on dunks or on defense blocking the opponents' shots, Jordan soared to heights where his head was often even with or above the 10-foot high rim. On numerous occasions, Jordan hit his head on the backboard, which is nine feet off the ground. 
How does Jordan compare to others?
Although Jordan is known for his ability to seemingly defy gravity, he's got company. In recent years the NBA has witnessed an influx of high flyers who have showcased their skills in the annual dunk contest.
Zach Lavine is a two-time winner of the contest in 2015 and 2016. Lavine, who also plays for the Chicago Bulls, is reported to have a vertical jump of 46 inches. Jason Richardson, who retired in 2015, was also a two-time dunk contest winner and had a vertical of around 46 inches as well.
In addition to the new guys, some older players in the Jordan era also had major hops including the diminutive 5-foot-6-inch Spud Webb, who reportedly had a 46-inch vertical, and Darrell Griffith, also known as Dr. Dunkenstein, who had a vertical as high as Jordan at 48 inches.
Many consider Michael Jordan to be the GOAT in basketball. His unbelievable jumping ability is a big reason why.