How Many Career Goals Does Neymar Have?
He may be known in some circles for flopping more than spectacular play, but no one can deny that Neymar is one of the best soccer players in the world. He's incredibly skilled on the ball, bringing the stereotypes about Brazilian football to life, but he's more than a showboat. The current PSG man also knows how to find the back of the net.
Yes, you read that correctly. Despite the clips of flopping, fancy footwork, and overall creative play, the star is more than capable of getting onto the score sheet. Let's take a walk through Neymar's career goals to underscore that point.
Neymar's club soccer career
In soccer, youth is always at a premium, with European clubs looking for the next global star. Neymar, at one point in time, was one of those youngsters who seemed poised for greatness.
The Brazilian burst onto the scene at Santos in his home country, where he helped the club win two Campeonato Paulistas, one Copa do Brasil, and the Copa Libertadores. On the back of that success, the teenager had his choice of move. Neymar ended up heading to Barcelona, where he teamed up with Lionel Messi and Luis Suarez to form a lethal attacking trio.
While it took some time to adjust to life in Europe, things eventually clicked. The Catalan club captured a treble during the 2014-15 season and a double shortly after. Despite that success, though, Neymar eventually moved on.
Although there were some legal complications with the release clause and contract, the Brazilian joined PSG ahead of the 2017-18 campaign. While things haven't been completely smooth sailing in France — Neymar has had some injury issues, a few moments of ill-discipline, and repeated Champions League failures — Les Parisiens have piled up plenty of domestic silverware. You can decide how impressive of an achievement that is.
How many goals did Neymar score for Santos?
As mentioned above, Neymar burst onto the soccer scene during his time at Santos. As you might expect, that meant he was putting up some incredible numbers in Brazil.
Across 127 matches in all competitions, the teenager scored 66 goals. He also dished out 33 assists for good measure. With numbers like that, it's easy to see why he earned a move to one of the world's elite clubs.
How many goals did Neymar score for Barcelona?
From a statistical perspective, moving to Barcelona could have been a double-edged sword. On one hand, Neymar was playing alongside elite talent on one of the game's most-dominant club sides. On the other, though, having that much star power can have its downsides. Not only would the Brazilian have to share the ball, but other teams would be more likely to sit back and park the bus against the MSN attack.
With that being said, though, the playmaker's numbers didn't suffer. He played 180 matches in all competitions for the Catalan giants, totaling 103 goals and 56 assists.
How many goals has Neymar scored for PSG?
Whether it's fair or not, France's Ligue 1 is viewed as a weaker competition. That perception, combined with the fact that Neymar is playing alongside Kylian Mbappe and Lionel Messi on a stacked PSG squad, would lead many to believe that the Brazilian should be finding the back of the net every match.
And while that's not the case — scoring can be tough, even with superior talent, when the opposition packs everyone behind the ball — Neymar is still doing a fine job from a statistical perspective. In 164 matches across all competitions, he's potted 115 goals and tallied up 66 assists.
Neymar's time with the Brazilian national team
When you're a big-name soccer player, club football isn't your only engagement. It's also likely that you'll be called up to your national team, which Neymar certainly has.
The playmaker has represented Brazil at the youth level, in the Olympics, and in virtually every senior tournament possible. He was even the Seleção's captain for a time, but he lost the armband after winning a gold medal at the 2016 Olympics.
With his country, Neymar has won the South American U-20 title, an Olympic gold medal, and the Confederations Cup, plus some individual honors.
At the start of play on December 9, 2022, the attacker has played 80 times for the senior Brazilian squad, although that number can vary across sources depending on which matches you're counting.
Regardless of the specifics, though, that number will only continue to increase.
How many career goals does Neymar have at the World Cup?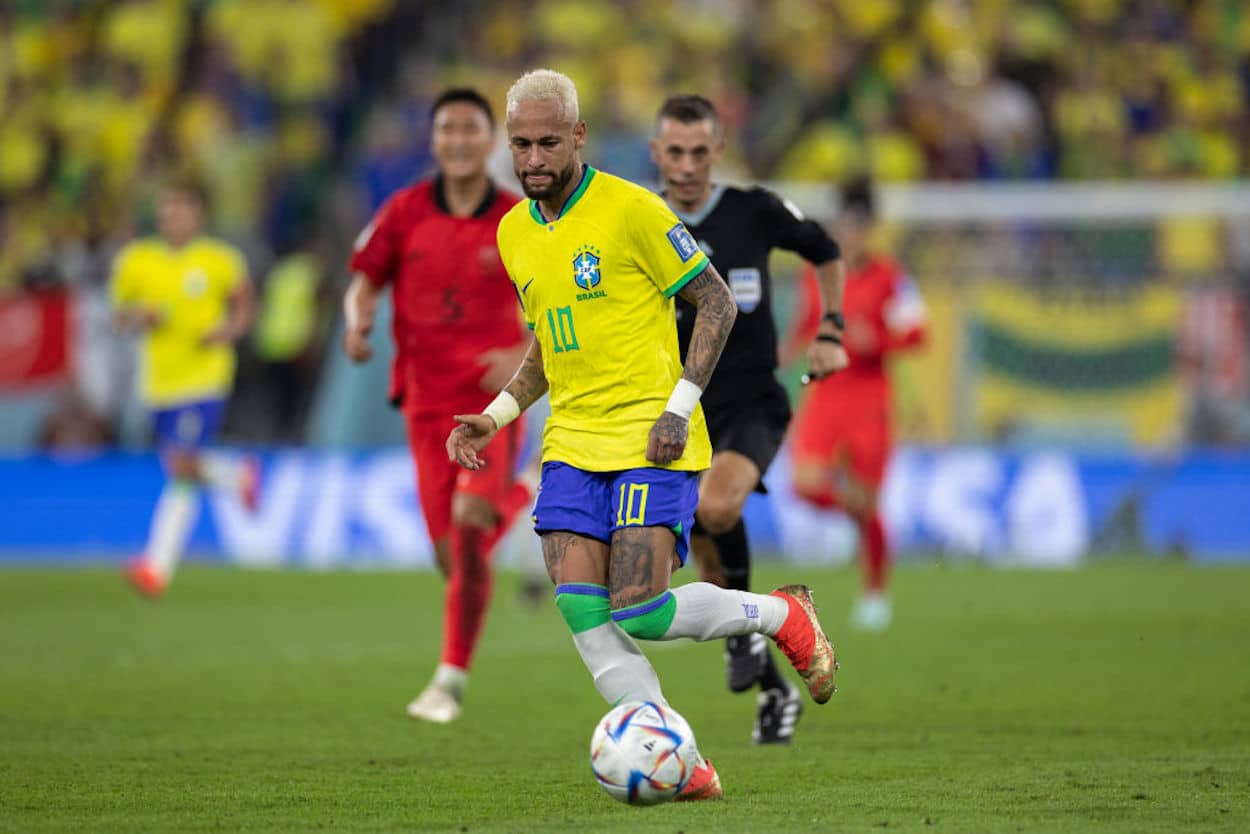 While I'd argue that a player's entire body of work needs to be considered when assessing their legacy, certain performances are going to matter more than others. Whether it's fair or not, people will always remember how stars perform at the World Cup.
Thankfully for Neymar, his offensive returns have been rather consistent on soccer's biggest stage. In 12 career World Cup matches, he's scored seven goals (with only two coming as penalty kicks) and dished out three assists.
So, while the diving and theatrics may steal the headlines, Neymar is playing his part for Brazil.
Where do Neymar's goals rank in Brazil history?
As a star on the Brazilian national team, it's only natural that you're going to be compared to some of the greatest players in soccer history. With the likes of Ronaldo, Pele, Socrates, and more having worn the iconic yellow shirt, Neymar has to live up to some rather lofty standards.
When it comes to finding the back of the net, he's certainly doing his part. According to a list compiled by Sporting News, the current PSG man sits in second place on the Seleção's scoring list with 76 tallies, only sitting one behind the legendary Pele. Yes, that means Neymar has scored more goals on the international stage than R9.
And while you could argue that sample size matters — Neymar has played more matches for his country than the other legends on the list — being anywhere near Pele is an accomplishment.
Looking back at 2 of Neymar's most memorable goals
Trying to pick out great goals is like assessing art. While there are a few objective metrics you can look at, everyone will have their own personal tastes. With that being said, though, let's appreciate a couple of Neymar's finer moments.
Starting with the goal embedded at the top of this section, the Brazilian shows off the skill that makes his home nation famous around the footballing world. The flick and spin over the defender is a fine fusion of flair and function, and actually finishing the chance shouldn't be overlooked. Neymar caught the ball cleanly on the volley, giving the keeper no chance.
Then, at the opposite end of the spectrum, we have the finish at the end of this clip:
In fairness, this penalty isn't that impressive. It's more about the larger context. Brazil hosted the 2016 Olympics, and Neymar captained the team in pursuit of the nation's first gold medal in men's soccer. In the championship match, he stepped up to the spot in Maracanã Stadium, the spiritual home of Brazilian football, and buried the clinching penalty kick.
While it's easy to view athletes as robots or superheroes, the playmaker's reaction shows just how human they are.
And Neymar, for all of his flaws, does bring that human touch into the game. Whether he sparks joy, anger, or any other emotion, you'll certainly feel something watching the Brazilian play.
Stats courtesy of FB-Ref unless otherwise indicated