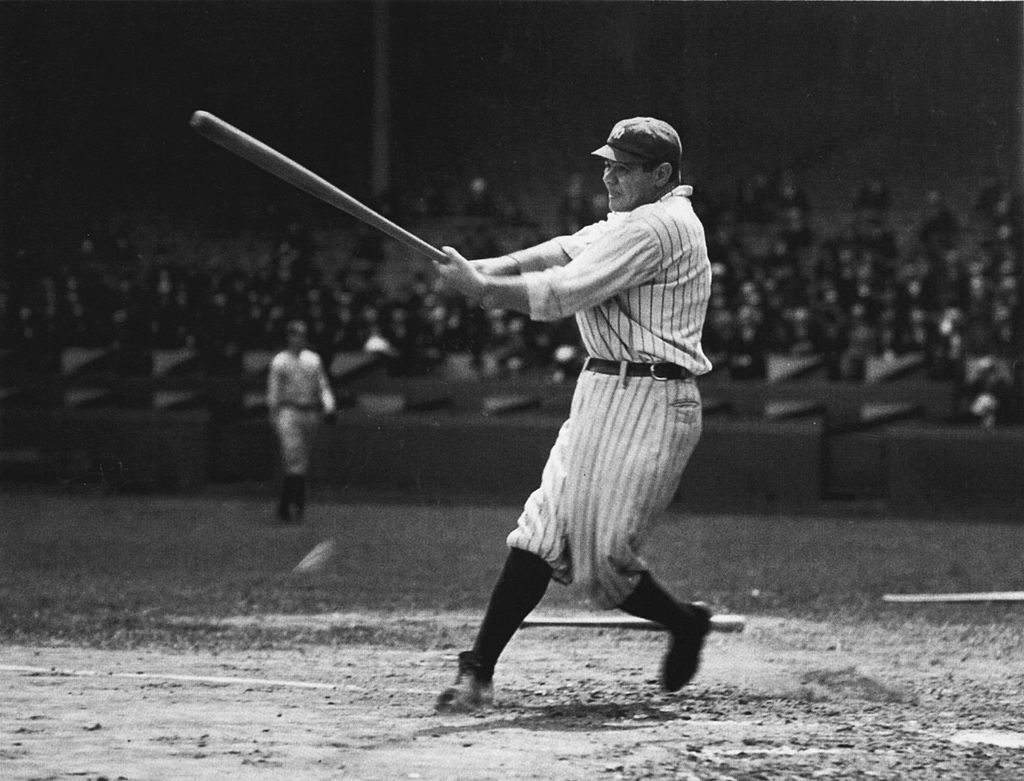 How Many Hall of Fame Votes Did Babe Ruth Get?
No one can doubt Babe Ruth's Hall of Fame credentials, but how many votes did the New York Yankees legend receive in 1936?
In the history of Major League Baseball, few men stand taller than Babe Ruth. The New York Yankees slugger transcended sport and became an American legend; even if you've never watched a baseball game, you probably know about the Sultan of Swat and his prolific home runs. Unsurprisingly, Ruth was a member of the inaugural Baseball Hall of Fame class in 1936.
Last year, Mariano Rivera made history by becoming the first player unanimously elected into the Hall of Fame. This year, Derek Jeter fell one vote short of perfection. How many votes did Babe Ruth receive, though?
Babe Ruth's Hall of Fame Career
While Babe Ruth grew into one of baseball's biggest stars, his life began in much more humble circumstances. He grew up in Baltimore and attended St. Mary's Industrial School for Boys. While the unruly child was theoretically sent there to learn both academics and vocational skills, he also learned about baseball.
In 1914, Ruth signed a contract with the Baltimore Orioles who, at the time, played in the International League. Before long, however, the club found itself in financial trouble; to compensate, they sold their promising young pitcher to the Boston Red Sox. Ruth spent the rest of the season in the minor leagues but made the team in 1915. He stayed with the Red Sox until 1919 when one of baseball's most infamous transactions took place.
Babe Ruth, of course, headed south to join the New York Yankees. While the Red Sox became a cursed franchise, the Bronx Bombers took off. Ruth fully transformed from a pitcher to a power-hitting outfielder; during his 15 seasons in New York, he walloped 659 home runs and took home four World Series titles.
A big star with a big salary
While historical athletes didn't get paid as much as their counterparts do today, Babe Ruth was still handsomely compensated during his playing career. When you're baseball's most famous player, you're going to take home a nice chunk of change.
When Ruth signed his first deal with the Orioles, he earned $600 a season. Upon moving to Boston, his salary more than doubled. The Red Sox initially paid Ruth $1,300, but consistent raises but his paycheck at $10,000 during his last season in Beantown.
When Ruth joined the Yankees, however, his salary started growing by leaps and bounds. It jumped from $20,000 to $30,000 before settling on $52,000 for a few seasons; it then climbed to $70,000 before peaking at $80,000 in 1930.
While Babe Ruth's salary tailed off quite dramatically at the end of his career, the slugger still took home a little over $800,000; accounting for inflation, that's roughly $15,000,000 in today's money.
How many Baseball Hall of Fame votes did Babe Ruth receive?
In 1936, the first class of players was elected to the Baseball Hall of Fame. As one of the game's biggest stars, Babe Ruth unsurprisingly made the cut.
Five men made up that inaugural class: Ty Cobb, Babe Ruth, Honus Wagner, Christy Mathewson, and Walter Johnson. 75% of the 226 available votes were required for enshrinement; that meant 169 votes was the threshold for the Hall of Fame.
Cobb led the way, receiving 222 votes. Ruth and Wagner each got 215, while Mathewson received 205; Johnson brought up the rear with 189. When ranked by percentage of votes received, Cobb still ranks seventh all-time, while Ruth and Wagner are tied for 17th.
All in all, it wasn't a bad career for an unruly kid from Baltimore.