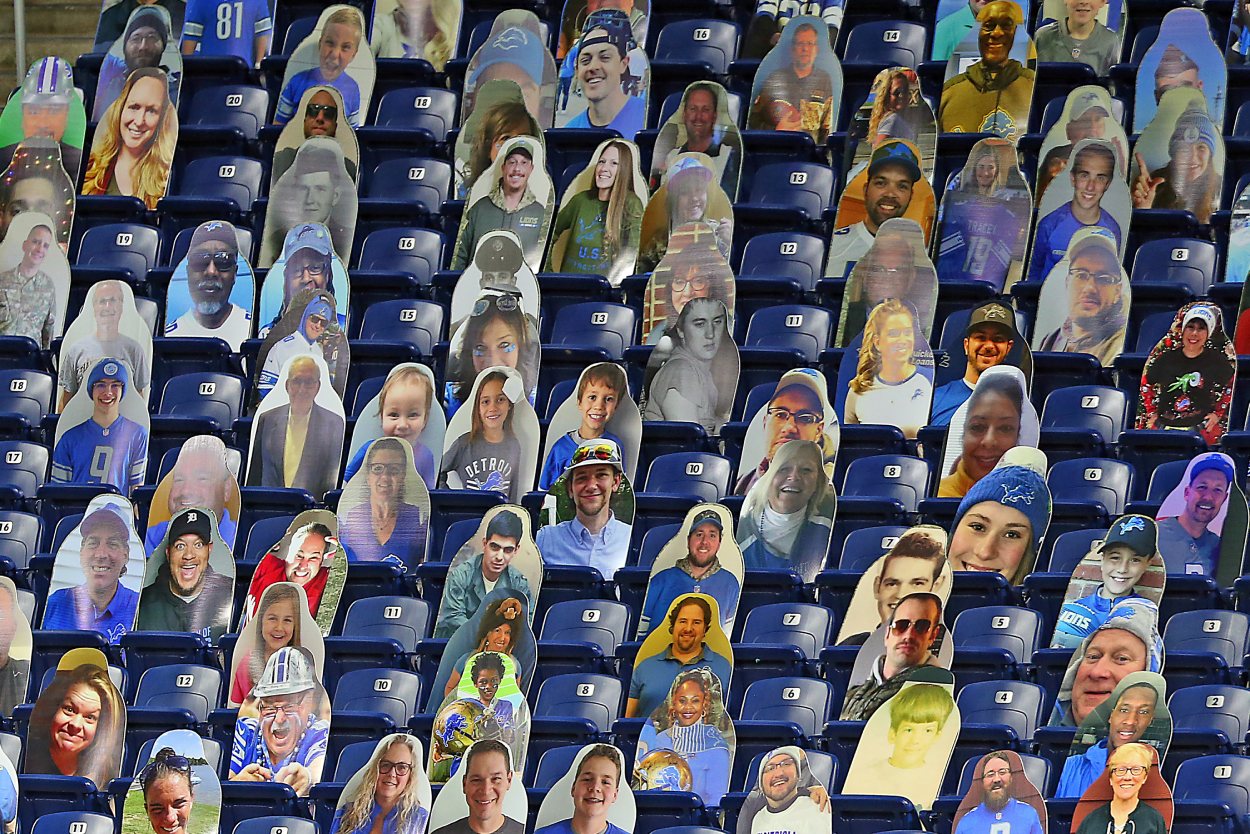 How Much Does it Cost for a Cardboard Cutout at Super Bowl 55?
With limited fans beling allowed to attend Super Bowl 55, the NFL will have 30,000 cardboard cutouts in the seats.
The coronavirus (COVID-19) has been messing with sports since last March. Seasons have been put on hold, games have been canceled, and teams have been playing in empty stadiums. Teams have used virtual fans and cardboard cutouts during their respective seasons to either add to the atmosphere or recoup some of their financial losses. There will be tons of cardboard cutouts at Super Bowl 55. How much will they cost?
Teams have gotten creative with fans
It's not just the NFL that has had to deal with the lack of fans in stadiums. After the NBA season was put on hold in mid-March when Rudy Gobert was the first player to test positive for COVID-19, the league resumed in a 'bubble.' Four months after Gobert's diagnosis, the NBA restarted, playing all games in Orlando, Florida.
No fans were allowed into the games and no players were allowed to leave the premises unless their team was eliminated. The league got creative and had fans become part of the action from their home computer. Fans could watch the game at home and see themselves on television as if they were at the game.
Other leagues have played around with the cardboard cutouts. Major League Baseball was known for putting cardboard cutouts of fans throughout their ballparks. Many teams changed a fee that would usually benefit a charity for the right to have a fan's cardboard cutout in the stands. The NFL also got into the action with several teams having cutouts placed in the end zones.
Super Bowl 55 will have very limited capacity
Super Bowl 55 will have a whole different look to it. Because of COVID-19, Raymond James Stadium will seem a lot less intense this year. The NFL will allow 25,000 fans to attend the game with almost a third of those fans being vaccinated healthcare workers. Raymond James Stadium, home of the Tampa Bay Buccaneers, holds 65,890 fans.
The league will be making a big push to honor healthcare workers for their efforts during a pandemic. The NFL, according to CBS Sports, is providing those 7,500 or so healthcare workers with an all-expenses-paid trip to the Super Bowl.
"These dedicated health care workers continue to put their own lives at risk to serve others, and we owe them our ongoing gratitude," said NFL commissioner Roger Goodell. "We hope in a small way that this initiative will inspire our country and recognize these true American heroes. This is also an opportunity to promote the importance of vaccination and appropriate health practices, including wearing masks in public settings."
The game will also feature 30,000 cardboard cutouts
While 25,000 fans will make up a little more than one-third of the capacity at Raymond James Stadium for Super Bowl 55, the NFL will have 30,000 cardboard cutouts of fans to help fill out the place. Super Bowl tickets are always ridiculously expensive, so how much does it cost to get one of 30,000 cutouts for the big game?
According to Fox 4 Kansas City, cardboard cutouts were sold for $100 each, an apparent bargain for an event this size. There will be more cardboard bodies than live bodies at Raymond James Stadium.
According to Fox 4, the NFL said after the game it will share a link so those with cutouts can find themselves via the integrated Fan Cam. They can then tag their cutout and share on social media that they were at the game. A portion of the proceeds of sales will go to local charities. The rules say one person per photo.