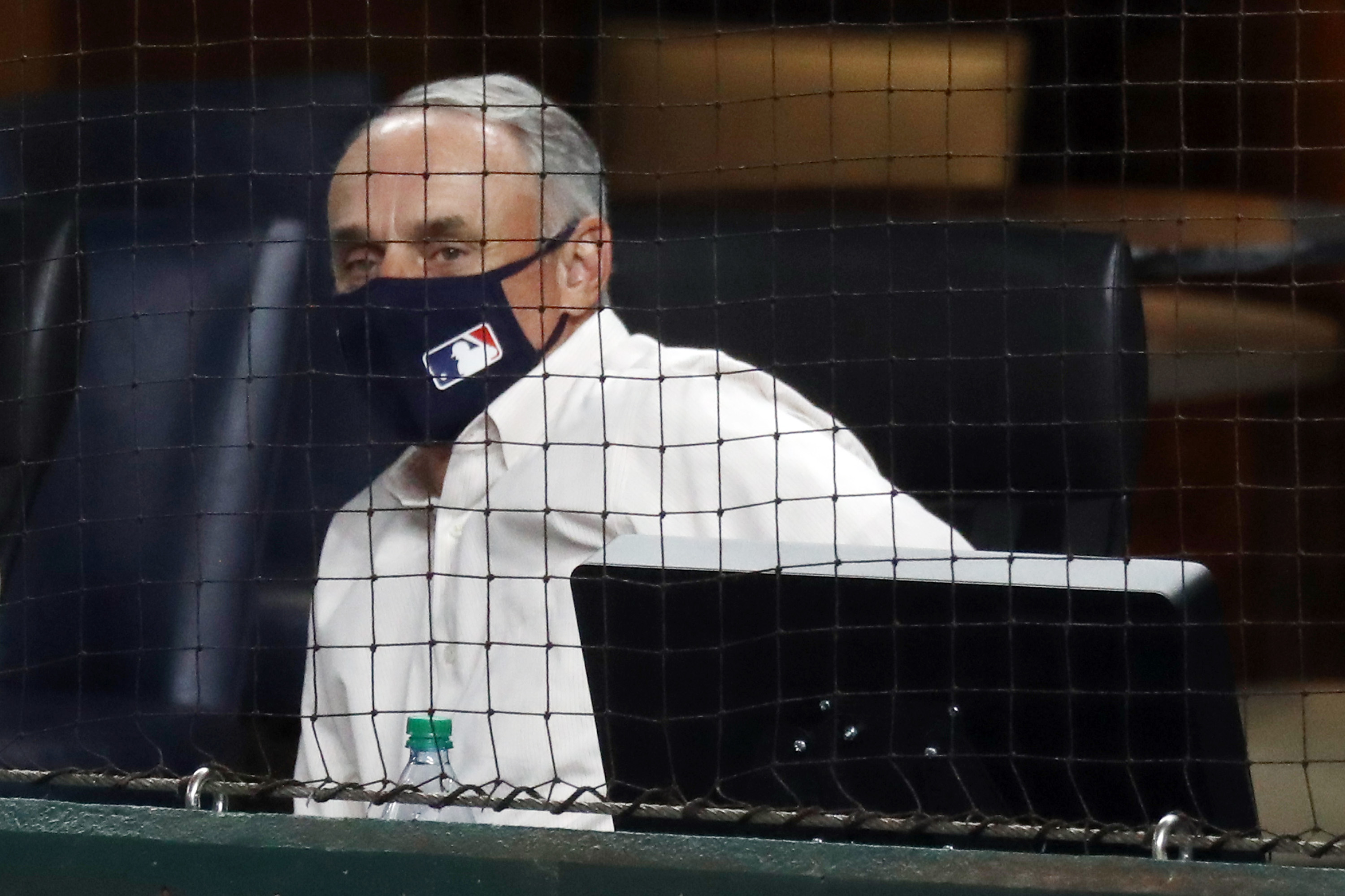 How Much Money Did Major League Baseball Lose This Year?
The COVID-19 pandemic caused chaos in the world of sports this year. How much money did Major League Baseball lose because of the virus?
Major League Baseball just capped a very entertaining new-look playoff format and is in the final stages of an exciting World Series between the Los Angeles Dodgers and the Tampa Bay Rays. Despite the fact MLB is on the verge of finishing the wildest and weirdest season in history, the league has taken a substantial hit financially. The coronavirus (COVID-19) pandemic has MLB Commissioner Rob Manfred desperately searching for answers.
Major League Baseball revamps season because of COVID-19
Major League Baseball may have gotten through the abbreviated, 60-game regular season and the playoffs, but COVID-19 make the league work for it. These were trying times for MLB and commissioner Rob Manfred, who had to make immediate decisions when the virus struck.
No fans were allowed at games during the regular season and seven-inning doubleheaders were the norm. The Miami Marlins and St. Louis Cardinals were both hit hard by the virus, forcing numerous postponements of series and raising the question of whether or not the season would finish. Fans, roughly 11,500 of them, have been able to watch the World Series in person. To limit travel, the World Series was played at a neutral site for the first time ever.
Despite the rough patches, Major League Baseball made it work. There was no 'bubble' during the regular season that was used by the NBA or the NHL. The teams didn't go to neutral sites until the postseason. Manfred said it was cooperation from everyone involved that made the 2020 season happen. "I feel good about what we've accomplished," Manfred said to Sportico. "The best part of it is, it's been a real team effort."
MLB takes stunning financial hit
If Major League Baseball is forced to take another financial hit in 2021 like it did this year, it may not be able to survive. According to Sportico, MLB Commissioner Rob Manfred said the 30 teams have amassed an unprecedented $8.3 billion of debt from their various lenders and will post $2.8 billion to $3 billion in operational losses.
Manfred said another year without fans could be disastrous. "We are going to be at historic high levels of debt," Manfred said. "And it's going to be difficult for the industry to weather another year where we don't have fans in the ballpark and have other limitations on how much we can't play and how we can play.
"The economic losses have been devastating for the industry," Manfred said. "You're seeing the ramifications of that in terms of decisions clubs are making with respect to (laying off) baseball operations and business employees. I mean, you've never seen those types of decisions, at least since I've been around."
What's next for Major League Baseball?
Only time will tell what will happen with Major League Baseball in 2021. With COVID-19 cases spiking in many parts of the country, it's possible fans won't be allowed into stadiums, at least for some part of the season. Manfred is already looking at 2021 and said it's tough to see a return to normalcy by April.
"It's absolutely certain, I know, that we're going to have to have conversations with the MLBPA about what 2021 is going to look like," Manfred said to Sportico. "It's difficult to foresee a situation right now where everything's just normal. And obviously, if it's not normal we're going to have to have conversations about it."
Travel restrictions to Canada may prevent the Toronto Blue Jays again from playing at home. The team played its 60 homes games this year in Buffalo. Manfred said the unpredictability of COVID-19 makes planning very difficult. "I think the one thing we've learned is that COVID is a really unpredictable virus," Manfred said. "We don't know what's next. But at this point it's just impossible to speculate what next year's going to look like. We'll just have to get closer and then we'll make the best decisions we can."