How Tall Is Gonzaga Star Drew Timme and How Much Does He Weigh?
Of all the fantastic college basketball players who have suited up for the Gonzaga Bulldogs over the years, Drew Timme stands alone as the program's all-time leading scorer. The two-time West Coast Conference Player of the Year also ranks in the top 10 in rebounding and blocks.
So exactly how tall is Drew Timme, and how much does he weigh? And is he good enough to be a force in the NBA?
Drew Timme is the all-time leading scorer at Gonzaga
A consensus top-50 prospect in the class of 2019 coming out of J.J. Pearce High School in Richardson, Texas, Drew Timme spent the vast majority of his freshman season at Gonzaga coming off the bench. But despite only starting four games, he averaged 9.8 points in helping the Bulldogs to a 31-2 record. Gonzaga likely would have been a No. 1 seed in the NCAA Tournament that year, but it was canceled due to COVID-19.
Timme started all 32 games as a sophomore and led the team in scoring and rebounds, averaging 19 points and seven boards per game. Gonzaga lost just one game all season during the 2020-21 campaign. Unfortunately, it was the national title game, leaving them with a 31-1 record for the year and leaving the program still without a championship.
As a junior in 2021-22, Timme won WCC Player of the Year for the first time, averaging 18.4 points and 6.8 rebounds in leading the team to a 28-4 record and a spot in the Sweet 16.
He again won WCC Player of the Year as a senior, averaging career-bests in points (20.9), rebounds (7.3), and assists (3.2). On March 7, 2023, during Gonzaga's win over Saint Mary's in the WCC Tournament finals, Timme became the program's all-time leading scorer, passing Frank Burgess. He also ranks seventh in total rebounds and eighth in blocks.
The Bulldogs enter this year's edition of March Madness as the No. 3 seed in the West.
How tall is Drew Timme, and how much does he weigh?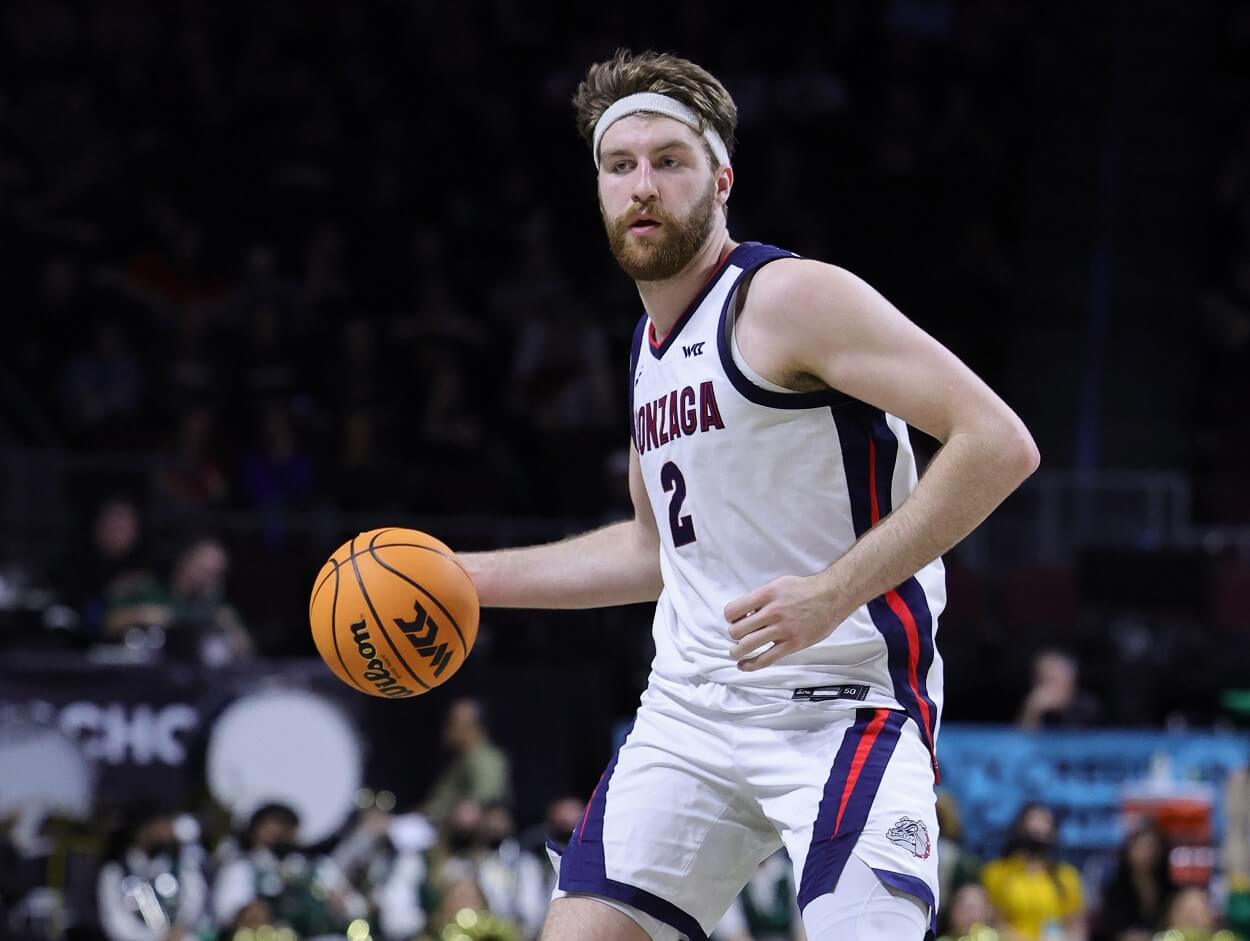 Per Gonzaga's official website, Drew Timme measures 6-foot-10 in height and weighs 235 pounds.
That's actually the exact height and weight of Marvin Bagley III, who was taken with the second overall pick in the 2018 NBA Draft. Like Timme, Bagley III is listed as both a center and a power forward.
But that's pretty much where the similarities end. And let's not pretend Timme will be the second player taken in the 2023 NBA Draft.
Timme likely won't be a first-round NBA draft pick
Despite the success he's had at Gonzaga and all the accolades he's received, Timme isn't likely to be a first-round pick.
Simply put, his game doesn't translate to today's NBA. Yes, he shoots the ball well, hitting 62% of his shots from the floor. But he plays more like an old-school center, as the vast majority of his shots are from close range. His three-point shooting is atrocious — he's hit just 17 of 74 (23%) at Gonzaga — and one would think it'd only be worse with the deeper shot at the pro level.
And let's face it. At 6-foot-10 and 235 pounds, Timme is just too small to truly body up with the traditional bigs in the NBA. Can he be a solid-enough contributor off the bench? Absolutely. But he'll never be as big of a star as he is now.
Remember how Tyler Hansbrough's NBA career went? That's how I see Drew Timme panning out at the pro level.