How Would Magic Johnson Fare in Today's NBA? The Former Lakers Star Sets the Record Straight
It's no secret the NBA game has changed over the years. No longer do seven-footers battle for position inside the paint. Gone are the back-to-the-basket centers and power forwards. Instead, the NBA today is heavily focused on the three-point game. During a recent appearance on the Dan Patrick Show, Los Angeles Lakers legend Magic Johnson, who led LA to five championships in the 1980s, expressed how he'd fare playing in today's game.
Magic Johnson is the best point guard to ever play in the NBA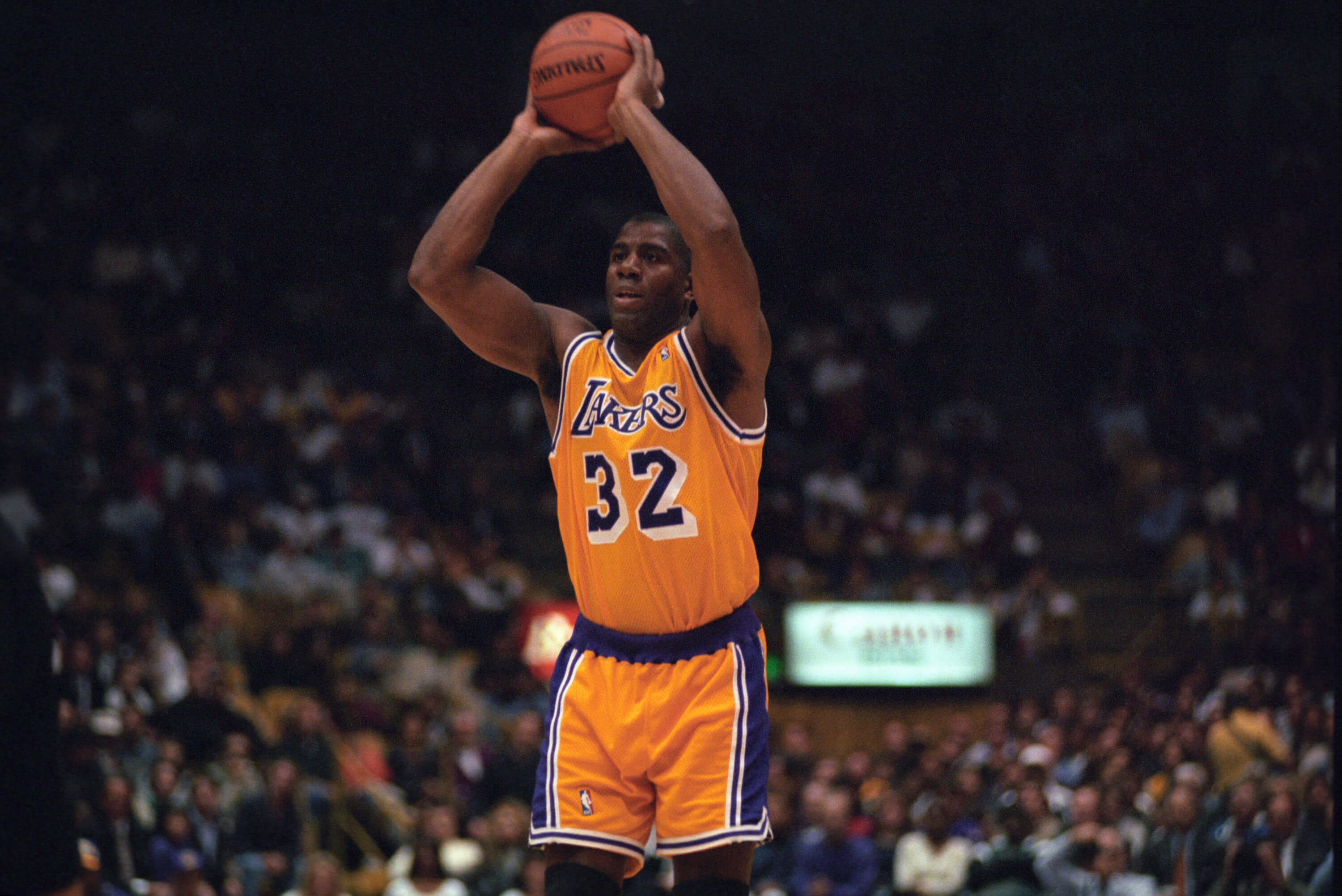 Sure, Magic Johnson had plenty of talent around him, but he's the one who ran the show. Teaming with stars like Kareem Abdul-Jabbar, Norm Nixon, Jamaal Wilkes, James Worthy, and Byron Scott, Johnson and the Los Angeles Lakers reached the NBA Finals eight times in the '80s. They won five championships.
As a rookie, Johnson stepped right into the spotlight. He averaged 36.3 minutes and put up 18.0 points, 7.3 assists, and 7.7 rebounds to lead LA to its first title of the '80s. At 6-foot-9, Johnson was a nightmare matchup for opponents. His no-look passes of fastbreaks were a thing of beauty, and he could post up many of the smaller guards who were forced to play him.
Johnson was a pass-first guard, but he certainly proved he could score. He averaged 19.5 points for his career. His primary focus was setting up the stars, but when they needed scoring, Johnson often came through. His defense was on point as well.
Magic was a 12-time All-Star in his 13 seasons. Twice, he led the league in steals. He was tops in the NBA in assists four times. Johnson was All-NBA 10 times and was inducted into the Naismith Memorial Basketball Hall of Fame in 2002.
Johnson talked about how he'd fit in the NBA today
During a recent appearance on the Dan Patrick Show, Magic touched on a variety of topics, including his championship days with the Lakers and today's game. Patrick asked the Hall of Famer how he think he'd perform if playing today.
Johnson didn't hesitate in answering.
"It wouldn't change any," he said. "Because what I do, what I specialize in, is needed in the game today. That's coming down on the fast break and passing it to people and putting them in a position to score. Instead of passing it to the guys who can do the slam dunk or make a layup, I'll be passing it for them to make a three-point shot.
"You have to remember that centers are not centers. When I played, you had two seven-footers on the court. Now, you don't have that, so, man, I'd be driving, and I'd have no resistance in today's game."
Patrick then asked Magic what he thinks he'd average (for points) in today's game if he had the green light like Michael Jordan had.
"I probably wouldn't have averaged as much as him, but I could've averaged 28, 29, 30 points a game," he said. "I did that my whole career in high school, and I could've did that at Michigan State.
"It's not about that for me. What it was about is I wanted to win. When I saw that we had scorers like Jamaal and Kareem and Norm when I got to the Lakers, I just said, 'Hey, I want to win, so whatever I need to score to help us win, that's what I'm going to do.'
"When Pat Riley finally gave me the green light, when Kareem had gotten older, now I'm averaging 24, 25 points a game. I could've did that when I walked in. It's about winning. I didn't care about that."