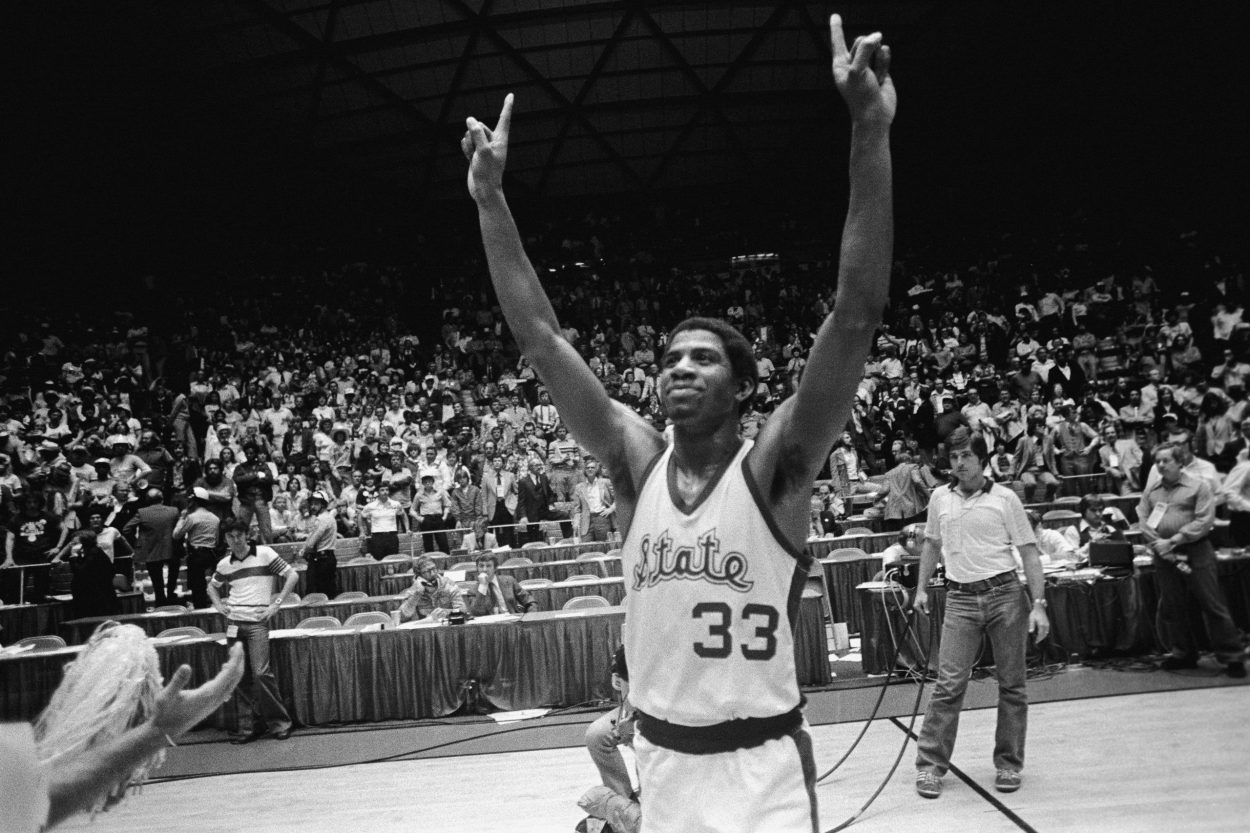 Magic Johnson Revolutionized the Point Guard Position Because of Angry Elementary School Parents
Magic Johnson might not have made his mark on the point guard position were it not for a group of angry elementary school parents.
Long before the "Magic" moniker came about, he was just Earvin Johnson: The kid who imposed his will on his peers and, simultaneously, irked the parents of his teammates.
Over the course of a 13-year career with the Los Angeles Lakers, Magic revolutionized the point guard position and transformed the NBA with his remarkable talent and radiant charisma. He might never have done just that were it not for despondent elementary school teammates.
Long before Johnson became one of basketball's leading assist men and the ultimate "Showtime" assassin, he only wanted to score the ball. But after seeing that his dominance only yielded frustration, he took it upon himself to adjust his playing style. The rest, as they say, is history.
Magic Johnson dominated from a very young age … too much so, in fact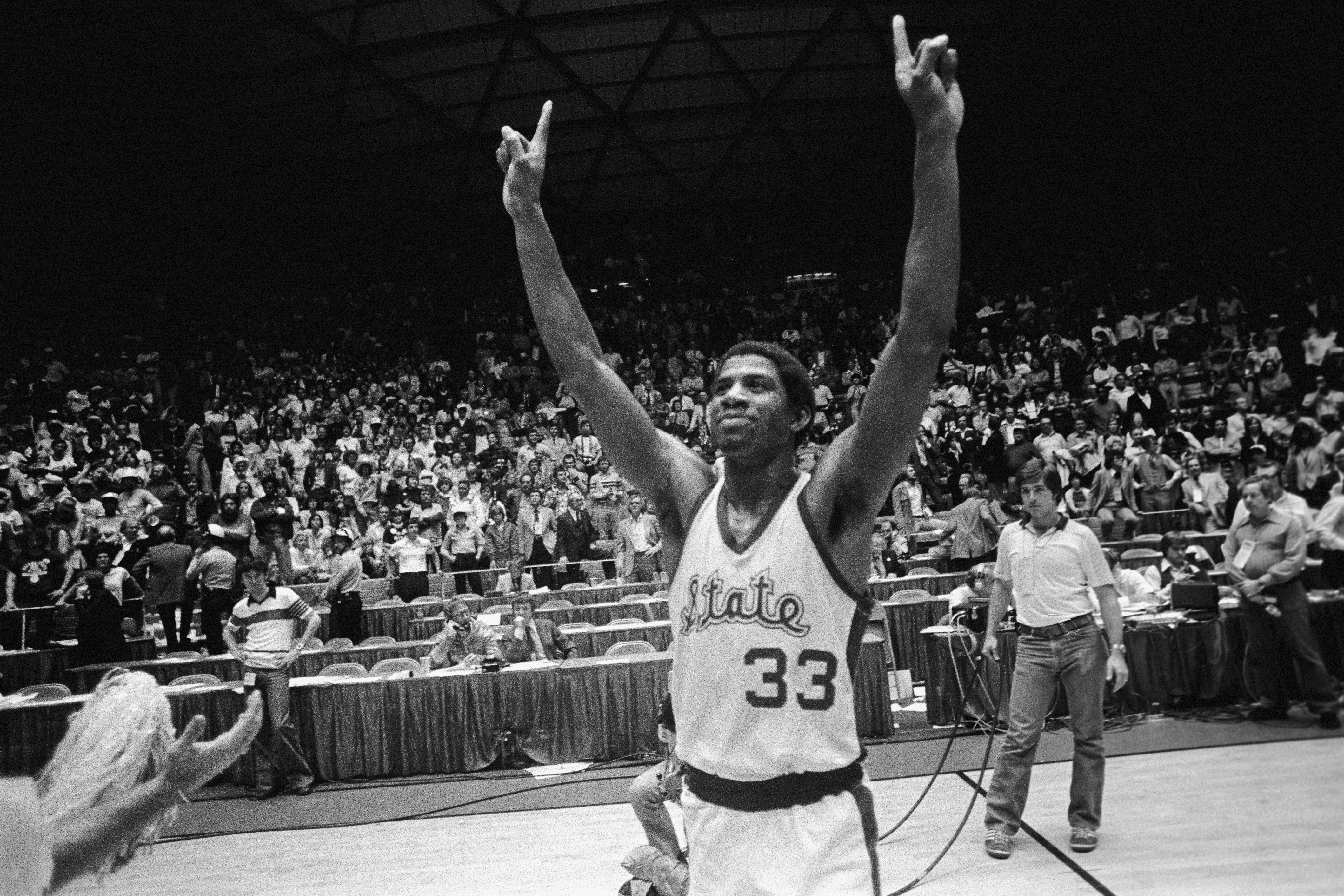 As a child, Magic took matters into his own hands.
Johnson almost instantly became one of the top young players in the state of Michigan from a young age, a path that ultimately led the Lansing native to his hometown Michigan State Spartans. Early on, he did so on the strength of his prolific scoring talent.
Magic told The Athletic that he scored the overwhelming majority of the points for his boyhood teams. Or, as Johnson put it, "If we had 50, I would have 42 of them."
For many kids who play basketball, the thrill of scoring is difficult to match. But Magic's total control over the game only fostered resentment. The ever-perceptive Johnson noticed the disheartened looks on the faces of his teammates' parents after every game.
"I was so hurt. [Earvin Sr.] was like, 'What's wrong?' And I said, 'I can't understand why they're mad at me.'"

–Magic Johnson, via The Athletic
Magic asked his father directly why the adults felt angry when the team racked up win after win. The answer Johnson received changed the sport forever.
Angry parents birthed a new approach to the game
A jubilant figure such as Magic Johnson couldn't stand to see people unhappy, much less feel responsible for such dejection. He needed answers, and his father provided them.
While Magic sat in the backseat of his car on the ride home from a win, Earvin Sr. told his son that his teammates' parents could not show pride in victories because their children never got the chance to score and contribute.
That simple message changed Johnson's life forever.
"I said, 'OK, I'm gonna start just passing and doing all the (other) things, and that's where it came from. Out of the pain of parents being mad that their son didn't score."

–Magic Johnson, via The Athletic
And so, the greatest point guard in NBA history was born.
Johnson developed a knack for getting his teammates involved, and he did so with plenty of flair. His reputation only grew with every one-handed, full-court zip pass and no-look dime.
A local sportswriter dubbed him "Magic" in high school. While his mother, Christine, hated that nickname, it aptly described the wizardry her son displayed on the hardwood.
Magic transcended the point guard position
Never had a 6-foot-9 player run the point with such pizazz. Not until Magic Johnson, at least.
Johnson's combination of size, speed, and vision made him unlike any point guard in NBA history. He saw passing lanes that shouldn't have existed partly because of his ability to see over defenders. On the break, Magic consistently anticipated teammates filling the lane and deceived defenses with head fakes and behind-the-back dishes.
Nothing about Johnson's flashiness took away from his effectiveness. Magic has one of the highest assist-to-turnover ratios in history. He also knew when he had to score, like when, as a rookie, he scored 42 points in Game 6 of the 1980 NBA Finals for a Lakers team playing without Kareem Abdul-Jabbar.
Ultimately, though, Johnson earned his reputation as the greatest point guard ever because of his unselfishness. He owes that benevolent style to a group of elementary school parents.
Stats courtesy of Basketball Reference.