Michael Jordan's Unmatched Competitive Drive Made Him Selfishly Upset When Magic Johnson Announced His Retirement: 'I Felt I Was Being Cheated'
Michael Jordan felt saddened and utterly devastated following Magic Johnson's announcement that he had to retire from the NBA after contracting HIV. However, MJ also had selfish reasons for being upset at Magic's retirement.
Jordan and the Chicago Bulls appeared to take the torch from Magic and the Los Angeles Lakers when they defeated LA in the 1991 NBA Finals. But while MJ seemed to supplant Magic as the league's top star, his drive necessitated that he get more opportunities to compete against Johnson and prove he deserved to be the face of the game.
Alas, His Airness felt shorted by Magic leaving basketball.
Michael Jordan's Chicago Bulls defeated Magic Johnson's LA Lakers in the 1991 NBA Finals
During the 1980s, Magic Johnson and the Lakers often matched up against Larry Bird and the Boston Celtics. But as the NBA entered the 1990s, Magic finally got his chance to play against one of the league's other brightest stars.
After back-to-back Eastern Conference Finals losses to the Detroit Pistons, Michael Jordan and the Bulls finally overcame the Bad Boys in 1991. Having overcome Isiah Thomas and Co., MJ now found himself matched up with another legend.
Magic and the Lakers won Game 1 in Chicago. Jordan went off in Game 2, and the Bulls walked right through allegations of taunting. Mike sent Game 3 into overtime with a cold-blooded runner, and Chicago took it to a depleted LA squad to grab the series lead. That game marked a turning point.
The Bulls crushed the Lakers in Game 4. Magic fought back valiantly with LA's season on the line in Game 5, posting a triple-double. But Jordan scored 30 points and dished out 10 assists to steer Chicago to its first championship.
As it turned out, those Finals marked Magic's last real chance at an NBA championship. It also became Jordan's only real dance with Johnson on the highest stage, something he loathed after Magic's retirement.
Jordan felt "cheated" by Johnson being forced to retire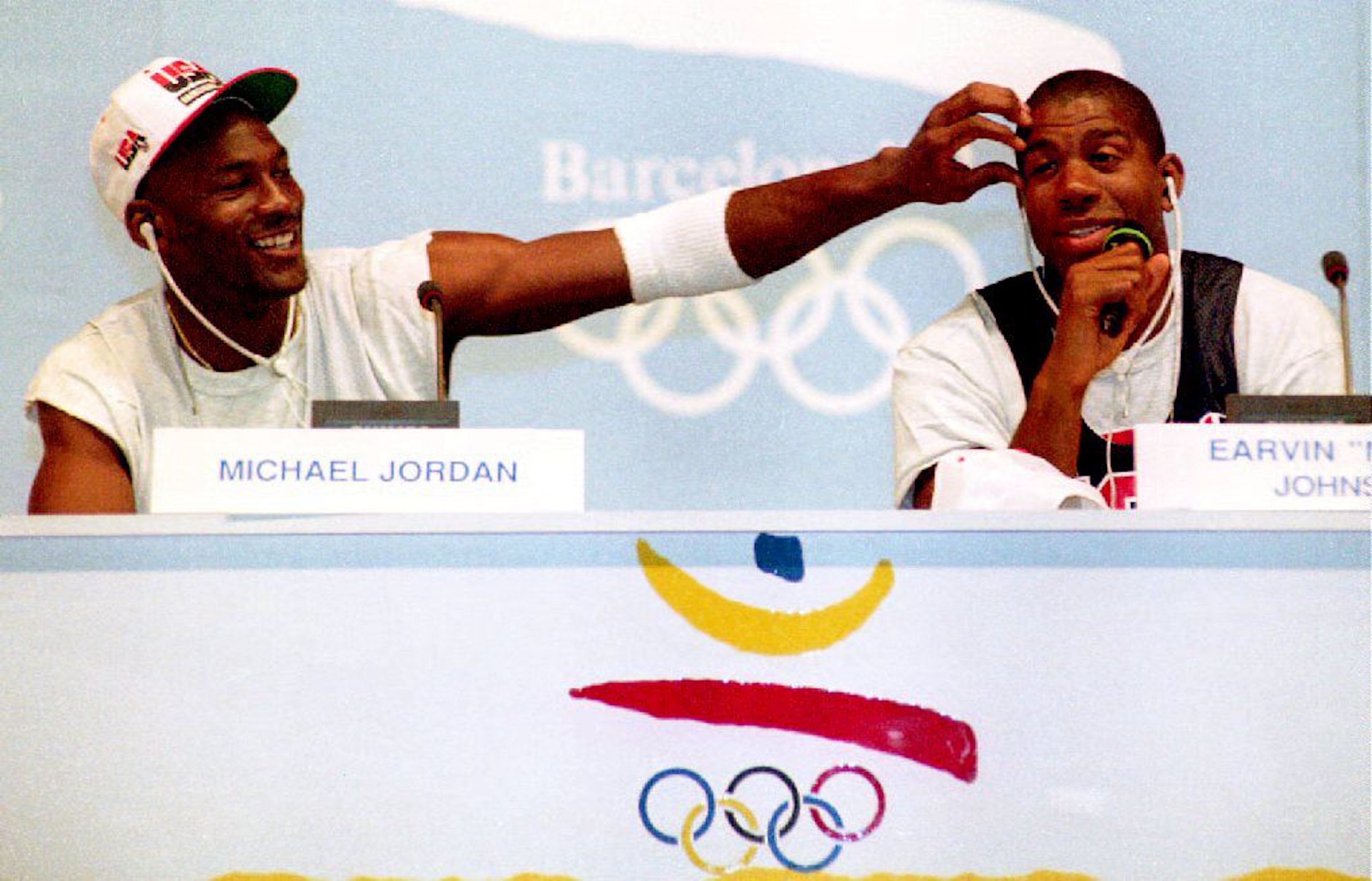 Michael Jordan refused to believe Magic Johnson had to retire from the NBA.
Magic shocked the world on Nov. 7, 1991, announcing he had contracted HIV and would be forced to leave the game immediately. Johnson's announcement resulted in all sorts of sadness and confusion, not to mention some ugliness that resurfaced when he attempted a comeback in the fall of 1992.
For his part, Jordan stewed. He hated that Magic's departure came when the two had just begun to form a strong friendship. Additionally, as he revealed in the Air Time documentary (around the 7:00 mark, via YouTube), MJ felt robbed of future competitions with Johnson.
"[Magic] and I was just establishing a great relationship after the first three or four rocky years. I didn't really get the opportunity to play basketball against him like I wanted to, because he was my driving force."

–Michael Jordan, Air Time
Jordan said that, as he ascended to superstardom, he felt desperate to reach the same plateau as Magic and Bird, adding he needed to beat both guys to get to such a level. But with Johnson retiring, that became impossible.
"I felt I was being cheated that [Magic] was getting away from the game when I needed him the most."

–Michael Jordan, Air Time
Mike said he wanted to show Johnson the love and support he deserved in such a trying time, but he acknowledged he felt lost trying to follow in Magic's footsteps.
As it turned out, Jordan trailblazed his way to becoming arguably the greatest player in NBA history. Johnson and Bird had no choice but to hand him the torch at the 1992 Olympic Games in Barcelona, and Mike ran with it.
Jordan validated his greatness without having to beat Magic again
His Airness never truly needed to compete against Magic and Bird to prove his worth. He did so by preventing a litany of All-Stars and Hall of Famers from winning NBA championships.
Jordan and the Bulls rolled to six titles in the 1990s. He became the ultimate winner in the sport and one of the seminal athletes of an entire generation, in many ways surpassing Magic's lofty status as an athletic and cultural icon.
However, it wouldn't be much of a surprise if Mike, in the present tense, still feels thwarted by the inability to compete against Johnson as much as he wanted.
Stats courtesy of Basketball Reference.