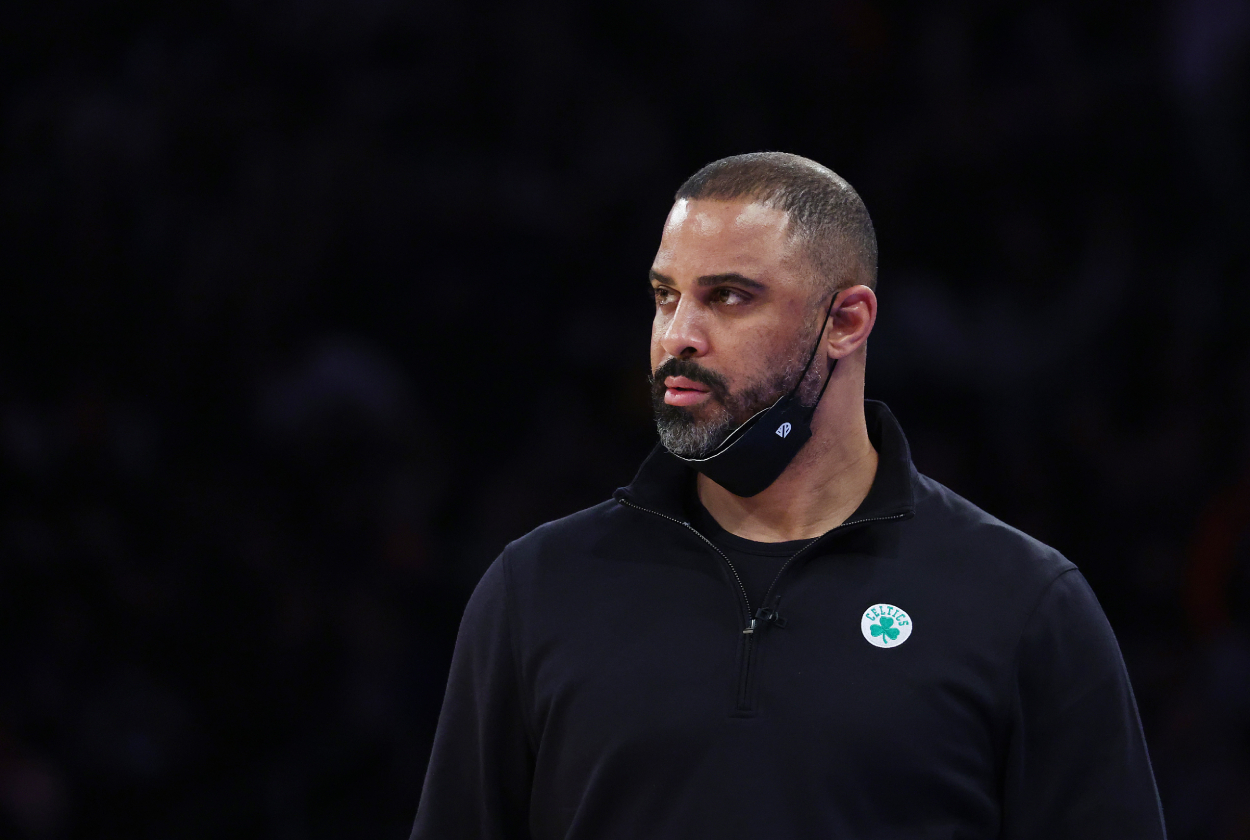 Ime Udoka Better Be Careful or He Might Just Get His Wish With the Boston Celtics
Ime Udoka might want to be a bit more careful with his postgame comments, or he may get his wish.
Stop me if you've heard this before. The Boston Celtics build up a 20-point lead. They blow it in heartbreaking fashion. Well, it happened again Thursday night against the New York Knicks. This time, however, it was a 24-point lead. First-year head coach Ime Udoka is running out of excuses and apparently is running out of smart things to say. If he's not careful, he just might get what he's wishing for.
Ime Udoka and the Boston Celtics find another tough way to lose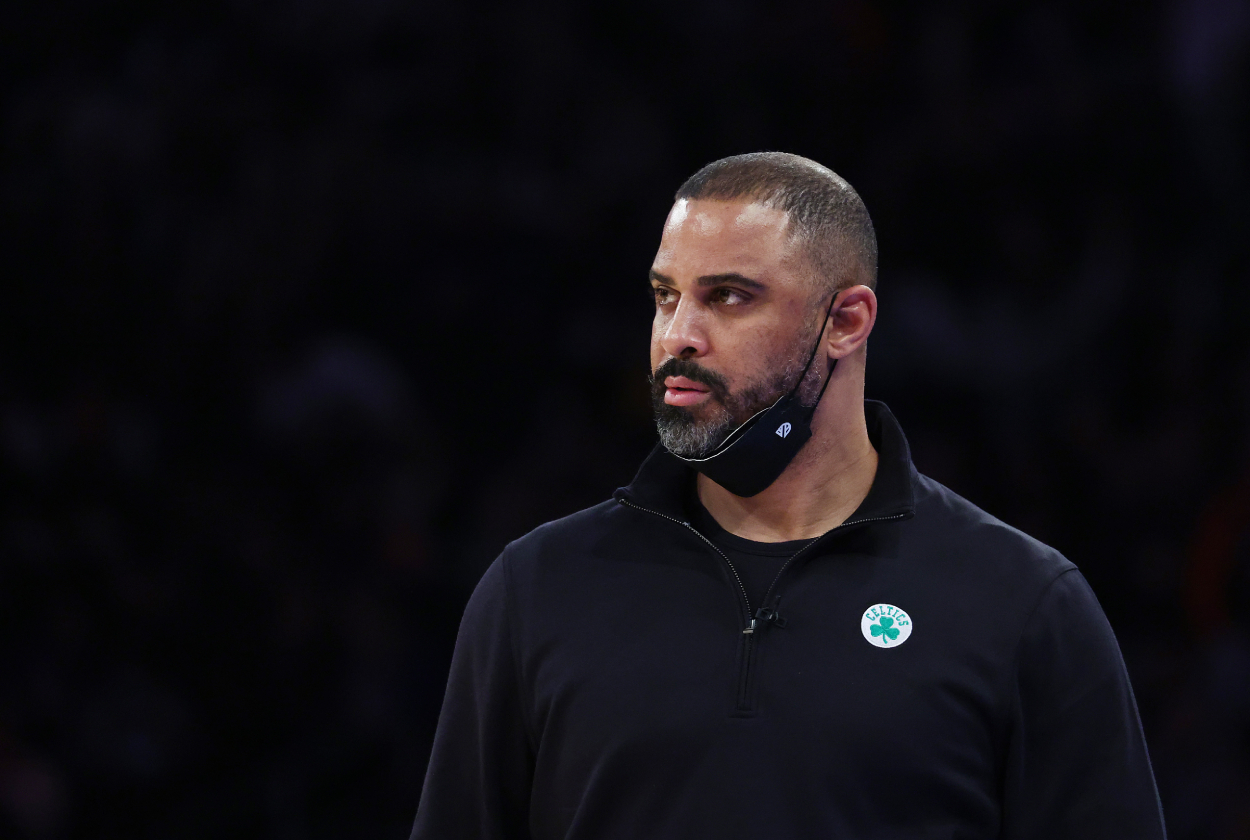 The Celtics have to be the most inconsistent and underachieving team in the NBA. When they came out and thumped the Western Conference-leading Phoenix Suns during a New Year's Eve matinee without two-time All-Star Jayson Tatum, it appeared the Celtics had turned the corner.
After outlasting the lowly Orlando Magic in overtime the following game, the Celtics proceeded to lose two straight, both in Celtics-like fashion. At home against the struggling San Antonio Spurs, who had dropped four straight, Boston's Jaylen Brown intercepted an inbounds pass with his team down by two in the waning seconds. Brown blew a contested layup as his ball rolled around the rim and out.
"I smoked the layup," Brown said, per ESPN. "I had a good steal, was going against the clock and I just blew the layup. … It's a tough loss. What can you say? We've got another game (Thursday)."
Well, Thursday was no better.
At Madison Square Garden, the Celtics led by as many as 24 points, and no lead is safe with Boston. That proved to be the case as the Knicks stormed back and on it as time expired when RJ Barrett banked in a desperation 3-pointer.
To rub salt in the wound, it was former Celtic Evan Fournier who did most of the damage for the Knicks. He finished with 41 points, making 15 of 25 shots. He went 10-for-14 from 3-point land.
If Ime Udoka isn't careful, he just might get his wish
It was the same old story for the Celtics on Thursday. When will things change? Are they good enough to compete with Tatum and Brown, or does one need to go?
Througout the season, sprinkled between the blown double-digit leads in the second half, have been questions regarding leadership and effort. Tatum and Brown are the team's All-Stars, and both are handsomely paid. Are they leaders?
Udoka addressed the leadership once again after the loss to the Knicks.
"It wasn't about the last play again. It was everything leading up to it," Udoka said. "We need some leadership. Somebody that can calm us down and not get rattled when everything starts to go a little south. I think it snowballs between our guys."
Shouldn't Udoka take on the leadership role? If effort and leadership are a constant issue, isn't that on the coach? Shouldn't he be the guy to calm the players down? Yes, these guys are professional athletes, but the coach can send a message by taking them out when effort is in question.
Maybe Udoka is the guy who needs to go. The Celtics are constantly on the wrong side of close games. Blown leads are the norm. With Udoka preaching about a lack of leadership, he may be cutting his own throat.
The Celtics are in desperate need of a move
There aren't a whole lot of options for the Celtics when it comes to shaking things up. The best move for changing the culture in Boston would be dealing Brown or Tatum. Trading away Dennis Schroder or any other player for that matter won't bring back anything that will push the team beyond its mediocrity.
Tatum is likely to stay, so Brown might be the best option.
Brad Stevens seemingly wants to ride with his All-Star duo, but with them the Celtics are 54-57 in the last two seasons. They've always been consider the future of the team, but with the duo reaching their primes, the future should be now.
If Stevens elects to keep both, he should take a hard look at Udoka. Maybe he'll follow his coach's advice and replace him with someone with leadership skills.