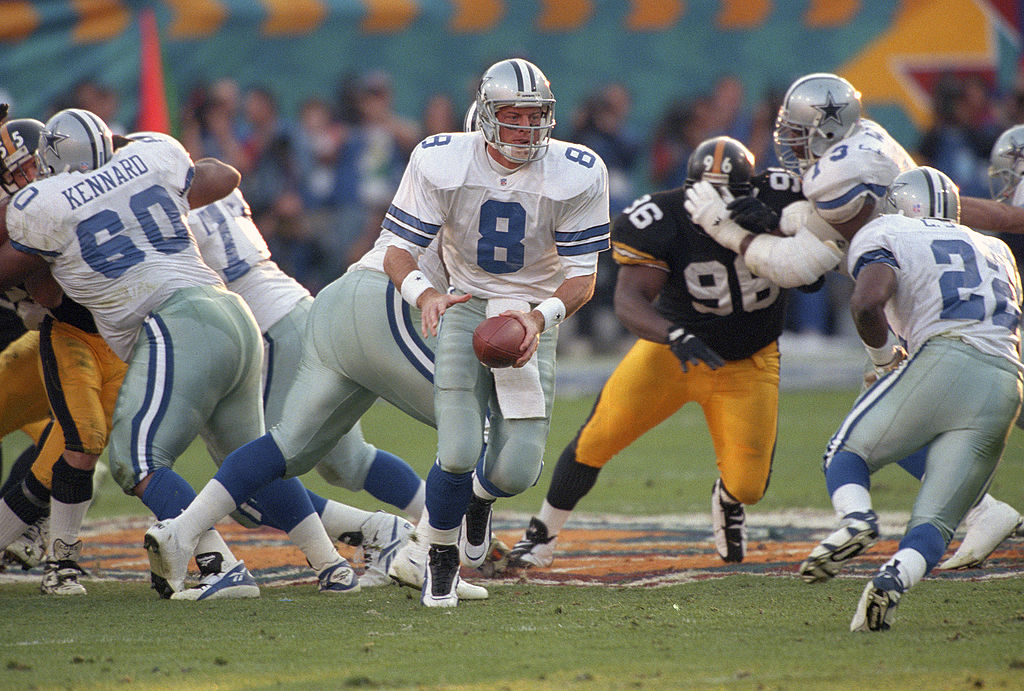 In High School, Troy Aikman Won an Incredibly Nerdy State Championship
Troy Aikman has done plenty of winning on the gridiron, but the quarterback also took home a surprisingly nerdy title in high school.
As any coach will tell you, winning is a habit. In an ideal world, every NFL team would have a 'winner' under center; in theory, he would do whatever it took to drive his team forward and recapture that feeling. While that's not how things work in reality, former Dallas Cowboys quarterback Troy Aikman did more than his fair share of winning.
Aikman's accomplishments aren't entirely confined to the world of sports, though. In fact, he won a surprisingly nerdy title during his time in high school.
Troy Aikman's winning college football career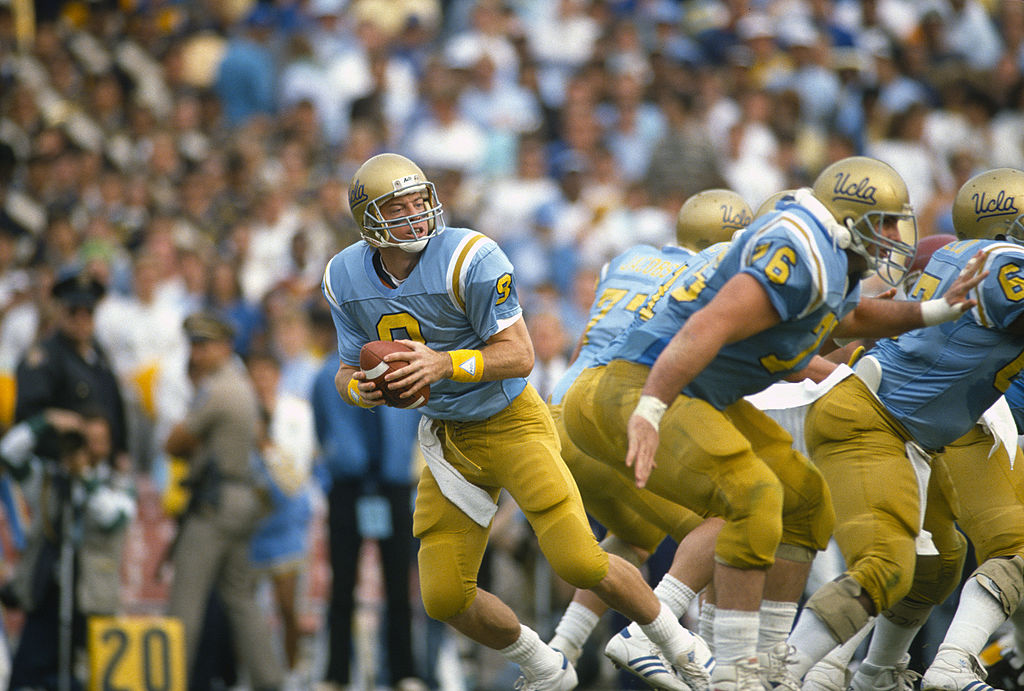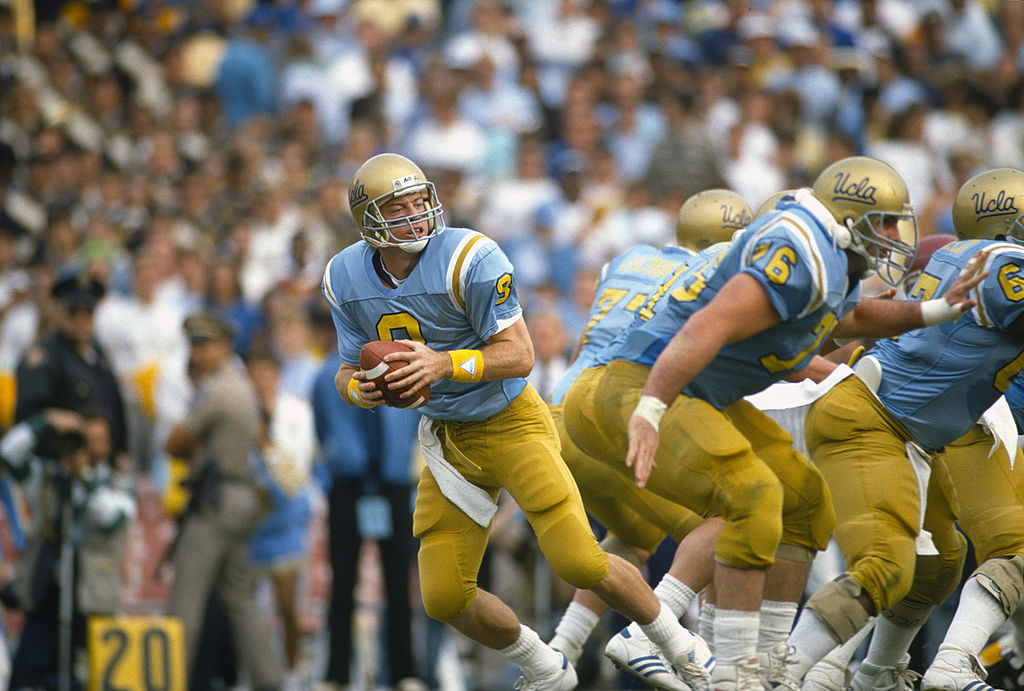 In 1984, Troy Aikman began his college football career at the University of Oklahoma. Although he was a member of the National Championship-winning squad the following season, that title was bittersweet; Aikman missed the end of the campaign with a broken ankle.
That injury cost Aikman the starting job, and he transferred to UCLA. While his team didn't reach the same heights in California, the quarterback kept winning. He took home the Pac-10 Offensive Player of the Year crown in 1987, helping the Bruins win the Aloha Bowl. The following year, however, was even better. Aikman was named the country's top collegiate quarterback, earned consensus All-American honors, and finished third in Heisman Trophy voting.
During his four NCAA seasons, Aikman threw for 5,781 yards and 42 touchdowns; he's since been inducted into the College Football Hall of Fame and had his jersey retired by UCLA.
Becoming an NFL champion with the Dallas Cowboys
On the back of that impressive college career, the Dallas Cowboys selected Troy Aikman with the first overall pick of the 1989 NFL draft. Life in the pros, however, didn't get off to the best start.
Despite picking Aikman, the Cowboys also selected quarterback Steve Walsh in the supplemental draft. Although Aikman won the starting job in training camp, he didn't immediately reap the rewards; the Cowboys floundered, and the quarterback didn't earn a single win all season.
Dallas snagged Emmitt Smith in the 1990 draft, however, and things eventually started to turn around. With each passing season, the Cowboys won more games; under center, Aikman grew into a star.
The Cowboys, of course, would win three Super Bowl titles in the 1990s, with Aikman taking home Super Bowl MVP honors in 1993. The quarterback would play 12 seasons in Dallas, piling up 32,942 passing yards and 165 touchdowns to complement those championships.
Troy Aikman's was once a state champion typist
During high school, Troy Aikman spent plenty of time on the football field. He also found success, however, in typing class.
While Aikman and his friends took Typing 1, thinking it would be an easy A, the quarterback actually bonded with his teacher, Ms. Froman; he even returned the following year to take Typing 2. That experience, combined with some lessons from football, made him a state champion.
Aikman's sister was supposed to be the school's entrant into the competition, but she backed out. Aikman was used to pressure as a quarterback, so he went in her place; if nothing else, he would miss a day of school. He ended up winning the Oklahoma state championship.
"I thought I did pretty good. I didn't think I did great," Aikman remembered. "At the end of the day, when they had the assembly to hand out the awards, they announced the typing award and mentioned my name."
"Everyone knew already that I was an athlete," he continued. "And for me to go down the aisle as the typing winner was not one of my proudest moments, although winning the award certainly meant a lot."
Whether he's typing, playing quarterback, or calling a football game, one thing is clear: Troy Aikman has no problem performing under pressure.