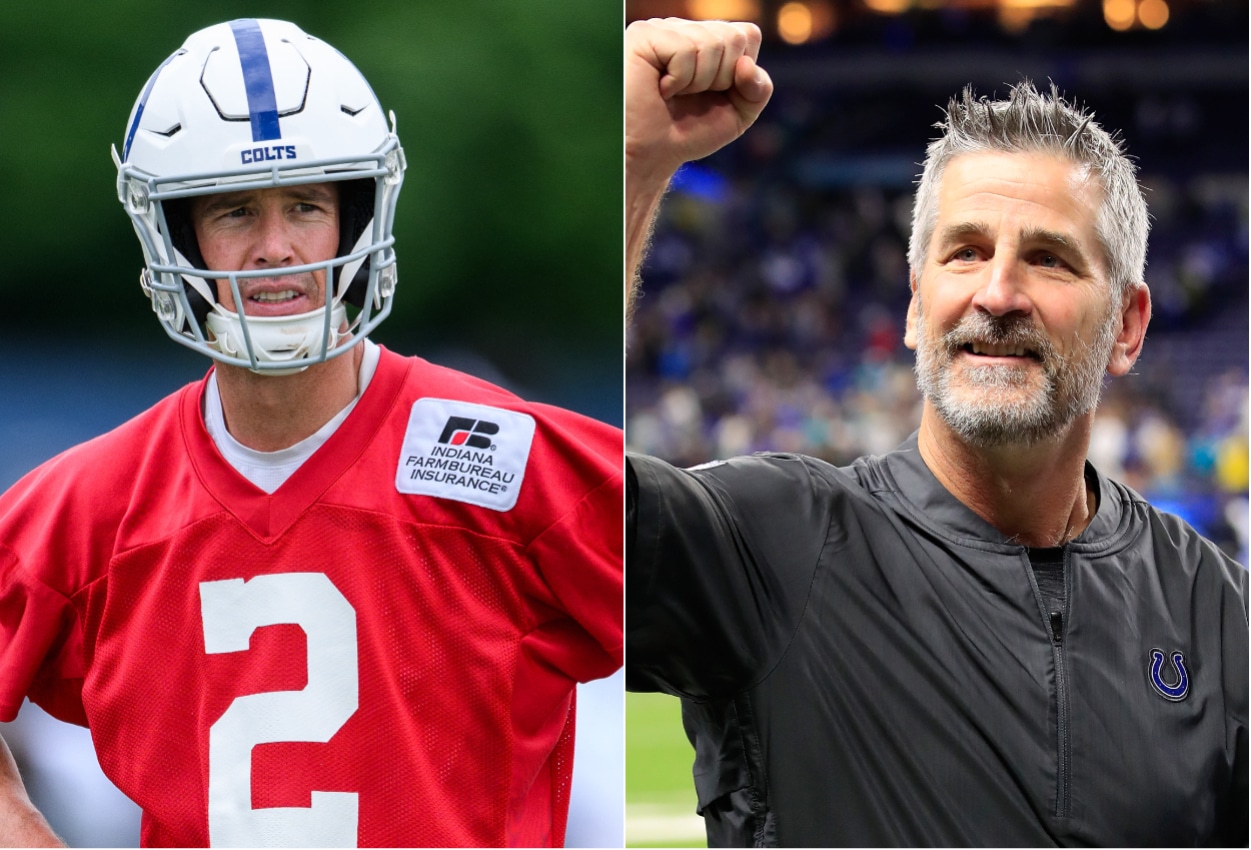 Indianapolis Colts: Matt Ryan's Recent Quote Is an Encouraging Sign for His Partnership With Frank Reich
Matt Ryan is learning how to work with a new head coach in Frank Reich, and his recent comment was an encouraging sign for their Indianapolis Colts partnership.
Changing head coaches can be difficult, especially for a veteran quarterback. They work closely with the person in charge of their team, so being on the same page as them is important. Matt Ryan hasn't done it too much throughout his NFL career so far. He played for Mike Smith and Dan Quinn for most of his Atlanta Falcons tenure.
However, following the offseason trade that sent Ryan to the Indianapolis Colts, the 2016 NFL MVP isn't just getting used to a new coach but an entire team and franchise.
So, how are things going so far for Matty Ice and Indy head coach Frank Reich? Ryan recently gave an encouraging comment about their working relationship.
Matt Ryan discussed his relationship with Frank Reich thus far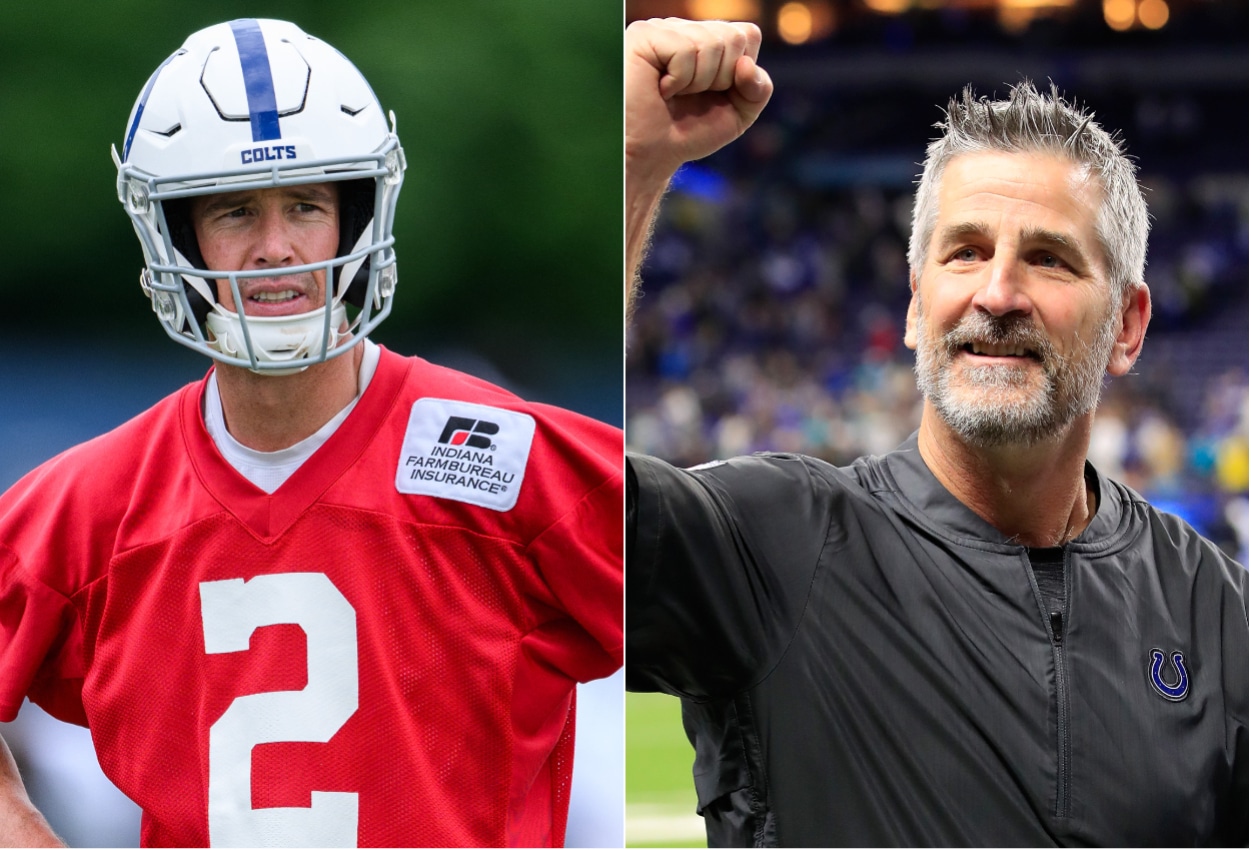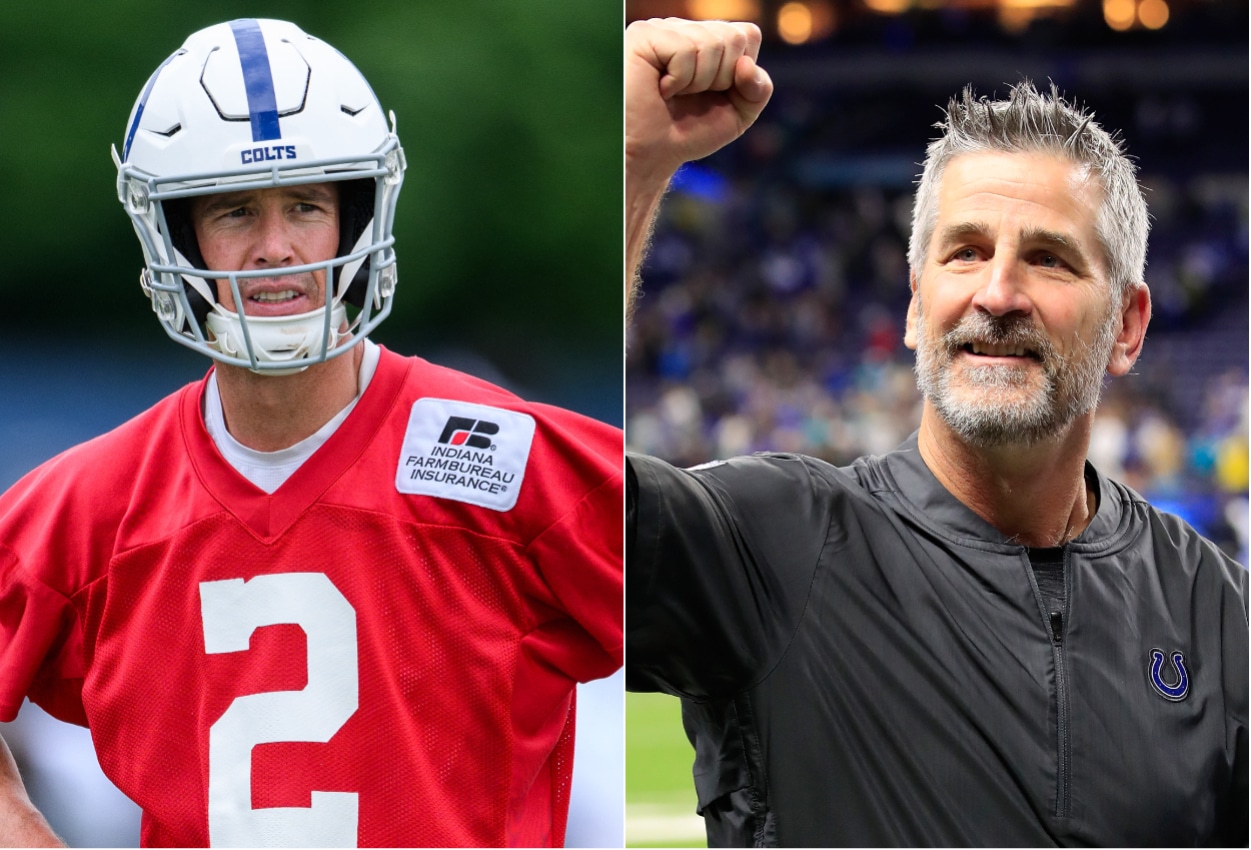 Matt Ryan has only been in Indianapolis for a couple of months, but he has hit the ground running in terms of making his presence felt on a Colts team looking to take the next step in 2022.
The relationship between a head coach and quarterback can be crucial to a team's success, especially if said coach is also the offensive play-caller. So, it's encouraging to see that Ryan and Reich are supposedly working well together.
"Getting a feel for his philosophy as a coach and the things that he believes in, getting to know him as a person — you're not going to find a better person than him," Ryan said, per Colts.com. "And I really feel like we've made a lot of good strides in the last few months in terms of getting on the same page and communicating."
Bringing in a quarterback of Ryan's stature can significantly change an offense. He will likely want to add plays and schemes he is familiar with to put himself in the best positions to succeed. However, the Colts will still look to follow their plan, and they will likely want to run plays that match their personnel.
Reich even said earlier this offseason that the offense would be collaborative.
"It's going to be 80% of what we've done in the past, 90%, but then there's going to be tweaks," he said, per Sports Illustrated. "We will look through all of his film. We'll pull out concepts that he's done a lot in Atlanta and he's been successful with. … Then I'm sure together, I can already tell in a few short discussions with him, that we will create some things together."
So, with all that collaboration in mind, it's a good sign if they are already clicking at this point in the offseason.
Matt Ryan and Frank Reich can have tremendous success on the Colts
If Frank Reich has proven anything, it's that he knows how to call an offense.
The Philadelphia Eagles ranked third in points per game with him as the offensive coordinator in 2017. They even went on to win the Super Bowl with Nick Foles as the team's starting quarterback after starter Carson Wentz suffered a season-ending injury.
In Indy, Reich has had a new starting QB every season, but the offense has still ranked in the top 10 in points in three of his four years with the team.
Last season, the Colts' offense couldn't reach its full potential due to Wentz's inconsistencies. He regularly missed throws or ignored check-down receivers that were open due to the design of Reich's offense.
However, Ryan's accuracy – which was apparently on point during minicamp – and his knowledge around running an offense should pair tremendously with Reich's system. It will likely give the Colts plenty of chances to score in 2022, especially considering their numerous weapons, including running back Jonathan Taylor.
Indy has the talent to have a special year this upcoming season. If Matt Ryan and Frank Reich can work well together, the Colts' offense can become one of the NFL's most dangerous units.