Is Jayson Tatum the Most Clutch Player in NBA History? The Stats Say So
Jayson Tatum had an off night Saturday against the Philadelphia 76ers. He finished with 18 points, well below his season average of 30.4. Tatum misfired on 10 of his 17 shots, but the Boston Celtics star nailed the one that counted most.
With 1.3 seconds remaining in a tie game, Tatum drained a 3-pointer from the top of the key to lift the Celtics to a 110-107 victory. The win allowed the Celtics to keep hold of the best record in the NBA. Tatum wasn't the best player in the game, but he was the most clutch, and that shouldn't come as a surprise.
Jayson Tatum has the stats to prove he's the most clutch NBA player ever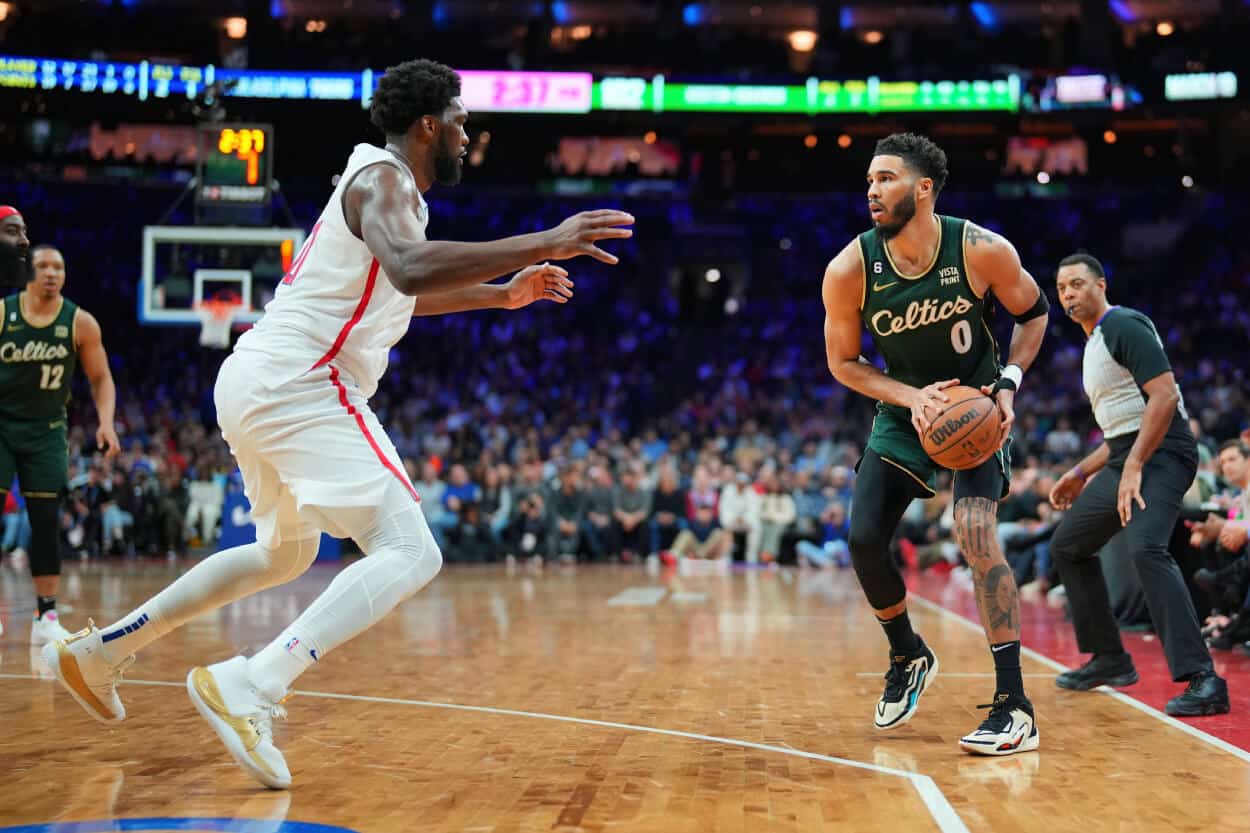 Tatum has come into his own in his sixth year in the NBA. He's still just 24 years old and made his fourth straight NBA All-Star Game appearance. Not only did he appear in the game, but he took over. Tatum set an All-Star Game record with 55 points and was named the game's MVP.
Known as a scorer, Tatum's 30.4 ppg average is the best of his career. While his scoring is up, he's also having career-bests in rebounds (8.7) and assists (4.6).
What most people don't realize about Tatum is how clutch he is. As he broke from the huddle after a timeout with the game tied 107-107, Tatum turned to teammate Grant Williams and said, "It's game time," per NBA.com. "We're going home."
After his sluggish outing, Tatum took an inbounds pass from Marcus Smart, shook off a defender, calmly stepped back, and hit his game-winning shot.
"What'd I tell you?" he told Williams during a postgame celebration.
Tatum's used to this. According to NBA.com, he is the only player in NBA history to shoot at least 50 percent on game-tying or go-ahead shots with less than 24 seconds remaining in the fourth quarter among players with at least 25 such attempts. His shot against the 76ers made him 13-of-26 on such shots — 15-of-29 including the playoffs.
Tatum trying to get the Celtics over another hump
While he's proven to be clutch, Tatum still has plenty to work on. He turns the ball over too much, and he's far from the greatest finisher at the rim. Despite those fixable flaws, he has Boston on the right path.
At 44-17 entering Monday's game against the New York Knicks, Boston still has the best record in the NBA, despite the Milwaukee Bucks having won 14 straight games. Tatum is emerging as a leader and helped get Boston over a major hurdle last year.
The Celtics hadn't been to an NBA Finals since 2010. They had been to the Eastern Conference Finals several times, the latest coming in 2020. He played a significant role in getting them to the championship round last year, even though the Celtics fell to the Golden State Warriors in six games.
This year, he's hoping to get them over another hump by winning a championship. Tatum is mature well beyond his years. He wants the ball when it counts most.
"I never get nervous," Tatum said. "I dreamed about taking those shots."
If the Celtics are smart, they'll keep giving him the ball in crunch time because, at least statistically, there's nobody better.