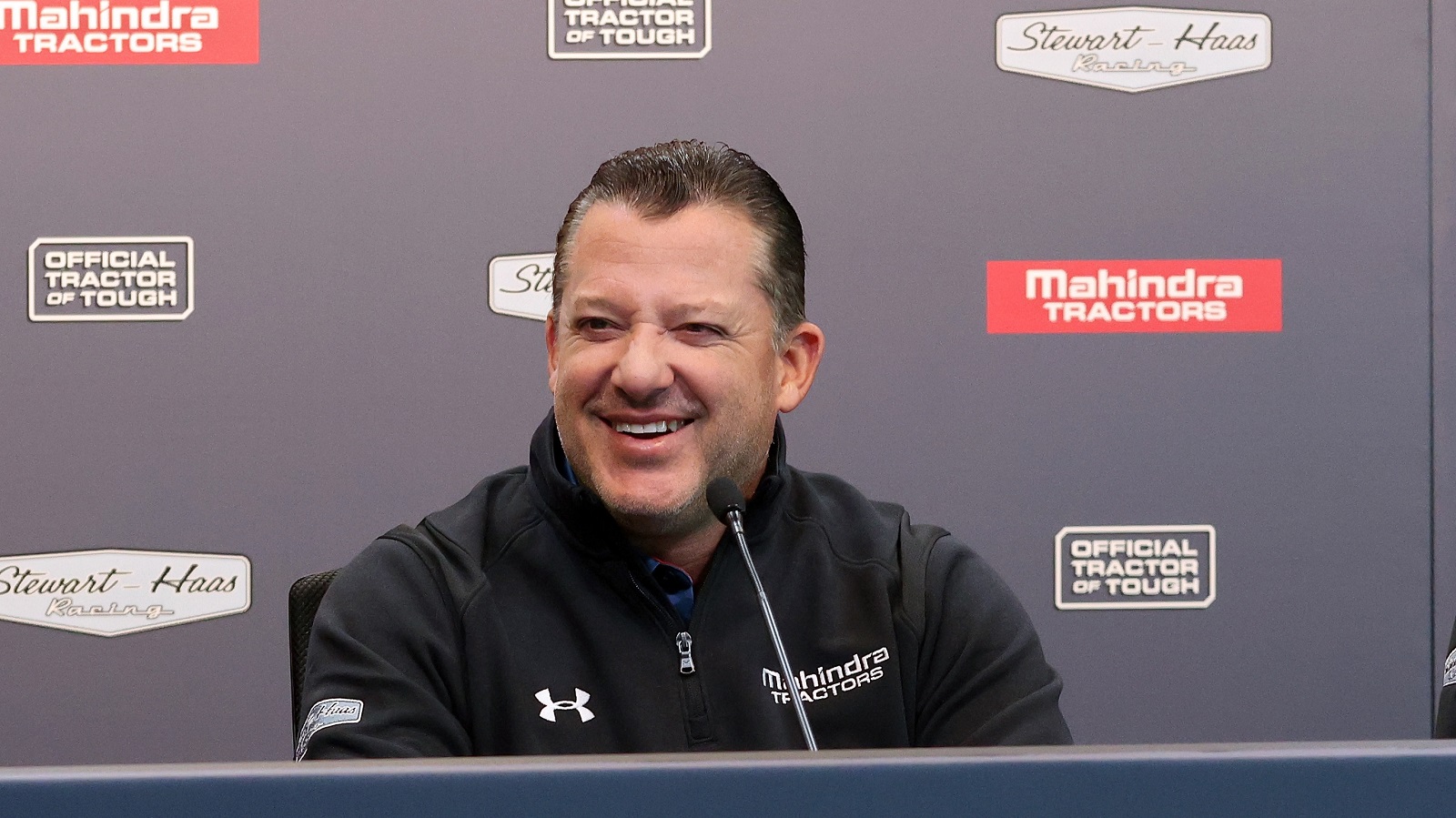 Is This Why Tony Stewart's Team Signed a New Sponsorship Deal? Nope, but It's Fun to Play a Sleuth
The timing was only days apart, but don't draw conclusions about connecting the new Stewart-Haas Racing sponsor to the sale of Tony Stewart's massive ranch.
Anyone can add two plus two … and come up with five. That's likely the case regarding two developments in the past week involving Tony Stewart.
Two completely unrelated stories regarding the NASCAR Hall of Famer made news, and there was just too much of a coincidence for the items to not be connected. If teammates who've accounted for the past two NASCAR Cup Series championships can be fighting, then anything is possible, right?
Alas, they are undoubtedly unrelated. But that won't stop us racing fans from floating a theory while dealing with the midweek boredom of the NFL Scouting Combine, MLB's non-season, and an interminable NBA schedule.
Stewart-Haas Racing adds an official partner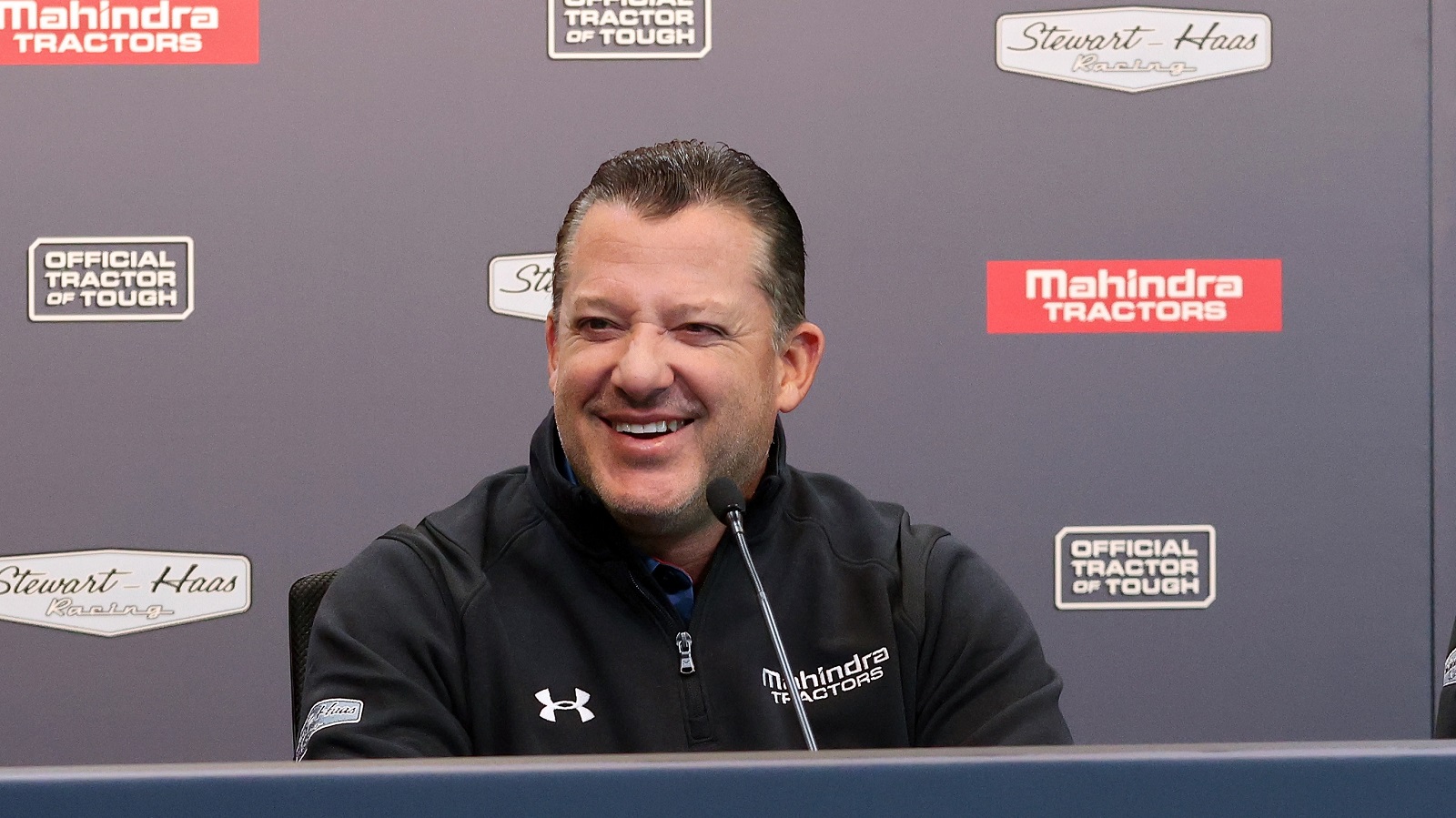 United Rentals, Inc., has joined Stewart-Haas Racing as an official partner of the NASCAR team, with the world's largest equipment rental company stepping in as a primary sponsor for reserve driver Ryan Preece this season.
Preece is essentially backup equipment for SHR in 2022. He is running a mix of races in NASCAR's three major series, including driving a David Gilliland Racing Ford in this weekend's truck series race at Las Vegas Motor Speedway. The Victoria's Voice Foundation 200 will mark the first time Preece, 31, competes under the United Rentals sponsorship.
United Rentals will also sponsor Preece twice more in the Camping World Truck Series and once apiece in the Cup Series and the Xfinity Series.
The company is well-known in the business world thanks to more than 1,200 rental locations in North America. If you see someone building, tearing down, or moving something, there's a chance they're using United Rentals equipment, which brings us to our next news development …
Tony Stewart has put his massive Indiana property up for sale
If you have $30 million in the bank and your heart set on living in the Midwest, then Stewart-Haas Racing co-owner Tony Stewart has just the place for you. The three-time NASCAR Cup Series champion has listed his Columbus, Indiana, ranch for sale in what figures to be one of the most expensive residential property transactions in state history.
The main building is nearly 20,000 square feet, with six bedrooms, eight full baths, and three half-baths. Among the amenities is an 8,700-gallon fresh-water aquarium, which helps explain why some have dubbed the home as the next-best thing to living in a Bass Pro Shop. With so much square footage, the home also accommodates a gaming room, bowling alley, gym, and golf simulator, according to the Daily Journal in Franklin, Indiana.
There is also a 3,576-square-foot guest home.
Zoning allows the owner to use it as a bed and breakfast as well as a hunting preserve. The newspaper story says Stewart went so far as to work with Bass Pro Shops to line up experienced guides to supervise hunters on the 415-acre parcel.
With huge homes on such an expansive piece of land, it sounds like Stewart is going to need a fleet of trucks to move his belongings.
Luckily, Stewart-Haas Racing has just brought United Rentals onboard as a sponsor.
Tony Stewart is simply too busy to make the most of his Indiana home
"This is truly my dream home," Tony Stewart says in a note supplied by the listing agent for the property. "We enjoyed every square inch of the land here. This became my place to get away and relax with my family and friends. The best part is that there is always something to do here."
The problem is that Stewart may be retired from driving in NASCAR (though he does dabble in the Superstar Racing Experience that he co-founded), but he is still highly active in racing.
Aside from being the longtime co-owner of Stewart-Haas Racing, he's the face of the SRX, which begins its second season in June. He married last year, and Stewart has become heavily involved in the NHRA circuit this past year with bride Leah Pruitt.
That leaves precious little offseason time to enjoy such a magnificent property, and it doesn't make sense to tie up a substantial chunk of his net worth in Indiana when his racing operations are based in Kannapolis, North Carolina.
Aside from Stewart, the person potentially most affected by selling the property is his mother, Pam Boas.
"I told him I'm going to have to find out another place to live out my assisted living," Boas joked. "It's a beautiful property, and we will miss being able to go there. But I totally understand. It's something he had to do to do what's best for he and Leah."
Like Sportscasting on Facebook. Follow us on Twitter @sportscasting19.