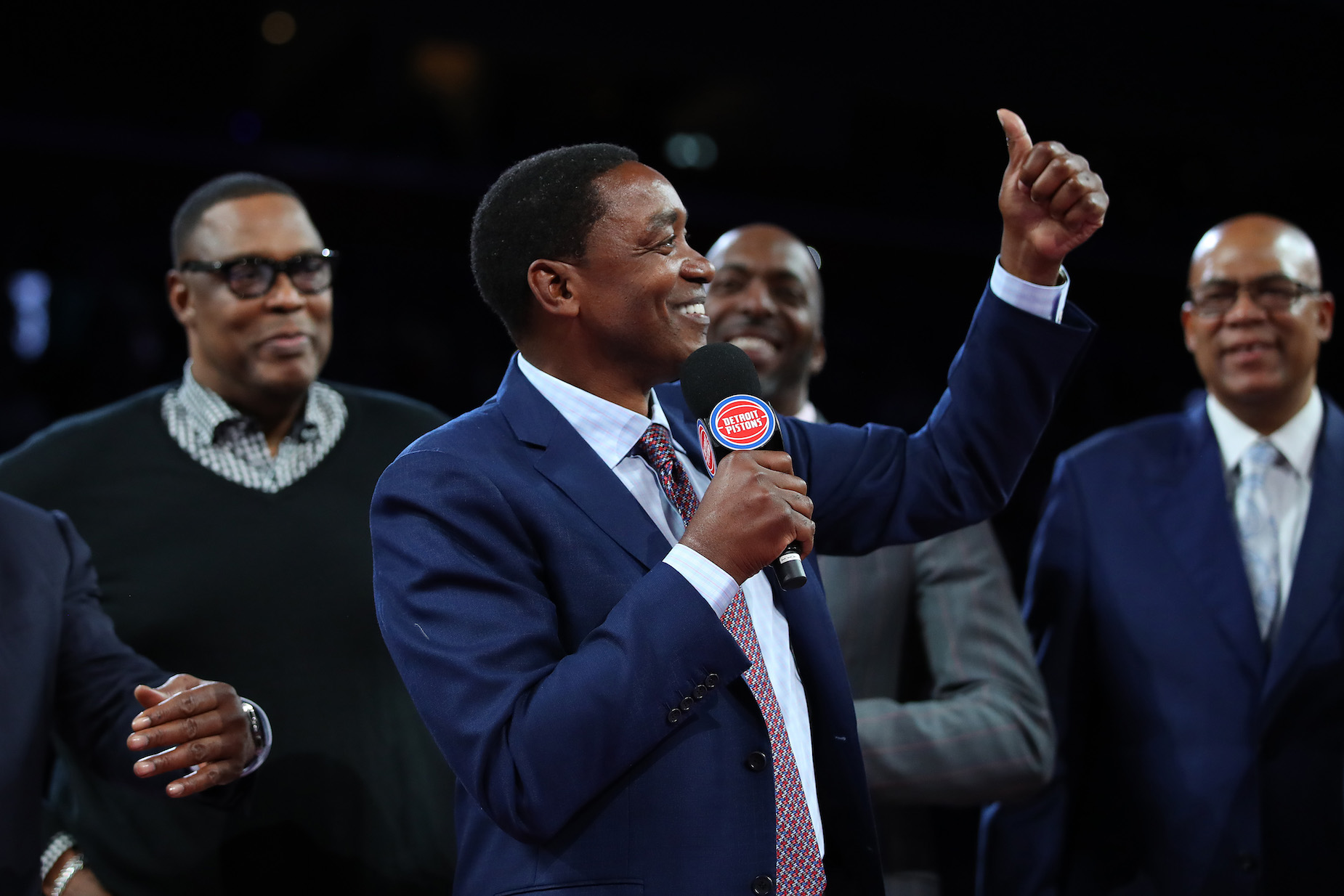 Isiah Thomas Believes LeBron James Needs to Pass Someone Other Than Michael Jordan to Become the GOAT
Isiah Thomas recently said LeBron James will become basketball's GOAT. The current holder of that title, however, isn't Michael Jordan.
For better or worse, sports fans can't help arguing over the all-time greats. To some extent, it's simply human nature; since LeBron James and Michael Jordan never played against each other, all we can do is debate their respective resumes and skillsets. Recently, Isiah Thomas weighed in on that very topic.
While the Pistons legend said LeBron James would eventually claim the crown as basketball's GOAT, he didn't stop there. Thomas explained that King James would have to pass someone other than Michael Jordan to reach the top spot.
The Michael Jordan-LeBron James debate is nothing new
In the past, Michael Jordan has come out and said that you can't compare him and LeBron James; they're simply different players taking the court at a different time. That statement, however, hasn't stopped anyone from pitting the two stars against each other.
During his time on the hardwood, MJ redefined the game of basketball. While there had been star players before, Jordan hit his prime as the NBA was becoming a dominant force in pop culture; thanks to his incredible talents, His Airness became a global icon, capable of winning championships, selling sneakers, and doing virtually anything in between.
While LeBron James arrived on the scene after Jordan's final retirement, he's been cast as a modern heir to the throne. Although both men are different players—if nothing else, King James is bigger and more suited to physical tussles—they both fill a similar niche as a dominant on-court talent and an inescapable pop-cultural presence.
Ultimately, there's never going to be a consensus on which man was the better basketball player. The fact that there's any debate, however, tells you that both LeBron James and Michael Jordan are both in a league of their own.
Isiah Thomas thinks LeBron James will claim the crown as the NBA's GOAT
During his Hall of Fame career, Isiah Thomas had his fair share of battles with Michael Jordan. The Pistons legend, however, thinks LeBron James is the better ballplayer.
"Look at every legend's coaching tree and you can see how, philosophically, their greatness is formed," Thomas said, according to Sports Illustrated's Justin Barrasso. "Kareem, Magic, Bird, Jordan, myself, you can look at our coaches in college and the pros and study the way we learned the game. LeBron James came out of high school. Who was his teacher? LeBron is a genius-type basketball mind, and that's why I refer to him as the Einstein of basketball."
Beyond that title, Isiah believes that King James will ultimately claim basketball's ultimate crown. While the Lakers forward isn't there yet, he's poised, in Thomas' mind, to become the GOAT.
"I admire his insatiable appetite to be on top and stay on top," the former Pistons guard continued. "I've never seen a player dominate so many statistical categories. We've had players dominate certain areas, but we've never seen a player that truly does it all. And he's done it, without fail, for 17 years. For now, Kareem is the best that's ever done it. But by the time he's done, LeBron James will be the best we have ever seen play the game of basketball."
Isiah Tomas theoretically thinks Michael Jordan is, at best, the third-greatest player
Once you wrap your mind around Isiah Thomas' quotes, one thing might stand out. While Michael Jordan is mentioned as a legend, he's not one of the guard's top-two players of all time.
According to Thomas, Kareem Abdul-Jabbar is currently the GOAT; once LeBron James finishes his career and assumes the top spot, he'll bump the Lakers big man down to number two overall. Following that logic, Isiah believes that Michael Jordan is, at best, the third-best player of all-time.
That's not exactly a new position, though. Thomas previously told Bill Reiter of CBS Sports that MJ was the fourth-toughest opponent he ever faced, after Abdul-Jabbar, Larry Bird, and Magic Johnson. It's not clear, however, how those men all fit into his GOAT rankings.
During their time on the court, Isiah Thomas and Michael Jordan never saw eye-to-eye. Even in retirement, it seems like old habits die hard.