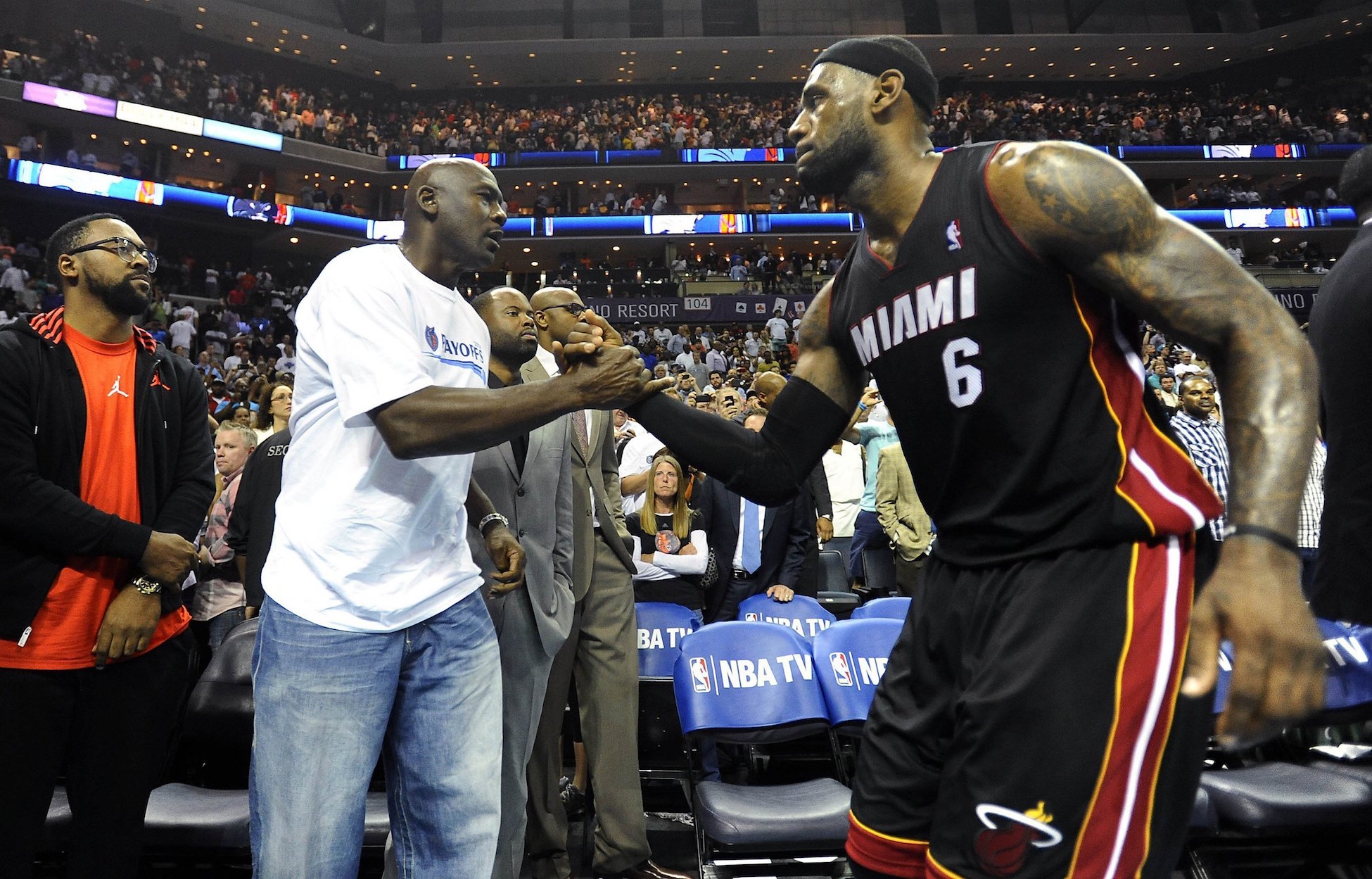 LeBron James' $480 Million Net Worth Looks Tiny Compared to Michael Jordan's Fortune
While comparing LeBron James to Michael Jordan is nothing new, King James can't touch His Airness when it comes to overall net worth.
In the world of professional sports, fans have a tendency to compare today's stars to past greats. Unfortunately for LeBron James, that means going up against Michal Jordan. While King James is more than capable of holding his own in most arenas, he simply can't touch MJ on the financial front.
As one of modern basketball's biggest names, LeBron James has built up a massive, $480 million fortune. Compared to Michael Jordan's net worth, though, that impressive sum looks like little more than pocket change.
LeBron James has been compared to Michael Jordan for years
For a basketball player, being compared to Michael Jordan is usually a losing proposition. LeBron James, however, has done a pretty good job of living up to His Airness' legacy.
James first started receiving comparisons to Jordan at St. Vincent-St. Mary High School, where he burst onto the national stage as a star. While he didn't follow MJ's path to college, King James entered the NBA as basketball's next generational talent.
Since then, it's safe to say he's lived up to the hype. James and Jordan may be different players with different stat lines, but Lebron has proved to be a dominant star at every step of his journey; he's also moved around a bit more and won fewer rings than MJ, but he's also managed to make every squad he joins a title contender.
There are also parallels between the two men in terms of their pop-cultural presence. During his time in the pros, Michael Jordan was the face of basketball; while pro sports are a bit less monolithic in 2020, LeBron has reached a similar status. Whether you're a basketball fan or not, everyone is at least superficially familiar with King James.
Basketball has helped LeBron James build up a $480 million net worth
Even if you don't believe that LeBron James is the rightful heir to Michael Jordan's throne, the Los Angeles Lakers forward is one of the biggest names in modern pro sports. That reality has helped him build up a massive $480 million net worth.
Obviously, basketball is the driving force behind LeBron's fortune; when you've been a top player for almost 20 years, the game checks simply add up. According to Spotrac's financial data, James has earned almost $307 million in salary during his time in the NBA; that alone is an impressive total.
King James' income isn't limited to basketball, though. Beyond his game checks and massive Nike contract, the Lakers star is also quite the entrepreneur. Thanks to investments in Blaze Pizza, Beats, and Liverpool FC, among other brands, LeBron won't be running out of cash anytime soon.
Michael Jordan's $1.6 billion net worth remains the gold standard
While LeBron James' net worth is nothing to sneeze at, he's still nowhere near His Airness. According to Forbes, Michael Jordan's net worth clocks in at $1.6 billion.
In the grand scheme of things, MJ didn't make that much in the NBA. He only commanded truly massive salaries during his last two seasons in Chicago; Jordan earned $93 million in game checks, with roughly $63 million coming in 1996-97 and 1997-98.
His Airness' star status, however, paid dividends. Beyond his massive contract with Nike, he endorsed everything from underwear to Gatorade and McDonalds; those deals kept the cash flowing. In retirement, he also got into NBA ownership, taking over the Charlotte Bobcats (now the second incarnation of the Hornets). Those deals have helped his net worth continue to climb, even though Jordan's playing days are far behind him.
For better or worse, Michael Jordan is the gold standard that modern basketball players have to live up to. In the financial space, though, no one can touch His Airness; at least for now, that includes LeBron James.