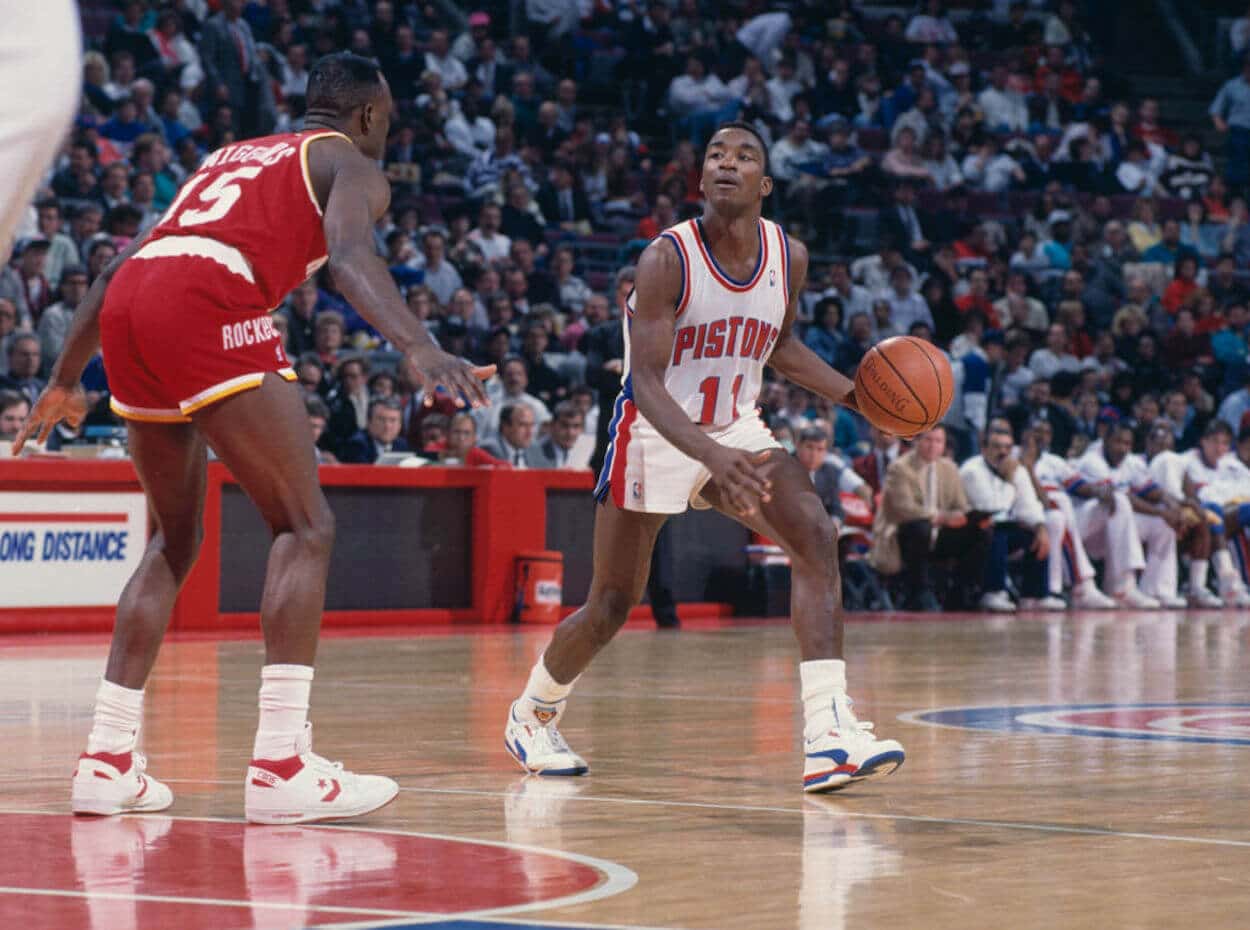 Isiah Thomas Has No Doubt That He'd Dominate Today's NBA: 'The Rules Now Favor Me'
While every professional athlete is confident in their skills, Isiah Thomas might be taking things further than most.
While they were eventually overshadowed the Chicago Bulls, by the Bad Boy Detroit Pistons earned a place in basketball history with their style of play and back-to-back championships. Those squads boasted plenty of big-time NBA players, but Isiah Thomas led the way. The point guard was the metaphorical stir that stirred the drink, and he's rightly remembered as one of the best guards ever to step onto the hardwood.
But how good would Zeke have been today? If you take him at his word, there's only one answer: dominant.
It can be easy to view the past as obsolete, but the former Piston hasn't fallen into that trap. If anything, he believes that modern rules would allow him to get to the rim that much easier.
Let's consider what he has to say.
Isiah Thomas believes that he wouldn't miss a beat in the modern NBA
As the cliche says, time waits for no man. And while that reality means that Isiah Thomas isn't physically capable of hitting the NBA hardwood anymore, he doesn't think that the game has passed him by.
During the second part of his All the Smoke interview, the former Piston was asked what he'd average in today's game. He didn't provide a number, but the guard's confidence more than answered the question.
"If I dominated then, I would dominate now," Isiah said without missing a beat. "Because the rules now favor me. They favor the small guy, they favor me now. Ain't nobody in the lane."
At that point, Stephen Jackson highlighted that Thomas couldn't be hand-checked like he was back in the 1980s. While that may be true, the former guard kept focusing on his ability to reach the rim.
"The hand-checking, it bothered me some, but I was fast," Thomas continued. "And then I knew a little judo, so you put your hand there, I hit that. You know, I knew how, I knew how to move it and get by. But nobody in the lane. See, every time I drove down the lane, there's six people in the lane, you know? There's me and my defender, and then there's, you know, two bigs. So you gotta be tricky around the basket. Now, you driving down the lane, ain't nobody there. You get to stretch out, lay-up. If you saw me coming down, I had to ball up, and then I had to come out, you know? So, like I say, if I dominated then, I would dominate now. And make no mistake about it. In the game of basketball, some people may say you're arrogant. I don't care. I am extremely confident in my skills and my ability and what I was doing and what I could do. I can't do it now, but, you know, I would be alright."
When it comes to Isiah Thomas, there's certainly no mincing words.
Isiah is a legend, but he would have to make some adjustments if he played today
From Isiah Thomas' perspective, there's no doubt how the guard would fare in today's NBA. And while he's probably right — you don't win two championships and earn a place in the Basketball Hall of Fame without an incredibly high talent floor — there are still some potential challenges to consider.
Although the lane would be emptier today than in the 1980s, three-point shooting is a key part of modern basketball. Thomas, however, never excelled from behind the arc. Across his 13 professional campaigns, he averaged 1.4 three-point attempts per outing, sinking 29% of those jumpers. Could Isiah have adjusted? Probably; he shot 45.2% from the floor, 75.9% from the free-throw line, and his NBA.com legends profile remembers him as "a dangerous shooter from any spot on the floor," but it would still be an adjustment.
Then, there's the issue of size. While Zeke didn't let that stop him before, it's still worth considering how that would affect his transition into modern basketball. Today, things are a bit more positionless, with guys like LeBron James and Giannis Antetokounmpo being more than capable of handling the ball. Should Isiah find himself defending one of those larger men — whether it's by design or off a switch since the pick-and-roll is inescapable today — he'd certainly be in for a challenge.
Is it a manageable situation or a potential game-breaker? You can decide that for yourself.
If you're a long-time sports fan, you'll undoubtedly have heard the cliche stating that the size of the fight in the dog is more important than the size of the dog in the fight. Whether you think he'd thrive in 2023 or not, there's no doubting Isiah Thomas' fight.