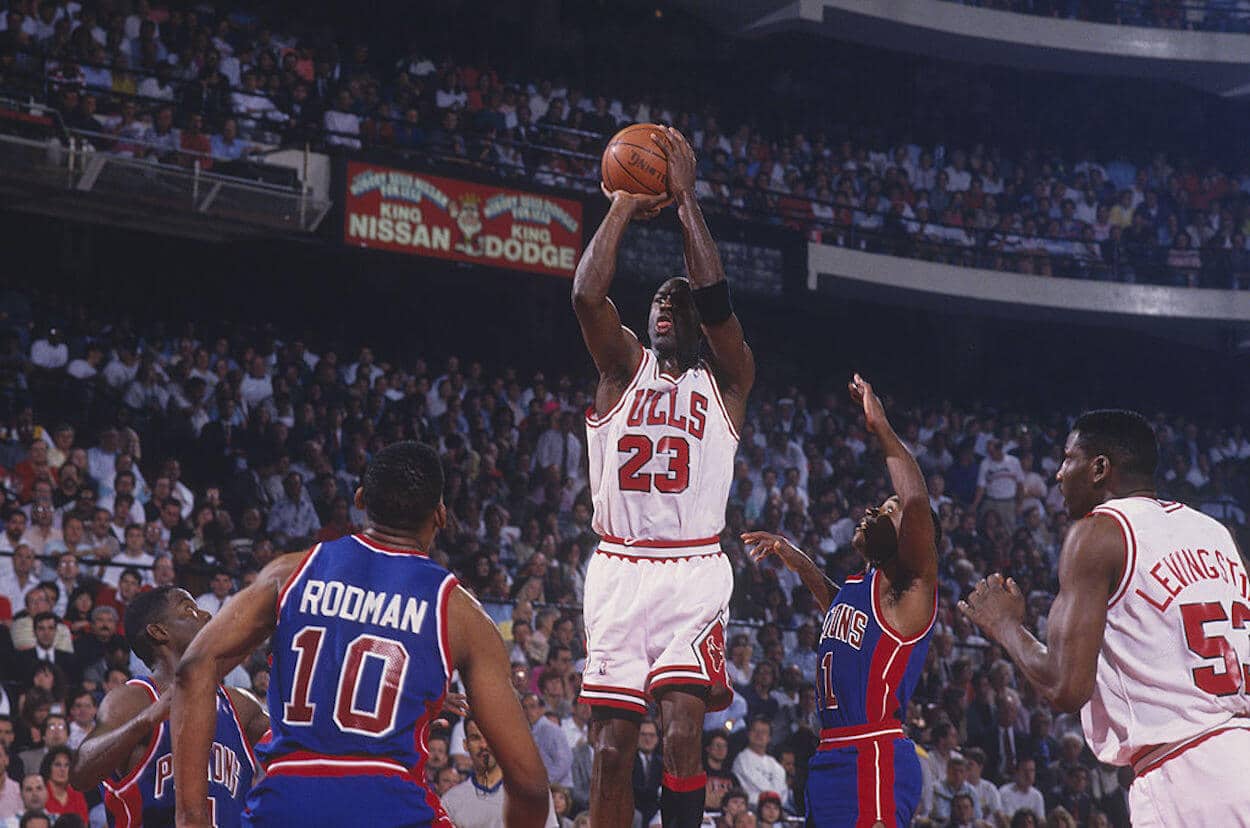 Isiah Thomas Remembers Michael Jordan 'Crying' About Fouls And Complaining to David Stern
While Michael Jordan may have been an incredible talent, Isiah Thomas remembers the NBA legend asking for some special treatment.
On the whole, it's pretty tough to say anything too negative about Michael Jordan. While you can critique his behavior in some situations — punching a teammate, for example, isn't cool — almost any objection can be countered by pointing to His Airness' all-time resume. Isiah Thomas, however, is up for the challenge.
In recent years, the two former Eastern Conference opponents have rekindled their rivalry. During The Last Dance, Jordan made a critical comment about Zeke. The Pistons star heard those words, didn't appreciate them, and has been needling MJ ever since.
Take, for example, an appearance on Cedric Maxwell's podcast. Isiah made sure to remember how Jordan would cry about fouls and even claimed that he went to David Stern asking for help.
Sound unbelievable? Let's roll the tape.
Isiah Thomas threw some shade at Michael Jordan and suggested he didn't like the physical side of the game
While things change over time, it's never a good idea for one athlete to question another's toughness. During an appearance on the Cedric Maxwell Podcast, however, Isiah Thomas did just that.
During a discussion about the Detroit Pistons and Chicago Bulls, the point guard took aim at an old opponent. Michael Jordan, if we take Zeke at his word, His Airness didn't appreciate the physical treatment he received.
"Jordan, every time you hit him, he was crying," Thomas explained before making a yelping noise. "Going to David Stern's office, going to the commissioner's office, having a meeting about getting hit, getting fouled. You got to change the rules. I'm like, 'Wait a minute.' I watched Dr. J get beat up, I watched Magic get beat up, I watched Max get beat up, I watched Bird get beat up, I done got beat up. Everybody get beat up, but wait a minute. Now we gotta change the rules cause he's getting hit?"
While the conversation then moved on, this wasn't the first time that Isiah made that sort of claim. During a 2022 appearance on The Pivot podcast, he took things a bit further.
"Y'all want him to win," Thomas said. "You changed all the rules so he could win. Wait a minute now, these are the facts, right? I go down the lane, I get my ass beat. You see pictures of Michael Cooper scratching Larry Bird's jersey off. Right? You see Kevin McHale slamming Kurt Rambis to the floor. You see Dr. J [starts punching his hand] … Everybody getting hit. Oh, but he can't get hit? So we're gonna change all the rules so he can dunk?"
Michael Jordan did get the calls, but contemporary rule changes were also viewed as making his life harder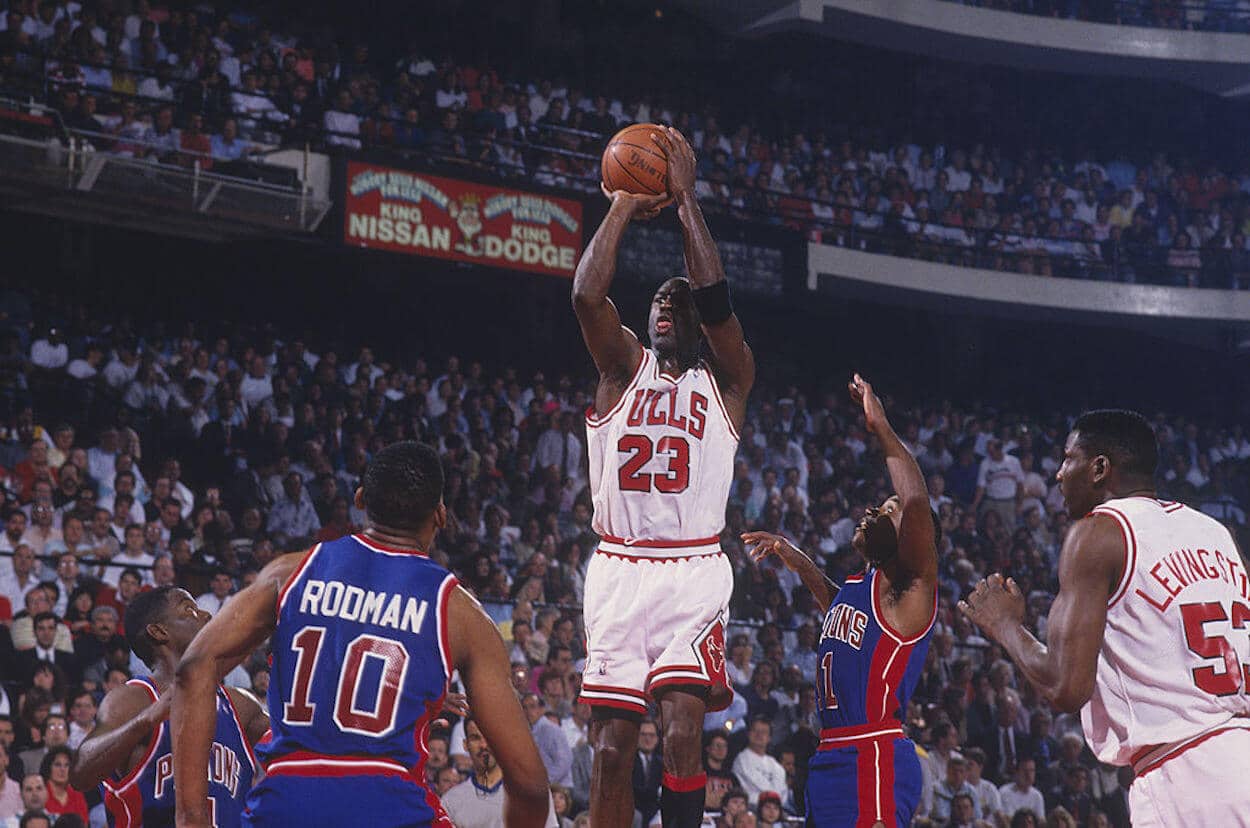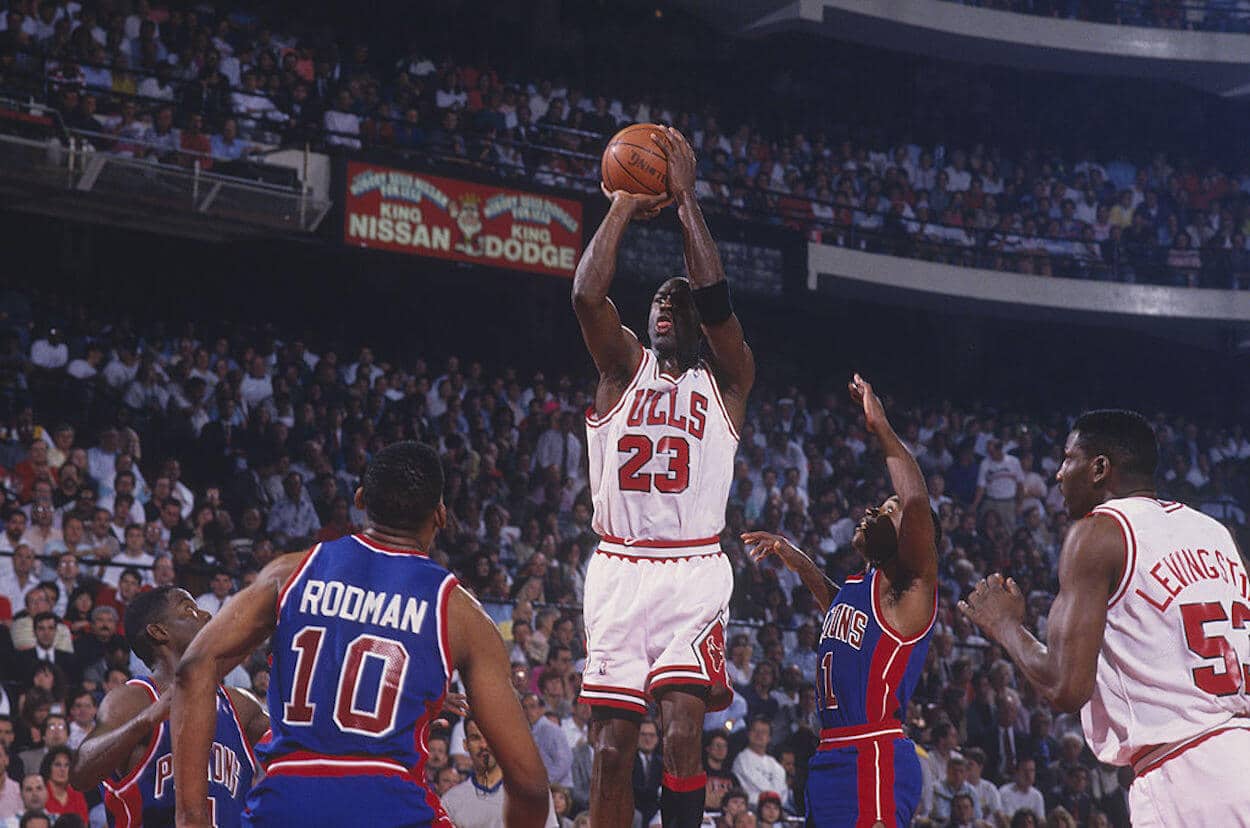 In fairness to Isiah Thomas, Michael Jordan probably did get the benefit of the doubt in a lot of situations. He was the game's biggest superstar, and superstars tend to get the calls.
John Paxton, for example, once explained that Darrell Garretson, a former NBA supervisor of officials, said that he would assign fouls to other players when possible to keep MJ in the action. Kendall Gill, who spent more than a decade in the Association, insisted that referees would swallow the whistle when the Bulls were on defense while protecting MJ on the other end of the floor.
With all of that being said, though, there was a different perception around the league's 1987 rule change. It was seen as a way to slow Chicago down, not protect His Airness.
Consider a Washington Post write-up, which went as far as mentioning the Bulls' star by name.
"The Competition Committee did announce the results of its weekend discussions. The most substantial — in fact the only — rule change involves isolation offenses," Anthony Cotton wrote. "There has been a growing propensity among coaches to move three men above the top of the key, thus clearing the way for two-man games or individual forays like those of Chicago's Michael Jordan. According to Rod Thorn, the league's vice president in charge of operations, those isolation tactics were 'getting away from what the game is about.'"
Elsewhere, a New York Times piece was literally headlined "Challenges for Jordan: New League Rule and League Role."
The point was further driven home a few paragraphs into the story.
"A new N.B.A. rule this season prohibits teams from putting more than two men on the side of the court away from the ball below the top of the foul circle. A violation would result in the loss of possession," Sam Goldaper wrote. "Almost as soon as the new rule was announced, it became known as the 'Michael Jordan Rule,' because of Jordan's masterly one-on-one play."
Bob Cousy even provided a particularly biting quote, taking issue with modern basketball and throwing a bit of shade in MJ's direction.
"Coaches with mediocre teams, who felt they were unable to compete in the five-man game, would isolate two or three of their best players and let them play schoolyard basketball on one side of the floor," the Celtics legend said. "I guess some people are calling it the Jordan Rule because when you think of one-on-one basketball, his name immediately comes to mind."
Did Michael Jordan get an undue amount of assistance? Or is Isiah Thomas just taking the opportunity to needle his old foe whenever possible? You can be the judge of that (and let us know your position in the comments below).