Isiah Thomas-Michael Jordan Feud Centered on Isiah's Jealousy: 'There Was No Love Left for Him in Chicago'
Over the years, Isiah Thomas and Michael Jordan had some tough playoff matchups. By the time the Chicago Bulls challenged the Detroit Pistons for supremacy in the Eastern Conference in the late 1980s and early 1990s, it was clear Zeke and MJ had a mutual dislike thing going. A player who spent time with both the Pistons and Bulls and played with both superstars has a theory about the tense relationship, and it had everything to do with Thomas.
Thomas was a product of Chicago, winning a state title at St. Joseph's High School as a junior. He was a McDonald's All-American the following year before leading Indiana University to a national championship in 1981. Most importantly, he was one of the West Side's favorite sons. That is until Jordan came from North Carolina and took over the city.
Isiah Thomas was a Chicago legend while Michael Jordan was still a high schooler
Isiah Thomas was one of the brightest stars of a golden age for prep hoops in Chicago. He was a year behind Westinghouse star and former Pistons teammate Mark Aguirre.
While Aguirre chose to stay at home and led DePaul to a Final Four appearance as a freshman in 1979, Thomas opted to play for Bobby Knight in neighboring Indiana. As a sophomore for the Hoosiers, he was a First Team All-American and carried Knight to his second NCAA title before declaring for the NBA draft.
Aguirre also declared for the draft in 1981, and the Chicago tandem went 1-2 at the top of the draft. The Dallas Mavericks went with Aguirre at No. 1 before the perpetually rebuilding Pistons tapped Thomas with the second overall pick.
In his third season, Thomas had Detroit in the playoffs. But later, in the summer of 1984, a new sensation appeared on the Chicago skyline. His name was Michael Jordan, and he took the city by storm.
Even Thomas was amazed by the young Jordan
Isiah Thomas got a close look at Michael Jordan's arrival in Chicago. The Central Division rivals split six meetings, and Jordan lit up the Pistons for 29.7 points and 7.0 rebounds a game in those contests.
Thomas recalled on The Last Dance docuseries in 2020 that Jordan's rookie season seemed like something out of science fiction.
"It was like he had like an extra levitation gear or something," Thomas said. "It just didn't seem real."
But the lovefest faded. Jordan believed Thomas was behind the infamous freeze-out at the 1985 NBA All-Star Game. Thomas later blamed Jordan for being excluded from the 1992 Dream Team. In between, there were many tense battles on the floor. The teams met for four straight years in the playoffs from 1988–91, with three clashes coming in the conference finals.
While the Pistons won three of those series, Chicago's sweep in 1991 is the most well known. Thomas and his teammates left the floor before the end of Game 4 and skipped the postgame handshakes.
Brad Sellers, a first-round pick of the Bulls in 1986 who later played with Thomas in Detroit, has a theory why the relationship went sideways.
A former teammate of Isiah Thomas and Michael Jordan sheds light on the rivalry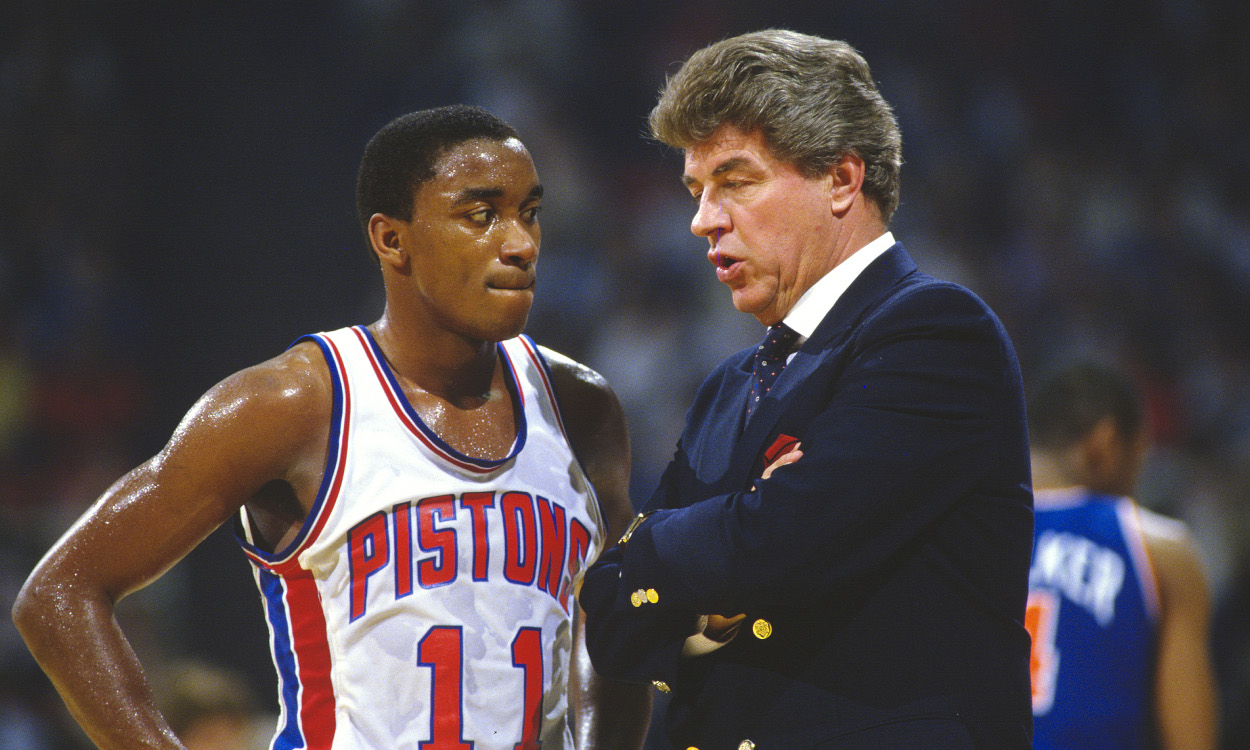 Sellers played with both Michael Jordan and Isiah Thomas. In 2020, he told Jerry Bembry of The Undefeated his unique perspective gave him clarity on the fractured relationship.
"We all heard about what happened at the All-Star Game. But the bigger issue was that Isiah was from Chicago, he worked to be one of the top players to represent that city, and Mike came in and eviscerated that.

"There's jealousy in this game, and when you peel back the layers of the onion, a lot of it is territorial. I can't imagine what that felt like for Zeke, to have an outsider come in and have the entire city behind him. There was no love left for him in Chicago, except from family."

Brad Sellers
The bad blood only got hotter in their playoff clashes. Detroit's strategy for dealing with Jordan was intimidation. Sellers played in the first of those four series in 1988 and remembered what the Pistons did. Later he found out why they did it.
"I learned later when I played in Detroit, they played that way against Michael because of fear," Sellers said. "They saw his talent, they saw what was coming, and the only way they could deal with him was through intimidation."
Isiah Thomas and Michael Jordan don't appear headed for a hug-it-out reconciliation. When a guy takes your city away from you, it's hard to be forgiving.
Like Sportscasting on Facebook. Follow us on Twitter @sportscasting19.