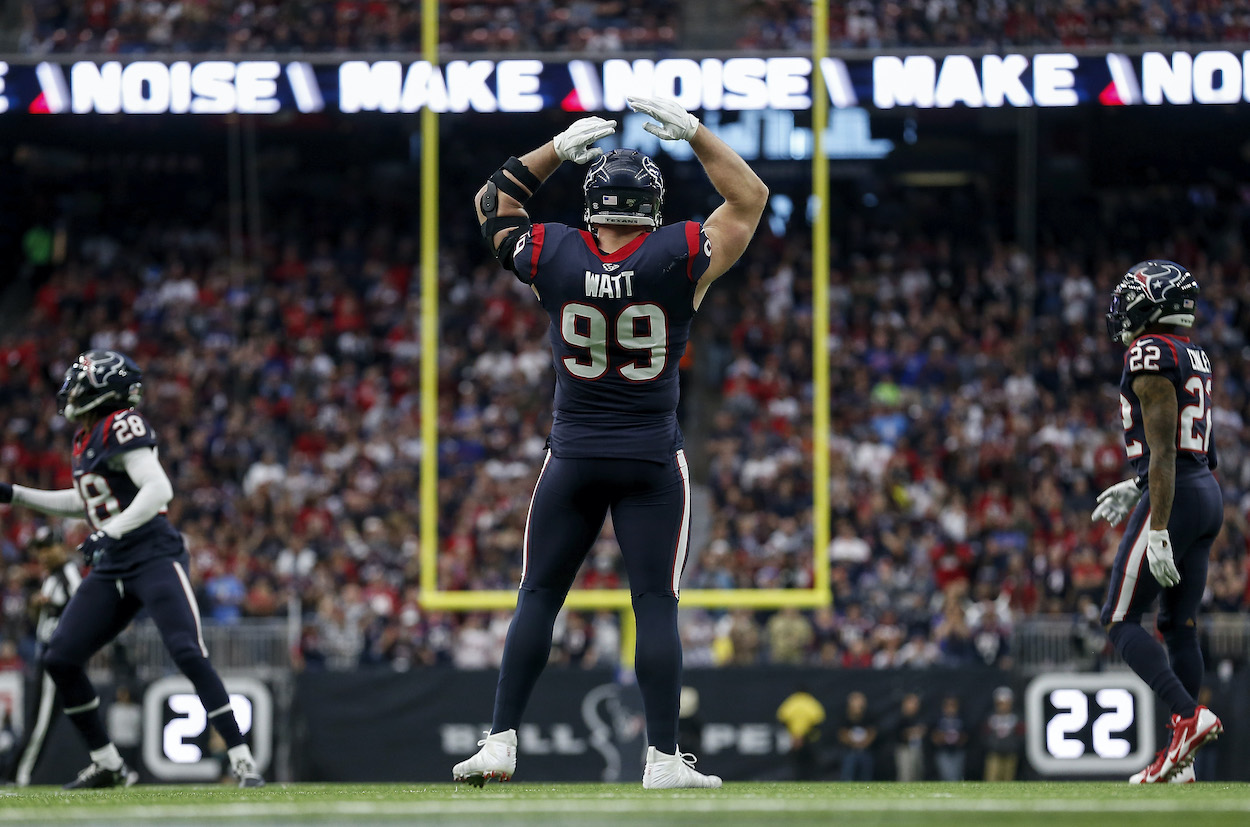 J.J. Watt Just Received a Special Blessing From a Cardinals Legend After Signing With Arizona
J.J. Watt's No. 99 is retired by the Arizona Cardinals, but he'll be able to sport his longtime number thanks to a special blessing.
J.J. Watt was thrilled to sign with his new team — the Arizona Cardinals — this week after spending his first 10 NFL seasons with the Houston Texans. But there was one problem. Watt's No. 99 is retired by the Cardinals dating back to Marshall Goldberg from the 1940s. It looked as if Watt was going to be forced to choose a new number ahead of the 2021 NFL season, but Goldberg's daughter just gave the newest Cardinal her family's blessing to wear No. 99.
J.J. Watt signs with the Arizona Cardinals
Soon after the 2020 NFL season came to a close, J.J. Watt became the talk of the offseason by requesting to be released from his contract with the Texans. The franchise honored his request by waiving Watt last month and making him a free agent for the first time in his career.
For the last few weeks, rumors have been swirling about where Watt will end up this offseason. Will he join the Cleveland Browns and immediately push them into Super Bowl contention? Could he team up with his two brothers with the Pittsburgh Steelers?
After weeks of rumors and keen analysis of Watt's every move, the longtime Texan surprised everyone by breaking his free agency news himself. On Monday afternoon, Watt posted a picture of himself on Twitter in a Cardinals shirt with the caption, "source: me."
Soon after, it was announced Watt will be signing a two-year contract with Arizona worth $31 million.
J.J. Watt's No. 99 is retired by the Arizona Cardinals
Right after Watt agreed to sign with the Cardinals, he ran into a problem many star players do when they change teams. No. 99, the number Watt has donned since his collegiate career at Wisconsin, is one of the five numbers retired by the Cardinals.
Marshall Goldberg wore No. 99 for his entire NFL career with the Chicago Cardinals from 1939-48. Goldberg played fullback and halfback for the team, racking up 1,644 rushing yards and 16 total touchdowns during his career. He made the Pro Bowl once and even won an NFL championship with the Cardinals.
No one has donned the No. 99 with the Cardinals since Goldberg retired in 1948, but that might be changing this season.
J.J. Watt just received a special blessing to wear No. 99
After Watt signed with his new team, it looked as if he would have to find a new number to wear next season. But he just received a special exemption from the Goldberg family itself.
Marshall Goldberg's daughter, Ellen Goldberg Tullos, recently spoke to TMZ and gave Watt her blessing to wear her father's No. 99 this season.
"He has my blessings and I'm sure my father would be more than delighted for him to carry it on," Tullos told TMZ.
"Well, I know dad was really honored when they retired his number but also he's always respected other players. And, if J.J. Watt had the number 99 with him for a long time and it meant something to him, I think he'd be delighted to let him use the number and unretire or whatever the proper word would be."
"He would be fine with that," Tullos continued. "It's just the type of guy he was, you know? I think he would be happy to let him use his number and honored with that as well."
Watt even reached out to Tullos after she made those comments and had a productive conversation about her father's number. It seems Watt will be back in No. 99 next season after all.