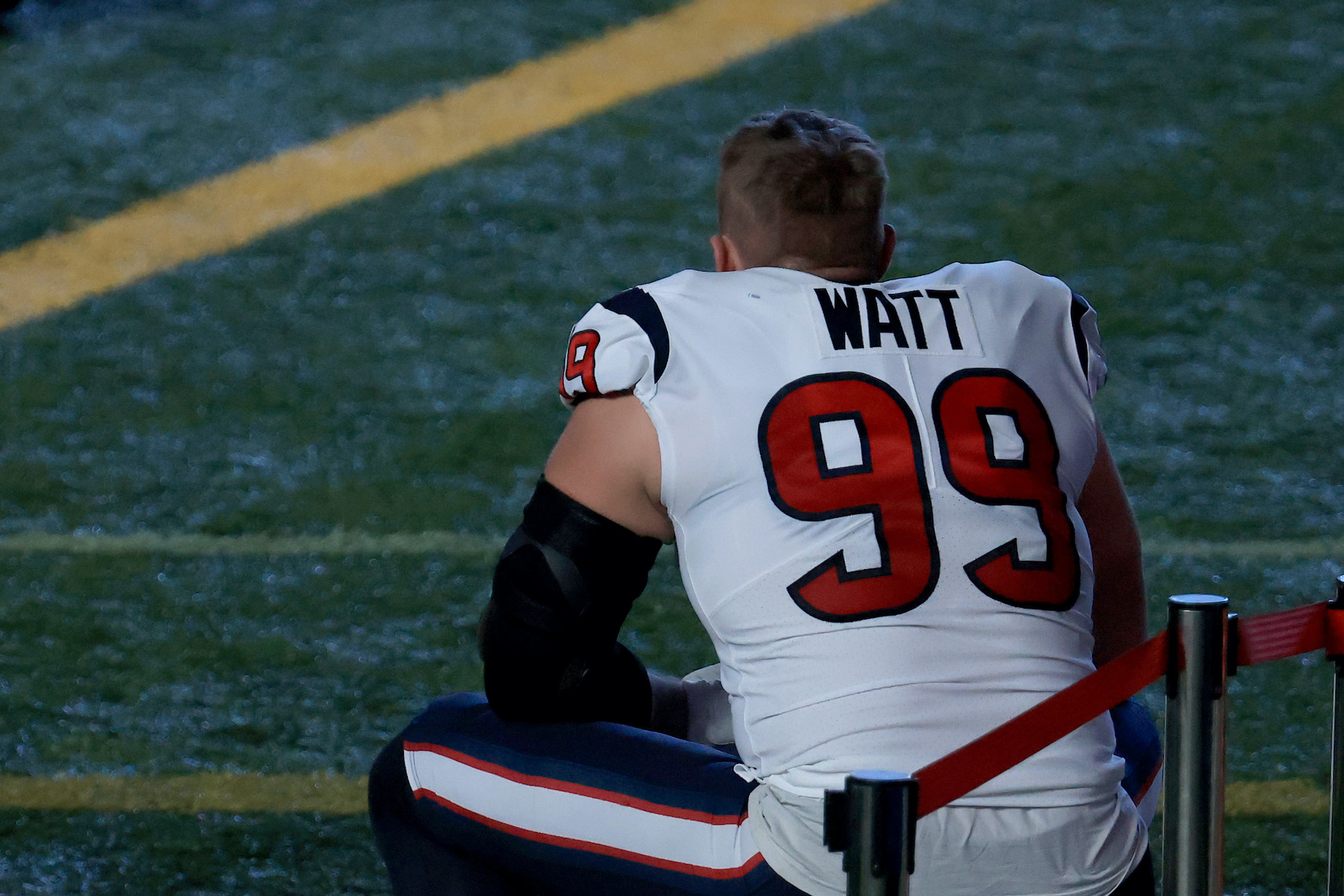 J.J. Watt May Have to Make a Major Change With the Arizona Cardinals Thanks to a Forgotten Football Player From the 1940s
J.J. Watt has joined the Arizona Cardinals, but he might not be able to wear his signature number 99 with his new team thanks to a man named Marshall Goldberg.
Things are about to get quite a bit different for J.J. Watt. After spending his entire NFL career with the Houston Texans, the defensive end is joining the Arizona Cardinals. Adjusting to a new team in a new division won't be the only changes that he'll have to make, though.
Once he officially suits up for the Arizona Cardinals, J.J. Watt might have to change his numbers. His signature number 99 is already taken claimed, albeit by someone who hit the gridiron during the 1940s.
J.J. Watt has become an NFL star while wearing number 99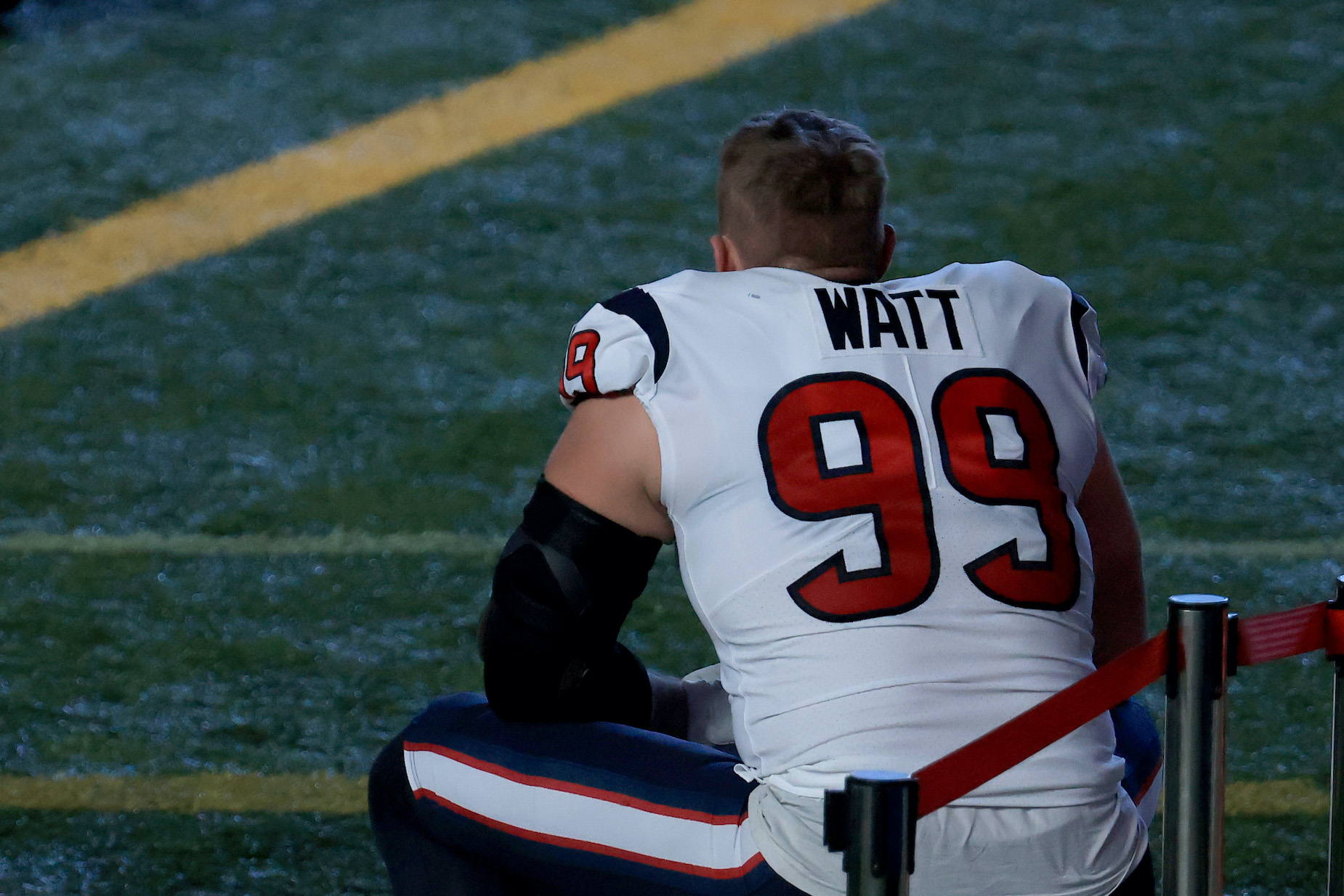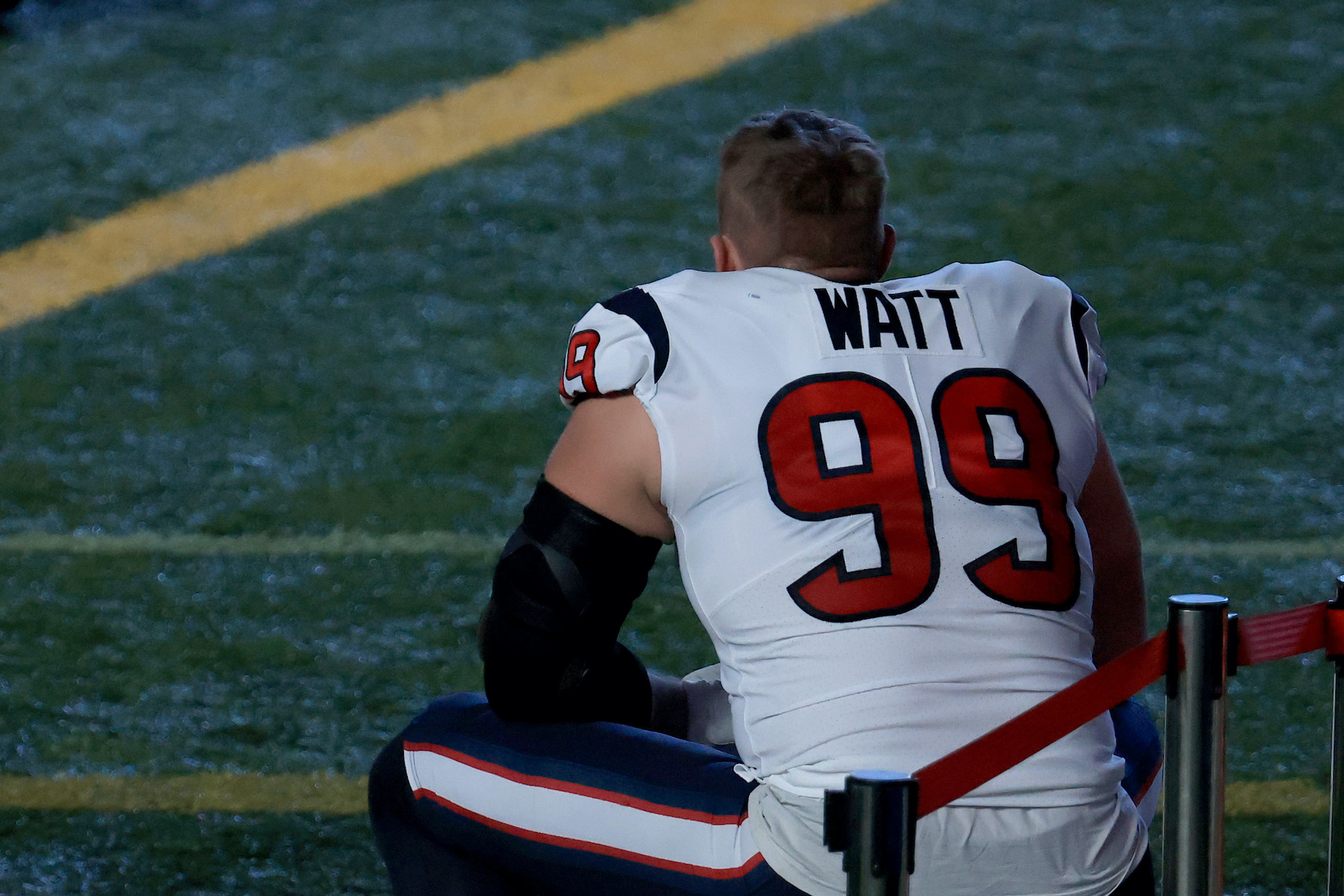 In the world of sports, certain numbers become associated with specific players. While it's not quite at the level of Michael Jordan's signature 23, J.J. Watt has grown into an NFL star while rocking 99 on his back.
Watt didn't always seem like an elite athlete, though. Coming out of high school, he didn't garner much attention from big-time NCAA programs; faced with limited options, he headed to Central Michigan as a tight end. When the coaching staff tried to convert him to an offensive lineman, however, J.J. wasn't having it. He transferred to Wisconsin, walked onto the team, and became a defensive star.
Watt eventually joined the Houston Texans as the 11th overall pick of the 2011 NFL draft. Although fans initially booed his selection, the defensive end quickly made them eat their words.
Although he's dealt with some serious injuries along the way, Watt has proven to be a fearsome pass rusher when healthy. He's played 128 games during his NFL career, piling up 101 sacks and earning three Defensive Player of the Year titles.
J.J. Watt might not be able to wear his number 99 with the Arizona Cardinals
On Monday, March 1, J.J. Watt took the bull by the horns and announced that he was joining the Arizona Cardinals as a free agent. While joining a new franchise after 10 years in Texas will be quite the change, he'll also need to make another adjustment: his number.
When star players join new teams, they'll sometimes cut deals with the guys who are already on the roster in order to acquire their traditional number. Watt, however, will be out of luck in that regard. Number 99 isn't claimed by another Cardinal; it's already retired.
While the Cardinals have only played in Arizona since the 1980s, the franchise has a rich history; they've been around since the late 1890s when they were born as a local athletic club in Chicago. Over the years, they've retired five numbers, and, unfortunately for J.J. Watt, one of them is Marshall Goldberg's number 99.
It is worth noting, however, that TMZ Sports got a hold of Goldberg's daughter, who said she—and, in her opinion, Marshall himself— wouldn't have a problem with Watt wearing 99 with the Cardinals. It's not clear, however, if the team will be willing to make that happen.
Who is Marshall Goldberg, owner of the Cardinals' number 99?
If you polled 100 NFL fans, virtually every one of them would know J.J. Watt. Marshall Goldberg, however, has virtually vanished into NFL history. He's the man, however, preventing the Cardinals' new star from wearing number 99.
While Goldberg isn't exactly a household name, he still had quite the football career. As explained by Matt Young of the Houston Chronicle, the running back played his college football at the University of Pittsburgh, where he won two National Championships and finished as the runner-up during the 1938 Heisman Trophy race. His success, unsurprisingly, continued in the pros.
Goldberg joined the St. Louis Cardinals in 1939 and spent a total of eight seasons with the team; his playing career was interrupted by his service in World War II. He played both running back and safety for the club, made four All-Pro teams, and won an NFL championship.
Unless you're a true student of the game, most NFL fans are probably pretty unfamiliar with Marshall Goldberg. Thanks to J.J. Watt's arrival, however, he'll probably get a new lease on (metaphorical) life.