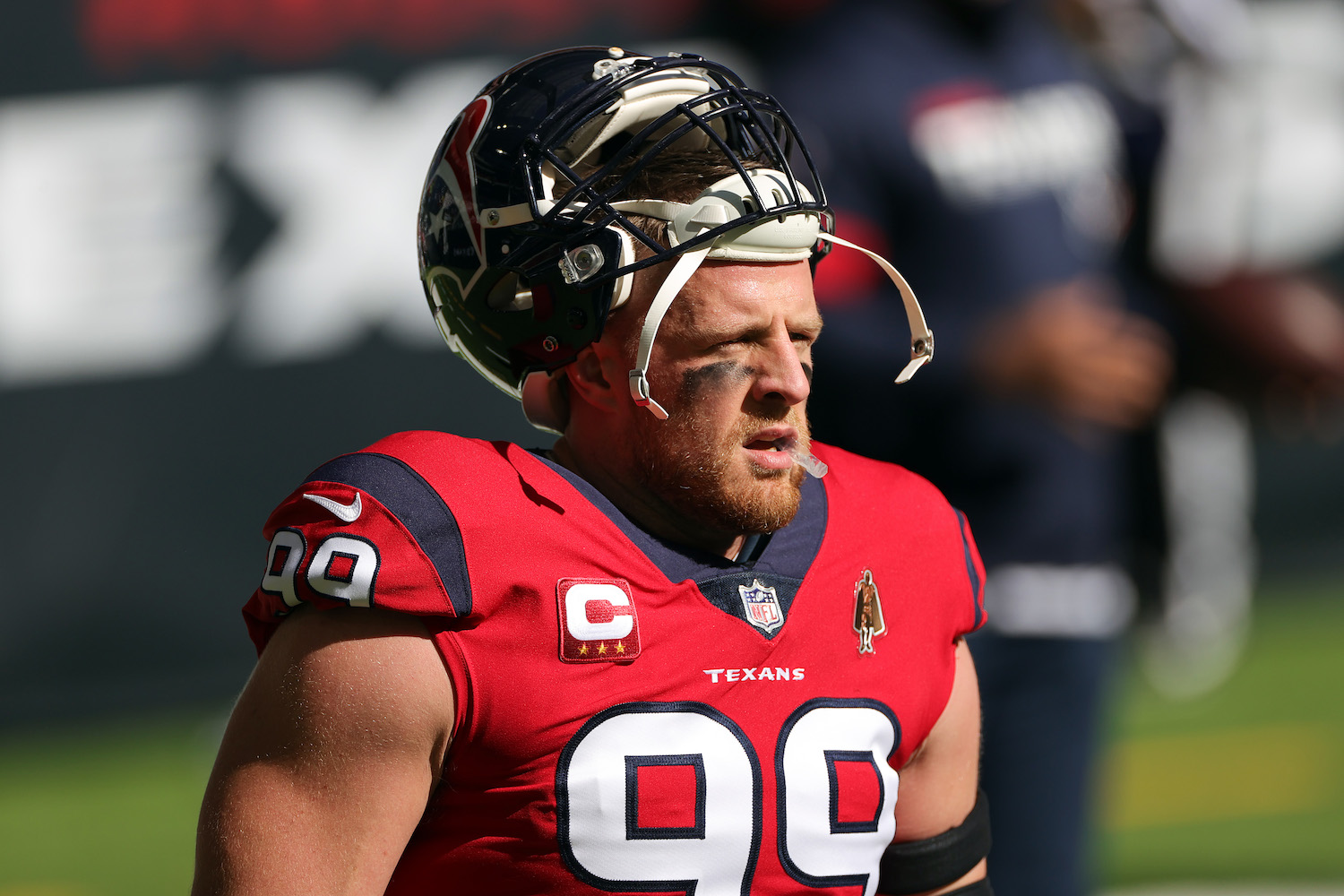 J.J. Watt Risking His Sterling Off-Field Reputation to Join Forces With One of the Biggest Cheaters in Sports History
J.J. Watt is known for his work on and off the field and is one of the most respected athletes for his charitable work. So why is he partnering with one of the biggest cheaters in sports history?
Houston Texans defensive end J.J. Watt is beloved in Houston not only for what he's accomplished on the field but what he's done in the community. In 2017, he received the prestigious Walter Payton Man of the Year Award, which is given each year to an NFL player who makes a significant positive impact on his community. 
All of Watt's good deeds have deservedly earned him respect from both his peers and fans around the league. That's what makes his latest business decision all-the-more curious as it was recently announced he is joining forces with one of the biggest cheaters in the history of sports. 
J.J. Watt is one of the best defensive players in the NFL 
J.J. Watt has been one of the most feared defensive lineman in the NFL for the last decade. Since he joined the Houston Texans for the 2011 season, Watt has recorded 101 sacks, including three seasons where injuries limited him to a combined total of 16 games. 
He introduced himself as a dominant defensive presence during his sophomore season of 2012 when he amassed an impressive total of 20.5 sacks. That season was the first of four consecutive seasons when he earned All-Pro and Pro Bowl honors. He was also named the NFL Defensive Player of the Year for the first time. He won that honor again in 2014 and 2015. 
Injuries sidelined Watt during both the 2016 and 2017 seasons, limiting him to a combined total of eight games. In 2018, he returned to form, tallying 16 sacks, seven forced fumbles, and four pass deflections. He earned his fifth Pro Bowl and All-Pro nomination.   
J.J. Watt has earned a reputation off the field for his good deeds
While J.J. Watt was limited during the 2017 season due to injuries, he still made a tremendous impact on the Houston community. In the aftermath of Hurricane Harvey, which devastated the Houston area, Watt set out to raise money for the recovery efforts. His initial goal was $200,000. 
When all was said and done, Watt personally donated $100,000 and more impressively raised an astonishing total of $37 million. The NFL recognized Watt for his efforts and awarded him the Walter Payton Man of the Year Award. 
While J.J. Watt made headlines for his work following Hurricane Harvey, it was just one of many times he's stepped up and gone out of his way to help others. A year later, after tragedy struck Santa Fe High School in a shooting that left 10 people dead, Watt paid all the victims' funeral expenses. 
Becomes investor in beer company with Lance Armstrong
J.J. Watt has undoubtedly earned his reputation as one of the baddest players on the field and one of the most generous off of it. That's why his latest business decision is somewhat puzzling. 
This week, Athletic Brewing, a Connecticut-based nonalcoholic beer maker, announced Watt as one of the investors for the growing company in its third year. The brewery also announced former NFL All-Pro Justin Tuck and disgraced cyclist Lance Armstrong as investors.
"Bill (Shufelt) and his team at Athletic have not only created an incredible tasting nonalcoholic beer, they have also shown an immense commitment to philanthropic efforts and protecting the environment," Watt said in the Westchester & Fairfield County Business Journals.
The company donates 2% of all sales to trail and park cleanups through its "Two for the Trails" program, and it expects to contribute more than $500,000 to that program and other charities across the nation this year.
The brewery's product and philanthropy clearly appealed to Watt. But being associated with Armstrong and his tainted image as one of the biggest cheaters in sports history had to be cause for concern. Whether or not Armstrong's involvement has any effect on Watt's image, it's still too early to tell. But just on its face, it doesn't look good.  
Like Sportscasting on Facebook. Follow us on Twitter @sportscasting19.