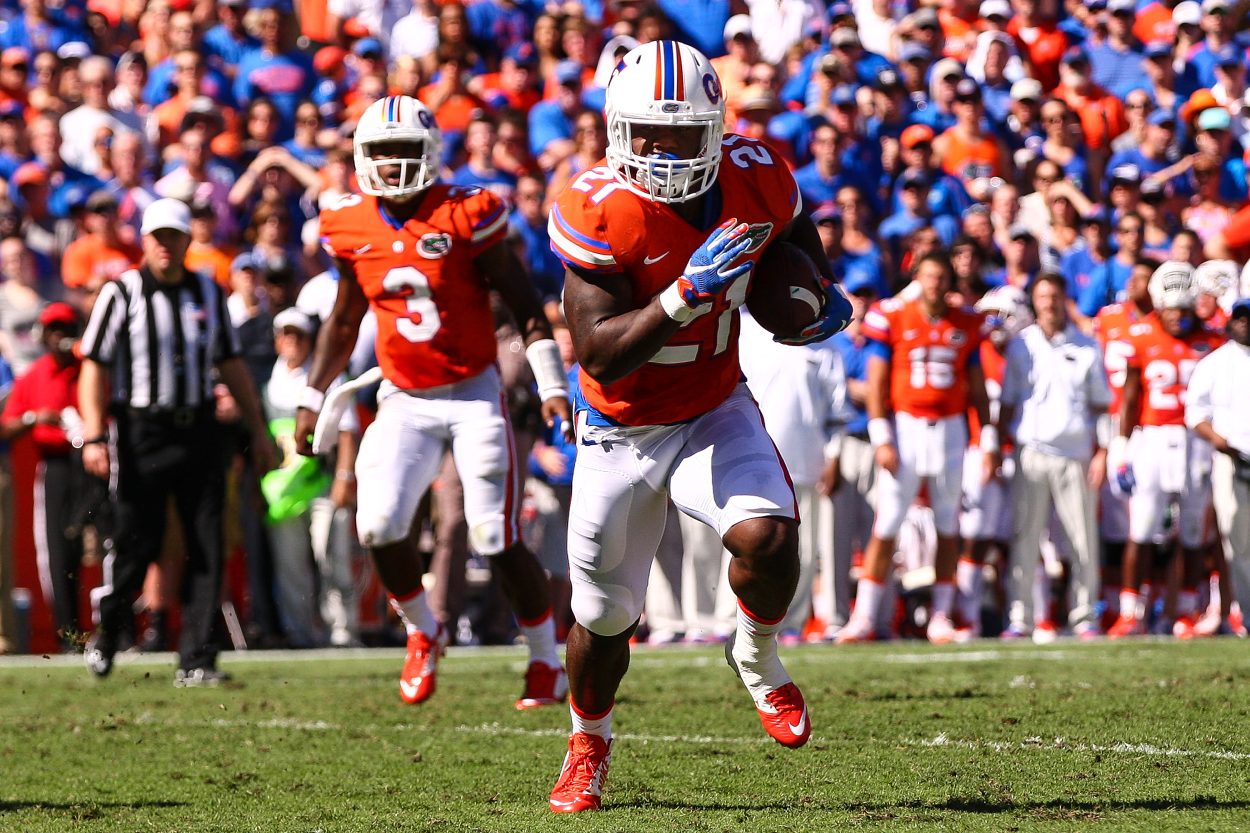 Jaguars Legend Fred Taylor's Son, Kelvin, Has Tried Keeping His Own Professional Football Dreams Alive
Kelvin Taylor, the son of Jaguars legend Fred Taylor, has tried keeping his football dreams alive after a standout career for the Florida Gators.
Jacksonville Jaguars legend Fred Taylor had an excellent NFL career. His son, Kelvin, is clawing at a chance to get back to the pros.
A running back like his father, Kelvin had a standout high school football career and started at the University of Florida. However, their football paths branched off when the son reached the NFL.
Kelvin Taylor impressed at the University of Florida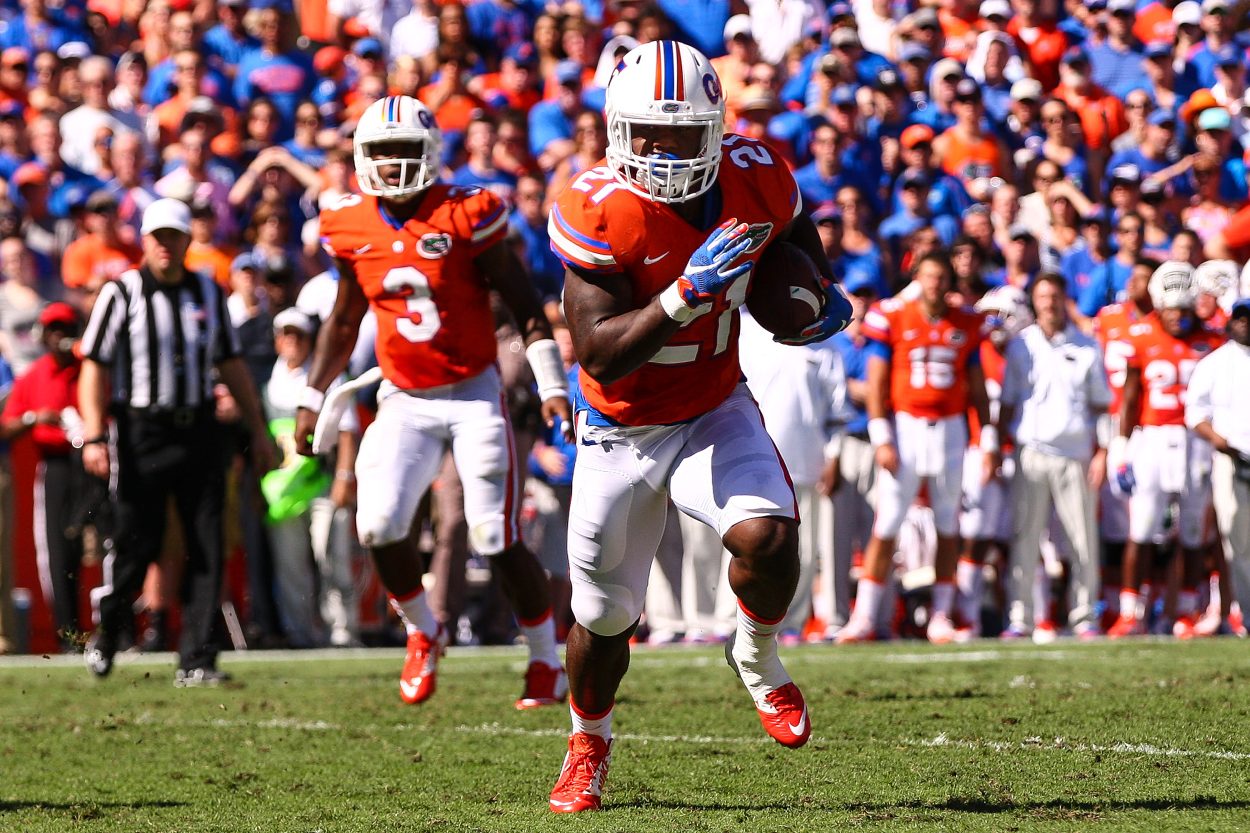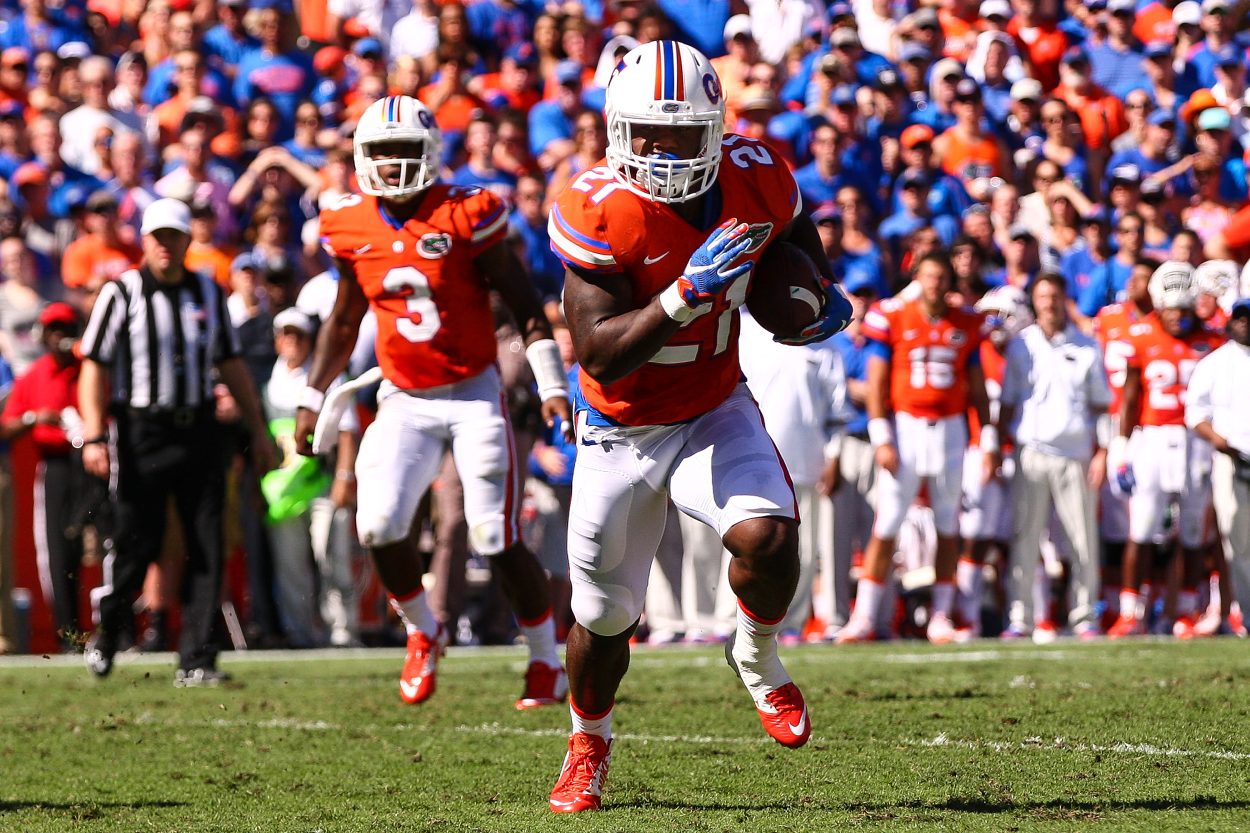 Fred Taylor played college football at the University of Florida, and his son, Kelvin, followed in his footsteps.
A dangerous running back who teams listed at 5 feet 10 inches and weighed 205 pounds during his playing career, Taylor picked up 2,108 yards and 23 touchdowns on 4.3 yards per attempt in college. He also hauled in 24 catches for 179 yards in 35 career games.
After two years as a rotational back, the former top recruit got his chance in 2015. He led the Gators with 1,035 rushing yards — only eight players in program history had rushed for over 1,000 yards before Taylor did it — and scored 13 rushing touchdowns in 14 games.
Rather than return for his senior season, Taylor — who once held Florida's high school football all-time rushing yards record — declared for the 2016 NFL draft. Although San Francisco 49ers selected him in the sixth round that year, he never played a game for them.
His father, Fred, is a Jacksonville Jaguars legend
Kelvin played his first college game in the fall of 2013. Only three years earlier, his father, Fred, put the finishing touches on a stellar NFL career.
The ninth overall pick in 1998, Taylor ran for 11,695 yards and 66 touchdowns on 4.6 yards per carry in 13 NFL seasons. A Pro Bowl selection in 2007, he also ran for 613 yards and three touchdowns in eight career playoff games.
Through the end of the 2020 NFL season, he still ranked as Jacksonville's all-time leading rusher. Maurice Jones-Drew, who took over the starting role when Taylor left for the Patriots in 2009, has 68 rushing touchdowns to his former teammate's 62 scores.
As of May 2021, Taylor ranked 17th all-time in rushing yards. Every player ahead of him who was eligible for the Pro Football Hall of Fame had already received their bronze bust.
Frank Gore and Adrian Peterson, who rank third and fifth on the all-time list, are each expected to enter the Hall of Fame when they are eventually eligible.
Kelvin has tried keeping his professional football dreams alive
Fred Taylor has spent recent years vouching for his Hall of Fame candidacy. On the other side of the coin, his son tried keeping his own football dreams alive.
The younger Taylor bounced around several NFL teams over the years. He spent time on the Seattle Seahawks' active roster in 2016 but never saw action in a game.
Although he spent time with the Orlando Apollos of the now-defunct AAF in 2019, the former Gators running back never touched the ball. He most recently played in The Spring League when it was ironically was held in the fall of 2020.
Like Sportscasting on Facebook. Follow us on Twitter @sportscasting19.