Carson Wentz's Former Eagles Teammate Sticks Up for Him After Disastrous 2020 Season: 'Everybody Screwed Up'
After the Philadelphia Eagles' nightmare 2020 season in which they finished 4-11-1 and at the bottom of the wretched NFC East, fans and media pundits were quick to point the finger at Carson Wentz. That wasn't necessarily an incorrect notion. Wentz had by far his worst year as a pro in 2020, and he was inarguably one of the worst statistical quarterbacks in the entire NFL.
But Philly's deep-rooted issues last season went far beyond just the man under center. The Eagles had holes all over the 53-man roster, and their struggles could be traced all the way up the totem pole to the front office.
Jason Kelce, who knows the organization inside and out as a 10-year veteran and snapped the ball to Wentz for five seasons, recently stuck up for his former quarterback. Kelce even admitted he thinks Wentz can flourish with his new team now that the Philadelphia pressure is off his shoulders.
Carson Wentz's disastrous 2020 season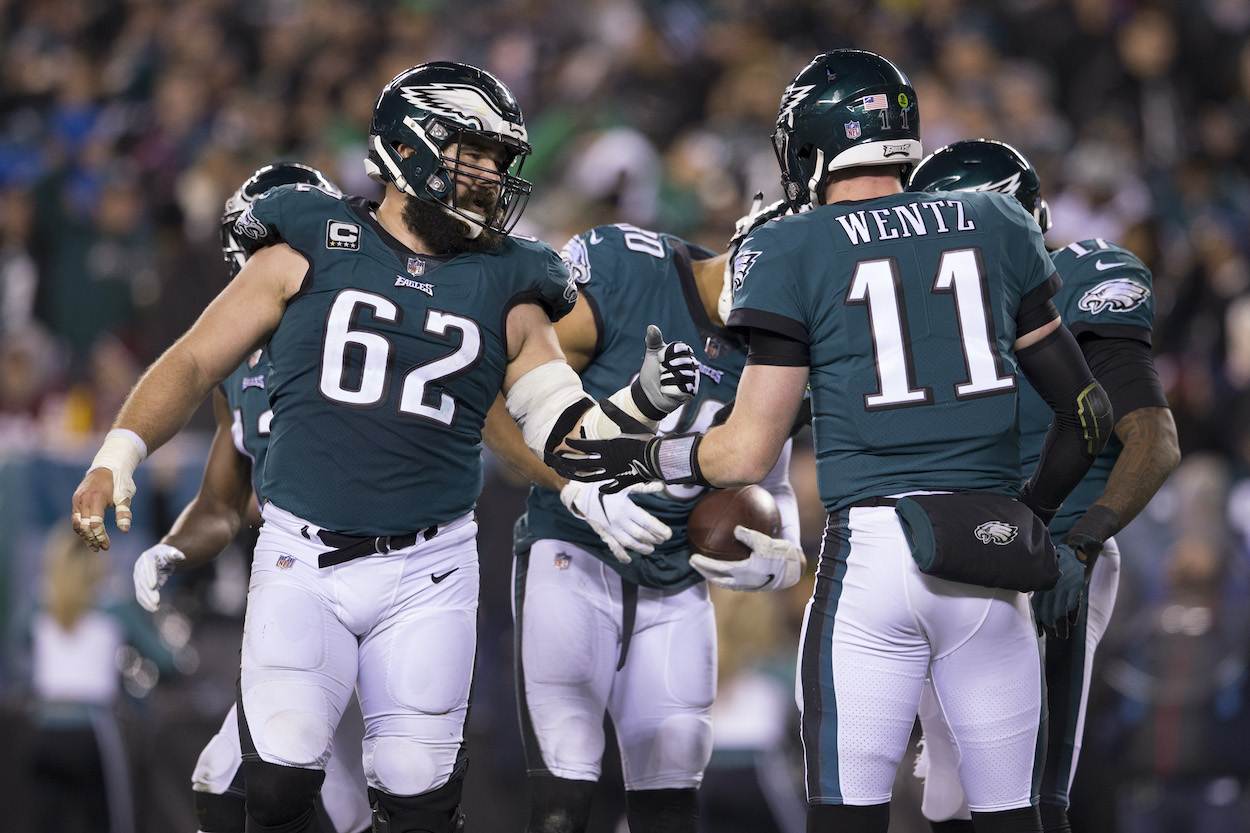 It's no secret that Wentz lost all of his confidence last season. The former Pro Bowler was considered by many to be a top 10 QB in the league prior to 2020, but his performance last year made him look more like a bottom 10 signal-caller.
In 12 starts before getting benched for Jalen Hurts, Wentz led the Eagles to a 3-8-1 record and threw an NFL-high 15 interceptions. He recorded career lows in completion percentage (57.4%), passing yards, (2,620), passing touchdowns (16), and QBR (49.6). His 72.8 passer rating was the second-worst mark in the league among qualifying QBs.
Wentz was brutal. There's no way around it. But the Eagles' 4-11-1 record was due to many other factors.
Just ask their longtime center.
Jason Kelce sticks up for Wentz
Kelce was Wentz's main snapper and right-hand man for all of the QB's first five seasons in the NFL. He knew better than anyone when the blame needed to be placed on Wentz and when it needed to be shifted elsewhere.
The longtime Eagles center recently spoke to Angelo Cataldi on the 94 WIP Morning Show and stuck up for his ex-teammate.
"I don't want to speak for Carson, obviously, first of all, the year was terrible and I think that when you have that bad of a season, unfortunately, there's going to be people that start to point the finger and that's something you deal with in any losing season," Kelce said.
"Jobs start getting on the line, people don't think they're the reason why they're losing, so, 'It's not me, it's this guy, it's that guy, it's this guy,' so that ruins relationships and I think that the reality is if you go 4-11 everybody shares some of this blame, everybody screwed up."
Kelce continued to say Wentz knows he didn't play up to his potential last season, but the frustrations that come with a losing season can compound mistakes.
"Carson was the first to tell me – and he would tell you guys – he didn't play well last year, and he knows he needs to get better and when people are getting fired and guys' livelihoods are on the line, players' livelihoods are on the line, those relationships can go south pretty quick." 
Kelce believes Wentz will rebound with the Colts
Many believe Wentz's 2020 season broke him beyond repair, but Kelce is confident he will be able to rediscover his MVP form from 2017.
"I still love Carson, I've got a lot of respect for him," Kelce said. "Obviously, the way this thing ended (was) not ideal, but I think he's actually going to do pretty well in Indianapolis. They've got a good offensive line, they've got some good pieces that he's been successful with before and then Frank Reich, if you look at the quarterbacks he's been around, he finds a way to get the most out of that position."
All stats courtesy of Pro Football Reference